Work starts on Children's Hospital refurbishment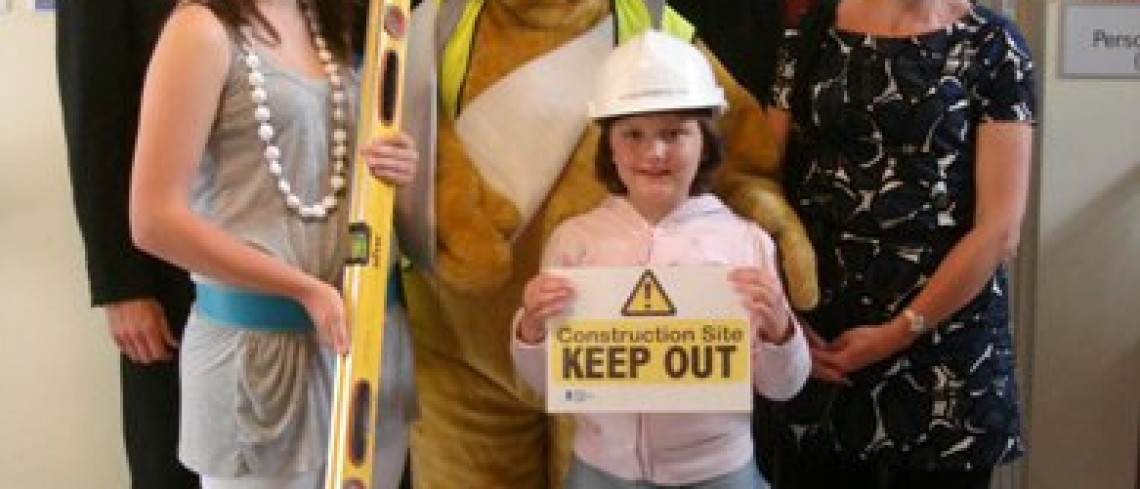 Work starts on Children's Hospital refurbishment
19 June 2007
Work started this week on a £50,000 refurbishment of the Children's Hospital's haematology and oncology outpatient clinic, and young patient and fundraiser Helen Singleton was on hand to over see the work!
The money for the makeover has been raised by Barnsley-based Dransfield Properties who adopted the charity in 2005 and have since undertaken a series of fundraising events, including charity runs, a celebrity football match and a London to Paris bike ride.
The company got involved with the charity because Managing Director Mark Dransfield's daughters were at the same school as Helen and wanted to do something to help.
Eight year old Helen has been a patient at the hospital for just over two years. She was diagnosed with leukaemia at the beginning of May 2005 but is now in the final stages of treatment and the outlook is positive.
Helen's family have spent many long hours in the haematology and oncology clinic and they felt it could be brightened up and better use made of the space, to make visits to the clinic more comfortable for young patients and their parents. The clinic's last refurbishment was over 15 years ago.
The Singletons themselves raised around ten thousand pounds as part of Dransfield's fundraising efforts and are delighted to see work finally begin on this important project.
The refurbishment will take six weeks and clinic appointments have been temporarily relocated elsewhere within the hospital so young patients' treatment programmes will not be affected.
Sue Singleton said: "The staff at the clinic do a wonderful job and have been fantastic throughout Helen's treatment. However, some visits to the clinic can last all day and the existing facilities are extremely basic. it was clear to us that some funds directed towards improving the facilities would benefit not only the staff who work there but perhaps, more importantly, the many young children and their parents who have to spend long hours during what is to most a highly stressful and worrying time. Whilst nothing can take away the trauma of chemotherapy treatment, the least that can be done is to provide more pleasant surroundings so that staff may function as efficiently as possible and children and their parents can be as comfortable as possible. "
Simon Athey, fundraiser at Sheffield Children's Hospital, said: "All patients and staff are excited about the improvements the refurbishment work will bring. It is things like this which can really make a difference to the experiences of young patients and their families, and I'd like to thank Dransfield Properties and the Singletons for all their fundraising efforts."
Picture left to right: Mark Dransfield, Emma Singleton, Helen Singleton, Paul Singleton, Sue Singleton
For further information, contact:-
Public Relations Department, Dransfield Properties Ltd
Tel: 01226 360644
Email: pr@dransfield.co.uk