Charity Fundraising at DPL
Charity Fundraising at DPL
Dransfield Properties supports many charities and good causes through the company's annual charity bike ride as well as through the Dransfield Foundation.
This year's Tour of Europe charity bike ride saw the team completing their final leg of the tour, clocking up 335 gruelling miles from Newcastle to London where the tour began 14 years ago.

The teams at our award winning shopping centres also pride themselves on supporting local cases:
FIVE VALLEYS

Five Valleys have supported local charity, Allsorts, for the past 12 months. The independent charity aims to ensure there is a choice of activities for children and young people with additional needs. They provide a community where friendship and memories are made and plenty of fun is to be had through their huge amount of extra-curricular activities held for young people from youth clubs to sports clubs, nature walks, play sessions and ways to get creative. The charities Toy Library, based at the Stroud Activity Hub, is a facility where families can borrow toys and specialist equipment, just like in a book library. Here the charity provides support as well as offering various activities to families.
FOX VALLEY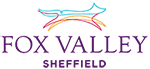 Fox Valley has chosen to support Sheffield Churches Council for Community Care during 2023/2024. The Charity funds initiatives which are over and above what can be afforded locally including projects that improve individuals health, state of the art equipment, pioneering research, patient support services and the transformation of the hospitals in Sheffield into a more welcoming and comfortable space.
MARSHALL'S YARD

Marshall's Yard is supporting two local charities this year the first being HATS and the other Help me, I'm fine as a result of a public vote on Facebook. HATS provides support with practical advice and accommodation for young and vulnerable adults in Gainsborough and surrounding areas. HELP ME, I'M FINE
The funds raised will help towards the great work this charity carries out to raise awareness of mental health issues in children and teenagers and providing support through schools and community groups.
SANDERSON ARCADE
The Arcade team supports a charity called Calmer Therapy which supports children with additional needs and disabilities, and their families. The charity has centres in Stobhill, Morpeth and Berwick and their services cover the whole of the North East and Scottish Borders.
SANDERSONS DEPARTMENT STORE

The team at Sandersons Department Store chooses a new charity each year to support and for 2023 they are continuing to raise money for St Lukes Hospice in memory of the store's founder and Managing Director Deborah Holmes. Regular fundraising events are held in store.