Charity Fundraising at DPL
Charity Fundraising at DPL
Dransfield Properties supports many charities and good causes through the company's annual charity bike ride as well as through the Dransfield Foundation. The teams at our award winning shopping centres also pride themselves on supporting local cases:
FOX VALLEY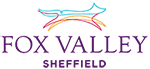 Fox Valley has chosen to support Bluebell Wood Children's Hospice during 2019/2020. Bluebell Wood in Sheffield provides a home from home for families who are facing the most difficult of times. Every day the team need to raise £11,000 to keep the doors of the hospice open and receives only 10% of its funding from the Government.
MARSHALL'S YARD

Marshall's Yard is supporting two local charities this year the first being HATS and the other Help me, I'm fine as a result of a public vote on Facebook. HATS provides support with practical advice and accommodation for young and vulnerable adults in Gainsborough and surrounding areas. HELP ME, I'M FINE
The funds raised will help towards the great work this charity carries out to raise awareness of mental health issues in children and teenagers and providing support through schools and community groups.
SANDERSON ARCADE
The Arcade team supports Cleaswell Hill School which is a day community Special School for 156 children (designated age range 2-19). Some pupils have additional physical difficulties, medical or emotional needs, and others are identified as being within the autistic spectrum. The school has a large, well-qualified and talented team of teaching and support staff who together provide a personalized, quality learning experience for each child. Sanderson Arcade is fundraising this year to raise enough money for the school to buy a Canopy and Outdoor Swing which is estimated to costing £5,000 - £10,000.
SANDERSONS DEPARTMENT STORE

The team at Sandersons Department Store chooses a new charity each year to support and for 2019 they are raising money for St Lukes Hospice in memory of the store's founder and Managing Director Deborah Holmes. Regular fundraising events are held in store.