Special ceremony to rename building in honour of north east suffragette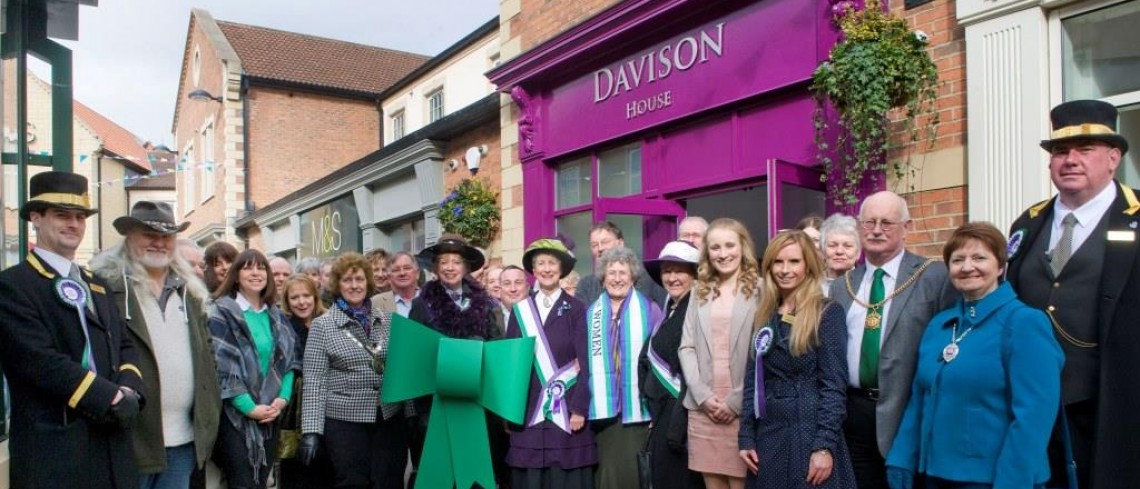 Special ceremony to rename building in honour of north east suffragette
24 March 2015
A special ceremony was held at Sanderson Arcade in Morpeth at the weekend to name one of the centre's buildings in honour of the suffragette Emily Wilding Davison.
The votes-for-women campaigner dedicated her life to the cause of the suffragettes, she is best known for stepping in front of the King's Horse Anmer at the Epson Derby on June 4th 1913 - Emily died of the injuries she sustained four days later.
Morpeth hosted a series of "Emily Inspires" events in June 2013 to mark the 100th anniversary of the death of their own "Lawless Lassie" who is buried in St Mary's Church in the town.
On Saturday she was remembered again at a ceremony at The Arcade when family members joined with community groups, councillors and the MP Ian Lavery to see the building being named Davison House – the new entrance feature has been painted in striking "suffragette" purple.
Geoffrey Davison, head of the Davison family, who is based in Sydney, Australia, sent a message welcoming the tribute to Emily adding that it was a fitting and appropriate recognition of Emily's place in history and her link with Morpeth.
Philippa Bilton and Lauren Caisley, both relatives of the famous suffragette took part in the official opening along with Medi Parry, the centre manager at Sanderson Arcade and Deborah Holmes, a director at Dransfield Properties which owns and manages the award winning centre.
Centre Manager at Sanderson Arcade Medi Parry said: "We were delighted to see so many people at the event on Saturday – Morpeth is clearly proud of the town's links with Emily Davison and rightly so.
"When we were remodelling the entrances to our offices here at The Arcade we thought this would be a great opportunity to remember Emily and rename the building in her honour and also to reflect the suffragette movement in the colour and artwork.
"We are very proud to be able to play our part in remembering one of Morpeth's famous heroes in this way here in the heart of the town centre."
Councillor Andrew Tebbutt, local Northumberland County and Morpeth Town councillor who chaired the Emily Inspires! Working Group said: "Seeing Emily recognised in the very centre of Morpeth is something I have wanted to see for a long time. I really welcome this initiative from Sanderson Arcade."
Artwork created by the north east artist Jan Szymczuk and a plaque in recognition of Emily's contribution to the suffragette movement were unveiled at the ceremony.
Davison House can be found in the piazza area of the Arcade, next to Marks and Spencer and Laura Ashley, the new entrance has been created to lead upstairs to a number of local businesses on the second floor at the centre including Advice4Business and Jazz Hair Salon.
For more information visit the Sanderson Arcade website at www.sandersonarcade.co.uk
For further information, contact:-
Public Relations Department, Dransfield Properties Ltd
Tel: 01226 360644
Email: pr@dransfield.co.uk