Budding architects and engineers visit Marshall's Yard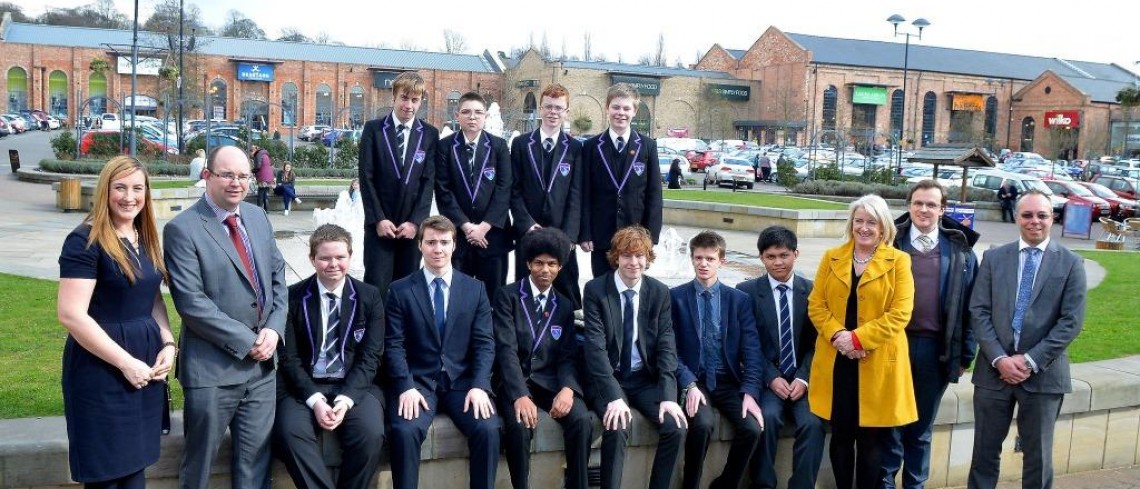 Budding architects and engineers visit Marshall's Yard
26 March 2015

Students from Gainsborough Academy and Queen Elizabeth's High School visited the award winning Marshall's Yard shopping centre this week to meet one of the architects behind the £39 million project.
Year 9 students from Gainsborough Academy about to embark on their engineering course and QEHS sixth form students at the crucial point of choosing their career paths, were given the opportunity to learn more about how the historic site was transformed into a modern retail development.
They were given their masterclass in regeneration from one of the key players of the Marshall's Yard professional team - Gavin Ward, now a partner at Dixon Dawson Chartered Architects based in Sheffield.
Lead designer Gavin was first approached in 2004 by the developers Dransfield Properties Ltd when he was working for another architectural firm. The project to transform the former industrial site was set to be the largest investment the market town of Gainsborough has ever seen.
Gavin said: "It's great to share with interested students how a development such as this comes about. Much thought goes into the surrounding areas as well as the physical buildings and the impact the development will have on the town overall.
"I hope we gave the students an insight into the detail and rationale behind why certain decisions were made through the planning and design stage – and how we included key features in the refurbishment of the listed elements of the development. That sort of design challenge, for me is what being an architect is all about."
The students were given a tour of the site as well as an insight into some of the areas that were brought back to life after 20 years of the buildings lying derelict on this key gateway to the town.
The team at Marshall's Yard were keen to engage with Gainsborough schools to use the centre as a local example of a major successful development which has remained sensitive to its setting. The centre opened in 2007 and celebrates its 8th birthday in April.
Centre Manager, Alison Hall, herself a former QEHS student, said: "It was lovely to see the students get so much from their visit. We sincerely hope that they enjoyed finding out more about this important site in the town and the thought process behind its redevelopment. town.
"The students asked some great, thought provoking questions and we hope that hearing from a professional who worked on the development may have potentially inspired them further to follow their chosen career paths."
Picture shows (l-r) Alison Hall with Chris Savoury from Gainsborough Academy, Lesley Rollings also from the Academy, Nigel Dawson from QEHS and Gavin Ward with the pupils who visited Marshall's Yard.

For further information, contact:-
Public Relations Department, Dransfield Properties Ltd
Tel: 01226 360644
Email: pr@dransfield.co.uk