New Gainsborough roundabout to feature Marshall tractor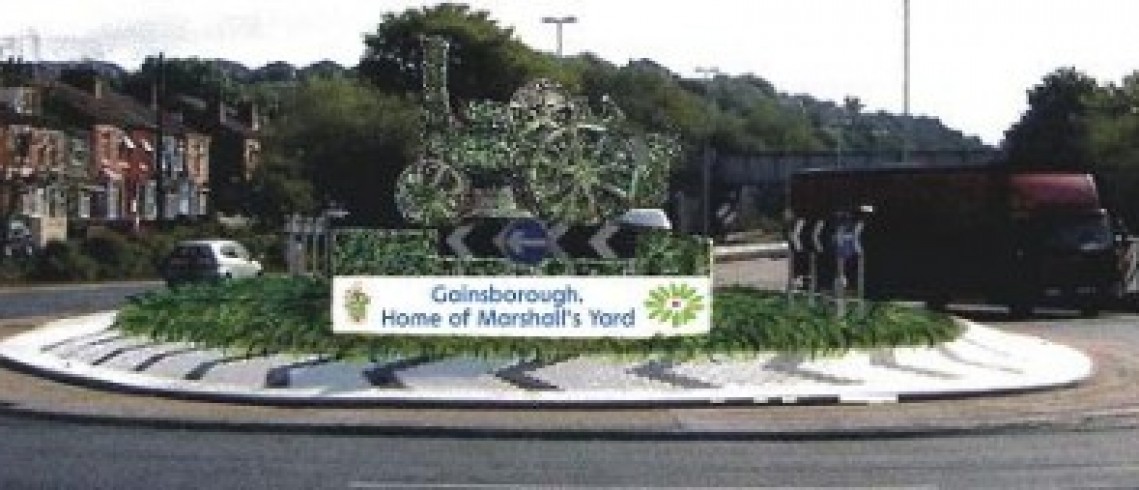 New Gainsborough roundabout to feature Marshall tractor
2 July 2007
Gainsborough's new roundabout on Thorndike Road is set to undergo a £15,000 landscaping scheme, at the heart of which will sit a hand crafted topiary sculpture of a Marshall's Engineering tractor.
Marshall's Yard is funding the landscaping of the roundabout, which will see stunning floral displays installed to provide a colourful back drop to the topiary tractor. The sculpture itself will be created using artificial plants and foliage to give it an all weather, all season durability. It will stand at just over 13 ft tall, and sit on a sturdy, wire welded frame, specially designed to withstand all the elements.
The work has been commissioned from specialists Entirely Topiary, who export their designs all over the world. Their creations were recently seen on prime time television when they created a series of animal and human shaped topiary structures for last year's Big Brother House.
The Thorndike Roundabout was constructed by Lincolnshire County Council in anticipation of the increased visitor numbers Marshall's Yard will bring to the town, and was completed in time for the centre's opening at Easter earlier this year. It is just part of a wider multi million pound highways infrastructure improvement programme planned for Gainsborough, which will upgrade the road networks so they can serve the increase in residents, businesses and visitors which is already underway.
Richard Hill, Centre Manager at Marshall's Yard, said: "With Marshall's Yard being the catalyst for the installation of the new roundabout, it is wholly appropriate that we should make a contribution to it. The new sculpture will provide a fantastic entrance to the town, celebrating Gainsborough's engineering heritage and providing a memorable talking point for visitors."
Mark Dransfield, Director at Marshall's Yard, added: "The inspiration for the sculpture came from Sheffield, where during the summer months 12 ft high floral statues reflecting the city's steel making industry sit outside the Town Hall. We wanted something equally as impressive for Gainsborough, and the Marshall's tractor is not only a fantastic design, but the use of artificial topiary on the sculpture will allow it to be on display all year round."
The sculpture will be installed on the Thorndike Roundabout in the Autumn.
For further information, contact:-
Public Relations Department, Dransfield Properties Ltd
Tel: 01226 360644
Email: pr@dransfield.co.uk