Edward Leigh MP opens JJB fitness club at Marshall's Yard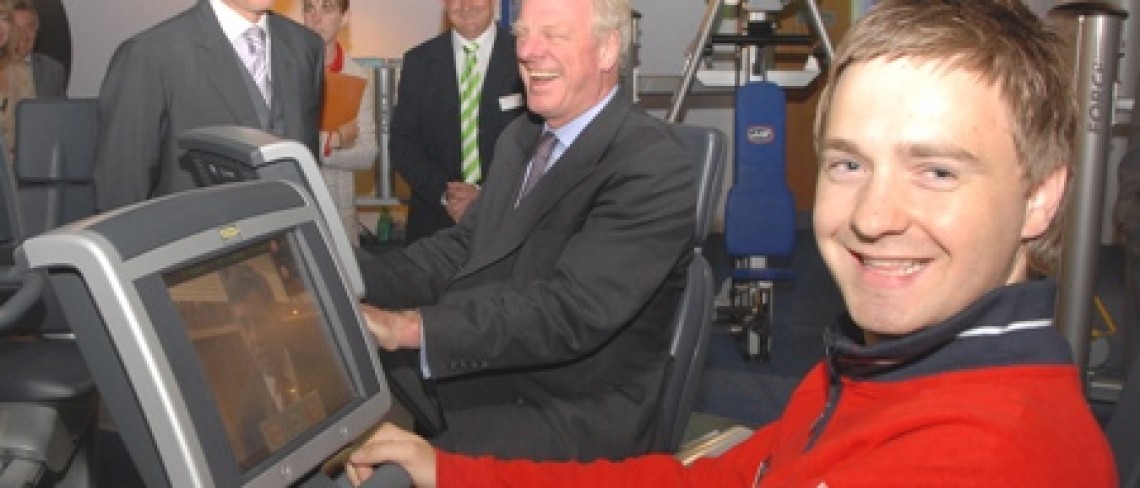 Edward Leigh MP opens JJB fitness club at Marshall's Yard
29 June 2007
Gainsborough MP Edward Leigh today performed the official opening at the new JJB health and fitness club at Marshall's Yard in Gainsborough.
Since it began taking memberships just two weeks ago, the club has signed up over 2,000 members and is outstripping the company's expectations. The JJB retail outlet, which opened in advance of the gym, is also enjoying high trade levels. Between them, the fitness club and retail outlet have created 50 local jobs them..
The heath club has brought state of the art fitness equipment to the town and boasts a magnificent swimming pool, fibre optic lit steam room, and relaxing hot spas. The club has a large air-conditioned gym area, spacious free weights section, and two group fitness studios offering a wide range of free classes to its members.
Also on site is a Ki Studio, offering courses specialising in Yoga, Pilates and Thai Chi; the Ki studio will be open to both members and non-members. The word Ki is taken from the Japanese word meaning spirit, energy and attitude and the new concept studio develops all three aspects resulting in a positive impact on life.
Edward Leigh MP said "I am delighted to declare the JJB fitness club officially open. Marshall's Yard has already dramatically changed Gainsborough, and is attracting visitors from afar which is giving the town the vitality it needs to grow. The JJB fitness club offers a further incentive to come to Gainsborough and I wish the company every success for the future."
Mark Dransfield, Director of Marshall's Yard, added: "JJB were the first retailer to sign up for Marshall's Yard and have been confident of Gainsborough's potential from the outset. The JJB fitness club and retail offer is valued at over £5 million – a major investment for Gainsborough – and I'm delighted that JJB's confidence in the town is paying off, with trade levels higher than anticipated."
For further information, contact:-
Public Relations Department, Dransfield Properties Ltd
Tel: 01226 360644
Email: pr@dransfield.co.uk