Final link of Gainsborough town centre pedestrian route now open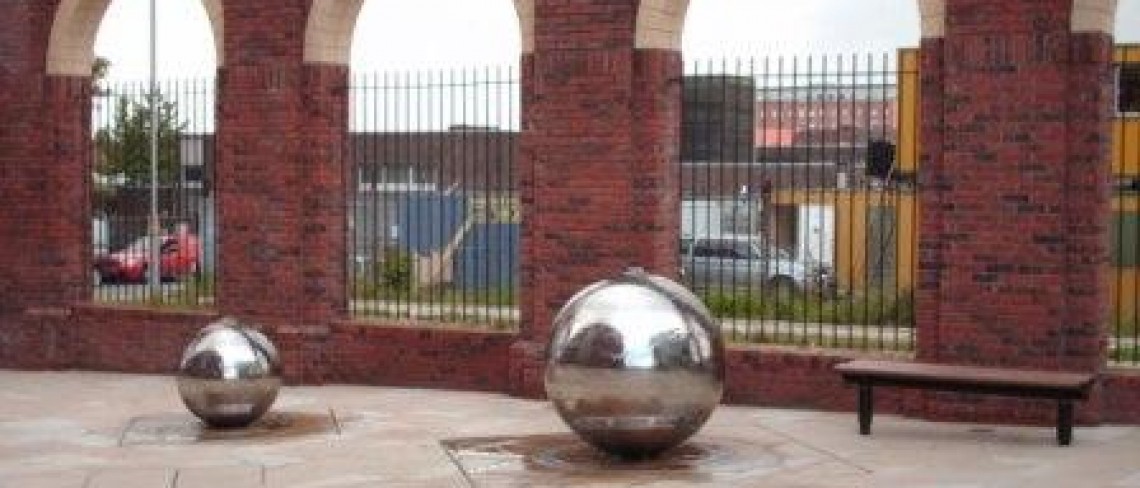 Final link of Gainsborough town centre pedestrian route now open
19 July 2007
Towering triumphal arches at the Eastern end of Marshall's Yard have opened, completing the final stage of new pedestrian linkages through the town.
One of the key objectives in the design of Marshall's Yard was to open up the route from the adjacent Tesco store through to the town centre. Before Marshall's Yard opened, the former derelict engineering site on which it was built acted as a barrier between Tesco and the rest of the town - resulting in shoppers driving to the supermarket for their weekly shopping, with no encouragement to venture further into Gainsborough.
Now that the link is complete, it provides an attractive pedestrian route through the town, producing economic benefits for all traders
Spectacular water features have been installed by the arches. Supplied and installed by 'The Fountain Company', the two spherical stainless steel fountains, costing £20,000 each and weighing 288 Kilos and 121 Kilos, use recycled gallons of water to function - all of which is chemically treated before being recirculated through the fountain.
Richard Hill, Centre Manager at Marshall's Yard, said: "The developers' experience of regenerating communities has shown that shops close to a supermarket can benefit from linked shopping trips, providing there is an attractive pedestrian linkage. The new pedestrian routes are now attracting Tesco shoppers through Marshall's Yard and into Gainsborough, and this will increase dramatically when Tesco opens its planned superstore which will see a huge influx of new visitors to the town."
Joanna Walker, Town Centre Manager added: The new arches and public art are vital ingredients in getting supermarket shoppers to see what is on offer in the rest of Gainsborough, and with a number of town centre traders already reporting an increase in trade since Marshall's Yard opened, the new pedestrian route will be a further boost to the economic activity in the town."
For further information, contact:-
Public Relations Department, Dransfield Properties Ltd
Tel: 01226 360644
Email: pr@dransfield.co.uk