SUPER FANS SWEEP TO SANDERSON ARCADE TO MEET RICK STEIN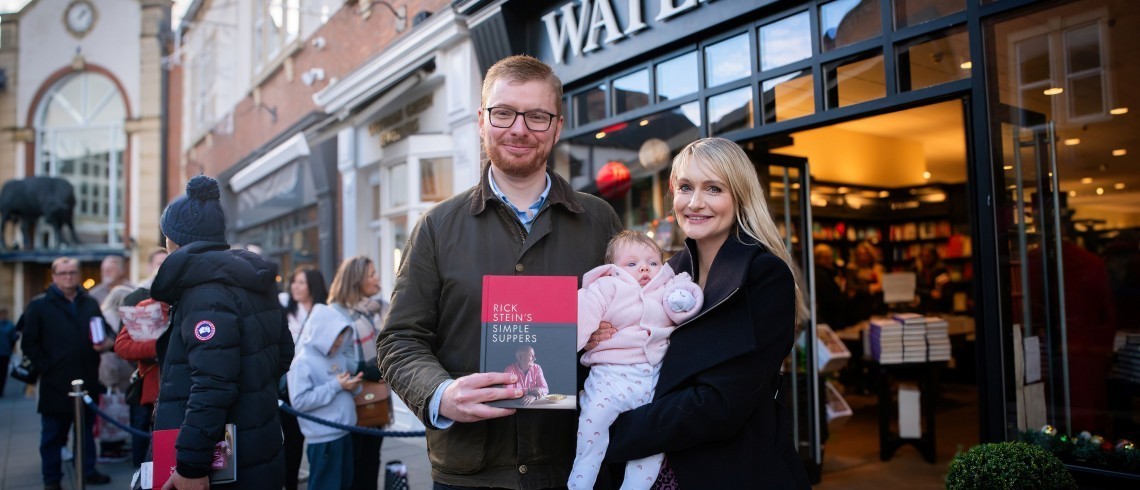 SUPER FANS SWEEP TO SANDERSON ARCADE TO MEET RICK STEIN
6 November 2023
Hundreds of copies of Rick Stein's newest book flew off the shelves at Waterstones in Morpeth on Friday which were then signed by the celebrity chef himself.
The famous chef, TV presenter and author came to Morpeth to promote and sign his new cookbook, Simple Suppers, which shares a brand-new collection of 120 easy recipes.
Waterstones Store Manager, Caroline Dominey, said: "It was fantastic to see so many people visit the store and brave the long queues in the cold to meet Rick Stein.
"We are very grateful to Rick Stein and his publishing team for joining us at our Morpeth store and hope to announce further book signing events in the near future.
"Copies of the book are still available at the store priced at £28."
Super fans of the chef turned out in their droves including Nicola Robson from Whalton who brought a Rick Stein cookbook her mum had signed 26 years ago in Newcastle to be re-signed alongside her new copy.
Rick Stein fan, Andie Cowan from Ellington also turned up at the store with a specially chosen outfit picked out to match the front cover of the book.
Husband and wife, Steven and Victoria Roper, asked the celebrity chef to dedicate their copy of Simple Suppers to their 16-week baby, Charlotte, who experienced her first celebrity meet and greet.
Mum, Mini Robinson, queued for just over an hour with her two little girls. Luna now aged two was soothed as a baby by Rick Stein's voice on TV according to her Auntie Chelle.
Foodie fans were then able to enjoy special Rick Stein dishes on the menu at Barluga and browsing the Le Creuset homeware range at Sandersons Boutique department store.
Centre Manager at Sanderson Arcade, Lottie Thompson, said: "We've had a spectacular week here at Sanderson Arcade with crowds turning up to enjoy our Nightmare Before Christmas event on Halloween and Friday's book signing at Waterstones.
"We hope everyone enjoyed this week's events and managed to browse our lovely stores to get some early Christmas present ideas. Keep an eye on our website and social media pages for upcoming Black Friday deals and more free community events and festive entertainment."
For more information about the event and to see what else is coming up at Sanderson Arcade visit www.sandersonarcade.co.uk.
ENDS
Pictures show:
(L-R) Steven Roper, Victoria Roper and 16 week Charlotte Roper
(red top) Andie Cowan
(blue coat) Nicola Robson
(L-R) Mini Robinson with Luna Robinson (2 years) and Ingrid Robinson (4 years)
Rick Stein
For further information, contact:-
Public Relations Department, Dransfield Properties Ltd
Tel: 01226 360644
Email: admin@dransfield.co.uk
For further information, contact:
Public Relations Department, Dransfield Properties Ltd
Tel: 01226 360644
Email: pr@dransfield.co.uk