Selby businesses come together to launch "shop local" campaign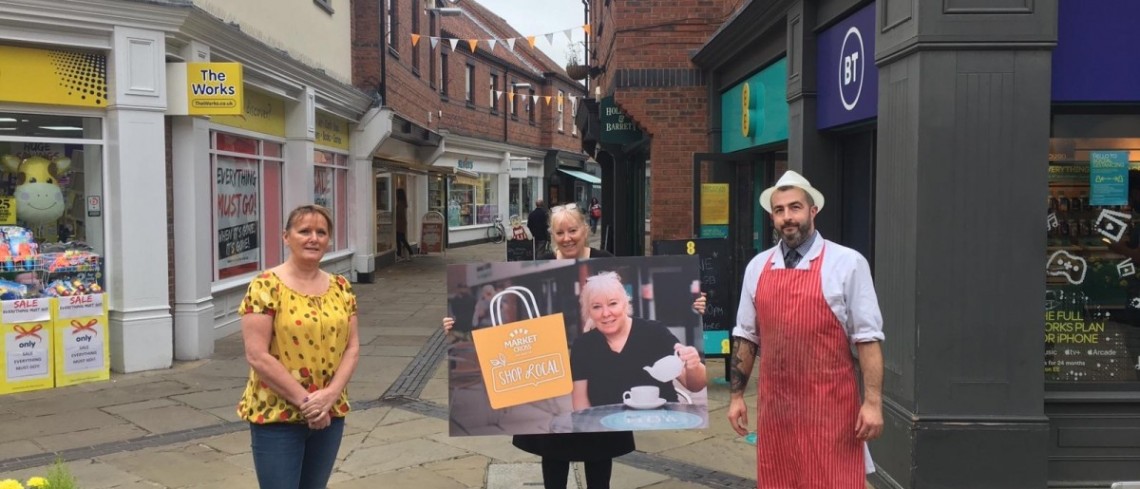 Selby businesses come together to launch "shop local" campaign
16 September 2020
Independent businesses at Selby's Market Cross shopping centre have come together to urge the town's residents to shop local.
A striking new campaign has been launched by local business owners aimed at focussing on the fantastic range of goods and services on offer at the centre and encouraging shoppers to support them.
Market Cross has a great range of local businesses including Hair Innovations, The Meat Master, The Greengrocer, J&B Flowers, Refill-It and Alexanders Cards.
Other businesses taking part in the Shop Local campaign include The Hub, the Escapologist, Inner Vision, Cobblers Last and Dolled Up.
The shop local message is being communicated in a social media and poster campaign aimed at encouraging shoppers to support the town's independent traders as well as the great line up of national names at Market Cross.
Market Cross is owned and managed by Sheffield based retail specialist Dransfield Properties Ltd and is also home to stores including Savers, Home Bargains and The Works.
Alison Shipperbottom, from the Market Cross management team, said: "Some of the town's independent traders have had a really tough time through the lockdown and also since the restrictions have eased.
"We wanted to do something really positive to remind people of some of the great shops, cafes and services we have here in the heart of Selby that have all reopened for business now.
"Everyone has worked so hard in ensuring shoppers feel safe when they visit, and we hope people will continue to support our businesses here at Market Cross."
For more information about Dransfield Properties visit www.dransfield.co.uk and to keep up to date with news and events at Market Cross visit the centre's facebook page @marketcrossselby
For further information, contact:-
Public Relations Department, Dransfield Properties Ltd
Tel: 01226 360644
Email: pr@dransfield.co.uk