North Ferriby United in dramatic FA Trophy Win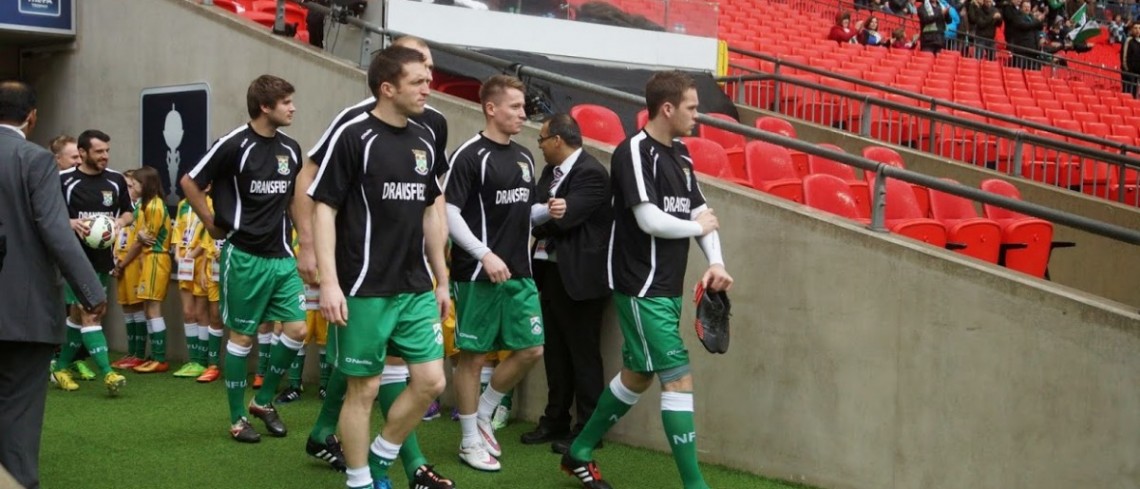 North Ferriby United in dramatic FA Trophy Win
31 March 2015
North Ferriby United has made footballing history after being crowned the winners of the FA Trophy for 2015.
The team, which has been sponsored by Dransfield Properties Ltd for more than 15 years, played Wrexham in a dramatic Wembley final on Sunday March 29th.
North Ferriby were 2-0 down with just 14 minutes to go but came back to score two more goals. The game then went to extra time before the drama of a penalty shoot-out. The Villagers won 5-4 on penalities.
Chairman Les Hare said he was absolutely delighted with the win, the club last played at Wembley in the FA Vase in 1997.
Les said: "At 2-0 down and with not long left to play I was beginning to think the dream was over. But these players never know when they are beaten."
"To be in front in extra-time and watching the clock count down was nerve-wracking. The Wrexham equaliser was heart-breaking. But credit to the players. They didn't let it affect them as we went into penalties. And what can you say about the shoot-out? Once again, Adam (Nicklin) was tremendous but credit has to be given to all the players."
Manager Billy Heath summed up the win in one word "Wow!" He said it was a great way for him and his Assistant Manager, Mark Carroll, to celebrate their 700th game as a managerial team.
Dransfield Properties is one of the sponsors of North Ferriby and has been associated with the club for more than 15 years.
Managing director of Dransfield Properties, Mark Dransfield, said: "We have always been extremely proud to be associated with the club. The team showed real grit and determination to come back like they did, it was an amazing result for everyone involved with the club.
"There's so much hard work goes into North Ferriby from a great team of people and it's wonderful for everyone involved to see that work pay off with a result like this."
For further information, contact:-
Public Relations Department, Dransfield Properties Ltd
Tel: 01226 360644
Email: pr@dransfield.co.uk