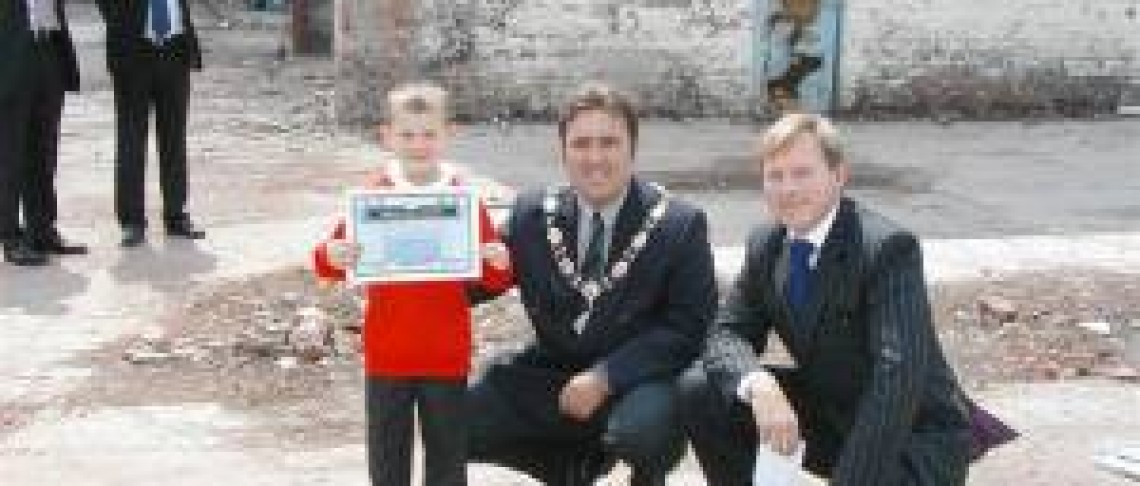 NAME UNVEILED AT GAINSBOROUGH'S EXCITING NEW RETAIL DEVELOPMENT!
2 July 2004
The school-boy who has chosen the name for the new retail complex due to be built in Gainsborough will unveil new banners at the development site on Tuesday. (July 6th)
Alex Stevenson, aged seven, a pupil at Parish Church School in Gainsborough, chose the winning name Marshall's Yard for the development.
And Alex will be invited to unveil his winning name at the development site at 12:30pm on Tuesday when the developers Dransfield Properties Ltd and Prospect Estates will also present him with a prize for winning the naming competition.
A panel of judges went through the hundreds of entries sent in by pupils at Gainsborough's seven primary schools.
Demolition work has already started on this major redevelopment of the former Britannia works site in Gainsborough – construction work on the new retail development starts in December this year.
The scheme will transform this part of Gainsborough and create around 500 new jobs in the area as well as attracting major national retailers to the town.
Robert Mayo, Director of Business Development at Prospect Estates, said: "We had some great suggestions for the name of the retail park and all the children have obviously been looking into the history of the site – we are looking forward to meeting Alex and thanking him for his winning name."
Mark Dransfield Managing Director of Dransfield Properties said: "We are delighted with the name Marshall's Yard for our new development. Although the Britannia works site is to undergo a major transformation its very important that the history of this site is remembered and we all felt that the name of Marshalls' should live on."
For further information log on to the company's websites at www.dransfield.co.uk or www.prospect-estates.co.uk

Contact details:

Amanda Holmes
Public Relations, Dransfield Properties Ltd
Tel : 01226 360644 or 07971 854733
Robert Mayo
Prospect Estates
Tel : 01943 850111 or 07739 590646
EDITORS NOTES

1. Dransfield Properties Ltd is based in Barnsley, South Yorkshire. The company is one of the leading specialist retailer developers in the country, the company also specialises in urban regeneration and has been involved in many high profile developments across Yorkshire and Lancashire.
2. Dransfield Properties has won the RICS Pro-Yorkshire are for two years running for sympathetic regeneration schemes in Hull, East Yorkshire.
3. Prospect Estates Ltd is a specialist industrial investment and development company, which operates throughout the UK.
4. The Britannia Works development will bring forward 100,000 sq ft of new retail space in the town as well as restaurants and office space. Around 500 new jobs will be created.
For further information, contact:-
Public Relations Department, Dransfield Properties Ltd
Tel: 01226 360644
Email: pr@dransfield.co.uk