Foundation stone laid at new West Lindsey Council HQ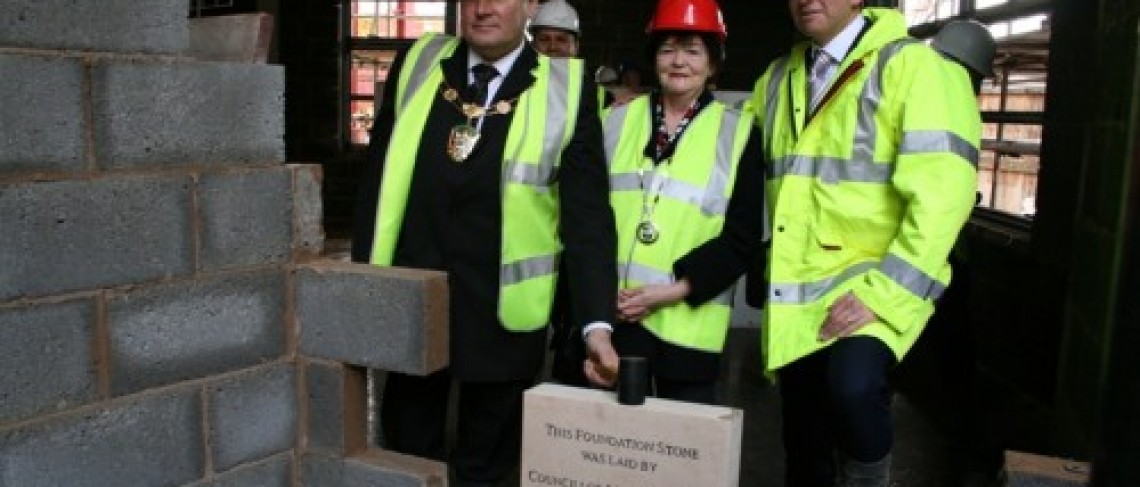 Foundation stone laid at new West Lindsey Council HQ
28 February 2007
A foundation stone to mark the development of West Lindsey District Council's new council offices has been laid in Gainsborough.
The £4.3 million project forms part of the £39 million Marshalls Yard development which will feature retail and leisure facilities as well as office accommodation when it is completed in late summer this year.
The development includes household names like Marks and Spencer, JJB, Brantano and Next on the site of the former Marshalls Engineering factory which once employed 5,000 people and was the largest factory in Europe.
The work is aimed at rekindling Gainsborough's fortunes on a site which was once famous for manufacturing agricultural machinery, tanks, and during the war even submarines were made there.
For years Gainsborough was in the doldrums but now new prosperity is being breathed into the town by the sympathetic transformation of the very place where its fortunes were built more than a century ago.
Developer Mark Dransfield said: "I am privileged to be part of the regeneration of Gainsborough and the vision to have all the Council services under one roof sets an example and shows confidence to every potential investor in the town."
Leader of the Council, Coun Reg Shore said: "This is an historic day not only for the Council but also for Gainsborough. The regeneration of the town is firmly under way and the work currently being undertaken will pave the way for a brighter future for the town for years to come."
The work is part of the Gainsborough Regained project which will also include the £2 million refurbishment of the town centre.
For further information, contact:-
Public Relations Department, Dransfield Properties Ltd
Tel: 01226 360644
Email: pr@dransfield.co.uk