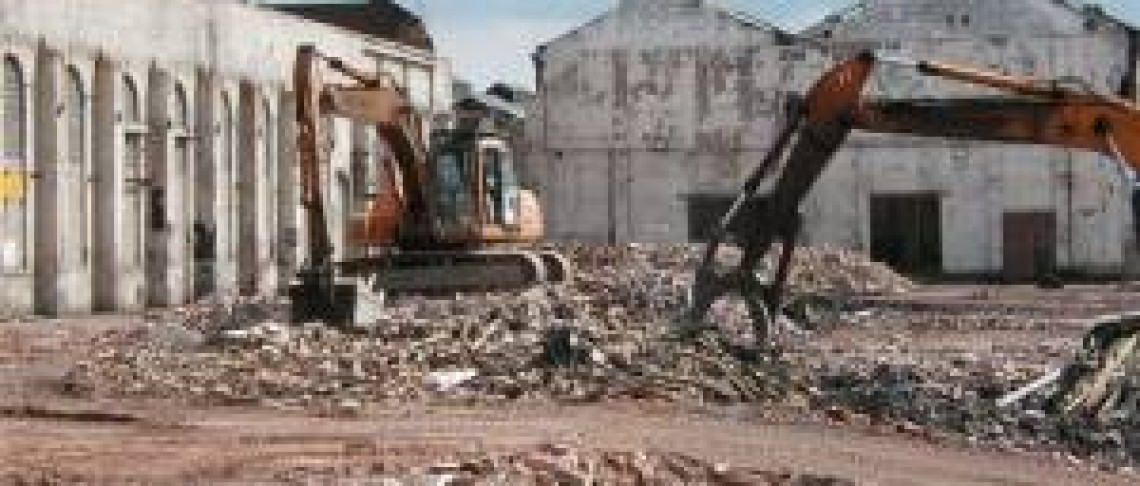 RARE VIEW OF GAINSBOROUGH'S HISTORIC TRAVELLING STEAM CRANE!
13 May 2004
Steam enthusiasts are being given the chance to get a rare view of Gainsborough's unique 19th century steam crane next week.
The crane has been sited at the Britannia Works in Gainsborough for around 125 years, now it's on the move to another part of the site where it will eventually make up the centrepiece of the development's new heritage centre.
At the moment the crane is sited in the middle of the Britannia Works development but has to be moved so construction work can start on the ambitious £19 million development later this year.
A team of expert industrial archaeologists, engineers and conservation officers will be on hand when the delicate task of moving the crane is undertaken on Thursday May 20th.
A modern 50 tonne crane will be used to move the Victorian steam crane in a process, which is expected to take several hours. Works is due to start at around 8:30am.
It's believed that the Victorian steam crane was first built by Marshalls in the 1880's and has remained in it's present position in the Britannia Works since then. It weighs around 15 tonnes and is 20 ft high and 30 ft long.
Dr Paul Collins, the Historic Buildings Analyst on the site said: "This is a very rare and important survival of an extremely important form of Victorian engineering. Virtually all the pulley wheels are still in place.
"This is a huge piece of iron work which is extremely solid and has been built to withstand anything but moving it is a difficult operation which will require a great deal of skill."
Demolition work is now well underway on the new retail park, being developed at the Britannia Works building in the town – and construction work starts in earnest this autumn.
The Britannia Works development – being brought forward by Dransfield Properties Ltd and Prospect Estates – will breathe new life into these historic Grade two listed buildings with a sympathetic redevelopment of the site.
Robert Mayo, Director of Business Development at Prospect Estates, said: "Moving the crane is a very delicate procedure and we have made sure all the experts are on hand to ensure it is moved successfully.
"We hope that anyone who has a keen interest in steam engines and industrial history will take the chance to get a good view of the crave on the move."
Mark Dransfield, Managing Director of Dransfield Properties Ltd said: "This is an important part of Gainsborough history and more specifically the history of the Britannia Works and it will make up an important part of the Heritage Centre which is being developed as part of our plans for the site."
There is a clear view of the Britannia Works site from the nearby Co-op Car park.

The new retail development is the biggest retail scheme in Gainsborough in recent years and will create around 300 new jobs.
Thirteen new retail units and a Heritage Centre will be created in this prime shopping location as well as 305 new town centre car parking spaces.
For further information log on to the company's websites at www.dransfield.co.uk or www.prospect-estates.co.uk
Contact details:

Amanda Holmes
Public Relations, Dransfield Properties Ltd
Tel : 01226 360644 or 07971 854733
Robert Mayo
Prospect Estates
Tel : 01943 850111 or 07739 590646
EDITORS NOTES

1. Dransfield Properties Ltd is based in Barnsley, South Yorkshire. The company is one of the leading specialist retailer developers in the country, the company also specialises in urban regeneration and has been involved in many high profile developments across Yorkshire and Lancashire.
2. Dransfield Properties has won the RICS Pro-Yorkshire are for two years running for sympathetic regeneration schemes in Hull, East Yorkshire.
3. Prospect Estates Ltd is a specialist industrial investment and development company, which operates throughout the UK.
4. The Britannia Works development will bring forward 100,000 sq ft of new retail space in the town as well as a 4,000 sq ft restaurant and 7,000 sq ft of office space. Around 300 new jobs will be created.
For further information, contact:-
Public Relations Department, Dransfield Properties Ltd
Tel: 01226 360644
Email: pr@dransfield.co.uk