Gainsborough Entrepreneurs open First Store after Online Success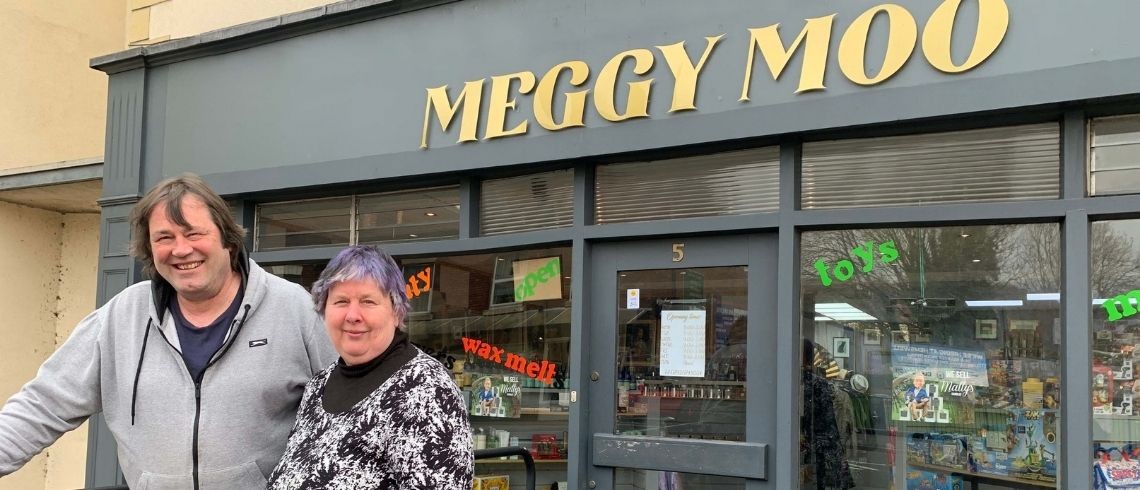 Gainsborough Entrepreneurs open First Store after Online Success
14 April 2022
Gainsborough entrepreneurs Christopher Wooley and Karen Walker are celebrating the opening of their first store following the online success of their business Meggymoo Enterprises.
The store, which will be based on North Street in Gainsborough Town Centre, will help the entrepreneurs cope with the businesses' ever-increasing demand which has seen over 3000 of their products ordered on Ebay within the last year alone.
Selling a wide range of items including picture frames, wax melts, toys, home accessories and vintage apparel, as well as selling online, Meggymoo already has a loyal following within the Gainsborough area thanks to its regular stalls at the Gainsborough Markets.
Christopher Woolley, Co-owner of Meggymoo Enterprises, said: "After launching our online business in 2017, our sales have grown and grown on our Amazon and Ebay sites. But after I suffered a heart attack in 2020 in the midst of the pandemic, we knew we had to change our strategy."
"We needed something flexible that I could work around my health, so we started selling at the Gainsborough Market as well as through Facebook.
"The feedback and number of orders was unlike anything we could have imagined."
The store, which is being let by regeneration specialists and owners of Marshall's Yard, Dransfield Properties Limited, officially opened on the 13th of March and is open 9-5 Monday-Friday and 9.30-3 on a Saturday.
Christopher added: "We are so proud to be moving into our first physical shop and can't wait to welcome all of our new customers.
"We would also like to thank all of our loyal Gainsborough customers for their support and we can't wait to see you in the store."
James Shepherd, Estates Director at Dransfield Properties Limited, said: "We are very excited to be working with Meggymoo. After their success at the Gainsborough Market, we are sure they will go from strength to strength in their new store."
For more information on lettings by Dransfield Properties please contact James Shepperd at james.shepherd@dransfield.co.uk.
Ends
Pic Caption: Chris Wooley and Karen Walker outside Meggymoo store.
For more information, or for any media enquiries, please contact Alison Shipperbottom on 01226 360 644or email alison.shipperbottom@dransfield.co.uk
For further information, contact:-
Public Relations Department, Dransfield Properties Ltd
Tel: 01226 360644
Email: pr@dransfield.co.uk