Award-winning artisan butcher to join Stroud's new indoor market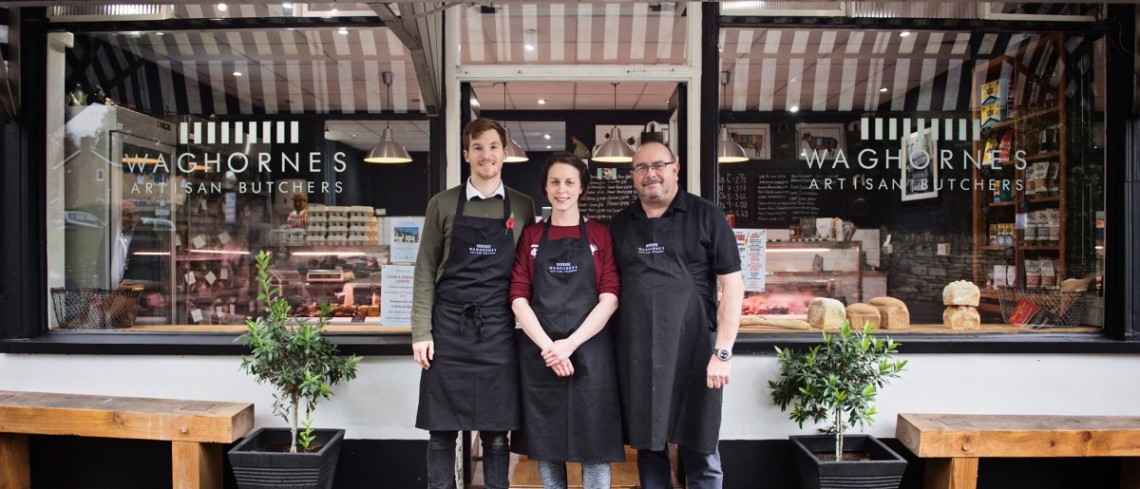 Award-winning artisan butcher to join Stroud's new indoor market
9 September 2020
The well-known Gloucestershire butcher and delicatessen Waghornes is the latest artisan trader to announce they will be joining the line-up at Stroud's new Borough Market style indoor market.
The name Waghornes has been synonymous with high quality meat in the region for more than 150 years. The family butcher and delicatessen has a history dating back to the 1850s and the team are passionate about the provenance of the meat they sell.
Now they're expanding and opening a second store at the new Five Valleys market in Stroud in October which they'll run alongside the popular Prestbury shop. The new Stroud Five Valleys store is a hark back to Waghornes' history as the butchers had a shop on Stroud's High Street in the 1800s.
Owned by Nigel Kavanagh and Nic Veale Waghornes supplies free range, farm reared meats and game as well as stocking a wide variety of delicatessen products. They pride themselves on supplying the best quality produce from farm to table and on ensuring they research the provenance of all their meat. This farm to table philosophy has been rewarded with two Cotswold Life food and drink awards one in 2018 and again in 2019.
Nic said: "We have some fantastic local suppliers, we see the animals in the field and we know they have been properly reared and looked after to ensure the best possible meat for our customers.
"We are really impressed with what is happening at Five Valleys, the centre is looking fantastic and we are so excited to be a part of it."
The new Stroud butchers shop will neighbour the new fishmonger opening at the centre and The Artisan Baker headed by Ori Hellerstein, due to open at the end of September.
The striking new Waghornes unit will have a traditional butchery theme with a contemporary feel and will also feature a dry age cabinet.
Centre manager at Five Valleys Dionne Moore said: "Waghornes have a fantastic reputation in the area and we're really excited to have them joining our market line up. We are really starting to build up a fantastic range of food to go and artisan traders and Waghornes are a great addition."
Other traders at the Five Valleys Market include Tomari-Gi, Pieminister, Thai 2 Go and Non Solo Pasta.
To find out more about the Five Valleys market and events and offers at the centre visit www.fivevalleysstround.co.uk
For further information, contact:-
Public Relations Department, Dransfield Properties Ltd
Tel: 01226 360644
Email: pr@dransfield.co.uk