Marshall's Yard Management and Retailers Welcome Government Minister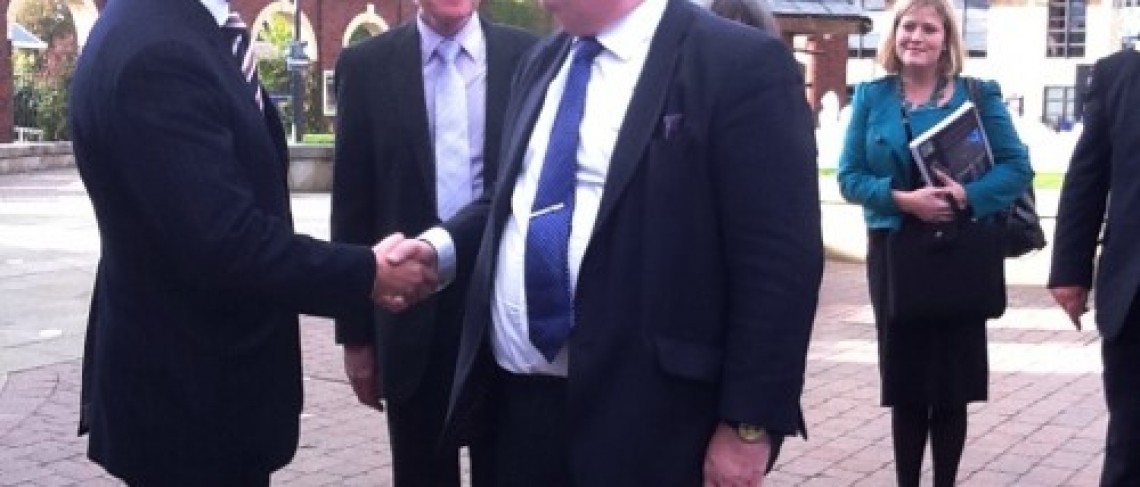 Marshall's Yard Management and Retailers Welcome Government Minister
Oct 2011
Business leaders at Gainsborough's Marshall's Yard development met the Secretary of State for Communities and Local Government during his visit to Gainsborough last week.
Eric Pickles MP was shown around Marshall's Yard and the development team behind the Ł39 million project had the opportunity to explain how a strong partnership approach had delivered the successful mixed use town centre regeneration scheme.
Marshall's Yard opened in April 2007 and is home to a great range of national and independent companies. It was developed by the South Yorkshire based retail property specialists Dransfield Properties Ltd and Prospect Estates – regenerating a run down former factory site.
Managing Director of Dransfield Properties Mark Dransfield met Mr Pickles and spoke to the minister about how working in partnership with local authorities can deliver successful regeneration schemes like Marshall's Yard.
Speaking to business leaders and members of West Lindsey District Council Mr Pickles praised the town centre development saying many developers would never have taken on such an ambitious project.
He added: "I do remember what the town looked like before this development - this is a great example of bringing a town back to life. Working in partnership it is fantastic what can be achieved."
Mr Dransfield said: "Gainsborough has seen a huge amount of investment in recent years, despite the recession, and the town really does seem to be bucking the national trend.
"Before we invested in Gainsborough there was a clear need for a town centre development. However a regeneration scheme on the scale of our Marshall's Yard development can only succeed with everyone working in partnership and sharing a vision.
"West Lindsey District Council was a vital part of the partnership which delivered the successful town centre scheme we have today which is helping to attract other businesses and investment into the town."
Marshall's Yard is home to retailers including M&S, Brantano, Wilkinson's and Laura Ashley as well as a great line up of local independent companies. Local store managers met Mr Pickles during his visit to talk about trade in the town.
Clair Everest, owner of Chic of Gainsborough, the independent fashion store at Marshall's Yard, said: "As a local business which has recently invested and expanded it was great to have the opportunity to speak to the Minister.
"The town has really transformed in recent years and we are attracting shoppers and visitors from across the region. Of course small businesses have to work harder than ever to be successful but we are very proud to be part of the Marshall's Yard development and to be developing and growing our business here in Gainsborough."
Wendy Stephenson, Store Manager at Laura Ashley, Marshall's Yard, said "Marshall's Yard has been a fantastic investment for Gainsborough. The Laura Ashley store is performing very well and the feedback we get from our customers is that they are thrilled with the development and its offer.
"Our customer travel from Scunthorpe, Lincoln and Retford, and when they've visited once, they keep returning time and time again."
For further information about Dransfield Properties visit www.dransfield.co.uk and for further information about Marshall's Yard visit www.marshallsyard.co.uk.
For further information, contact:-
Public Relations Department, Dransfield Properties Ltd
Tel: 01226 360644
Email: pr@dransfield.co.uk