Marshall's Yard sponsors local football club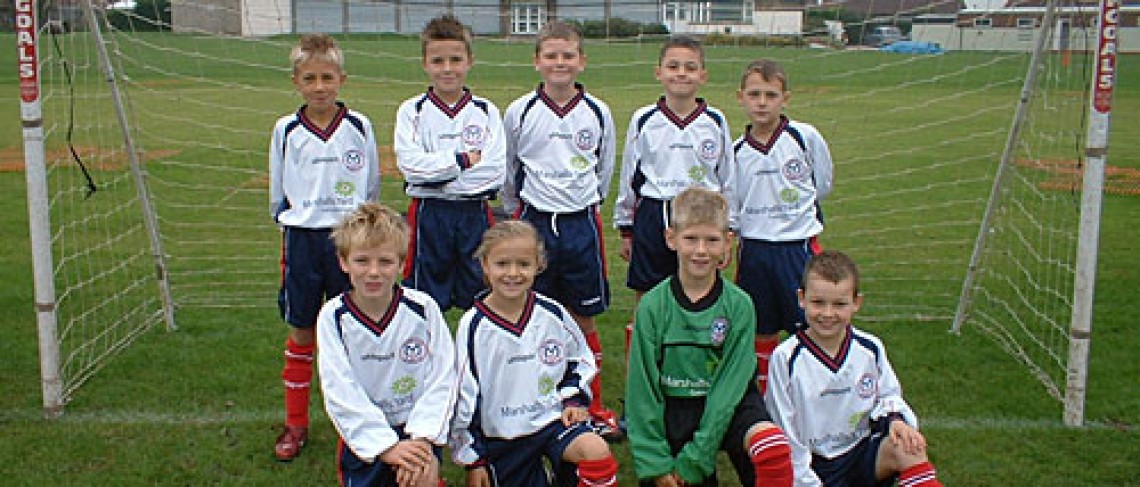 Marshall's Yard sponsors local football club
Oct 2006
Marshall's Yard has become come the first ever principal sponsor of Marshall's Sports FC, the Gainsborough football club for boys and girls up to the age of 15.
All the players and coaches in the club will now be wearing rain jackets carrying the Marshall's Yard logo and name, and the under 10 boys and under 15 girls teams will also sport the logo on their new white, blue and red kits.
The football club was set up nine years ago and has girls and boys teams ranging from seven to 15 years old, as well a senior side with players who have played with the club from a young age, playing in leagues in Gainsborough, Scunthorpe, Lincoln and South Humberside.
They play their football up at the Marshall's Sports Club Ground on Middlefield Lane and have strong links to the old Marshall's factory through the families of some of the players. The clubhouse was recently closed down giving rise to doubts about the football clubs future however with the council taking over the running of the facility and the partnership with Marshall's Yard, the football club can proudly carry on the name of the old engineering firm and look forward to a positive future.
Spokesman for the football club, Nigel Stevenson, said: "When we approached Marshall's Yard with the idea of some form of sponsorship we never envisaged something as big and positive as the offer made. A kit or small donation would have been great but to get two kits and rain jackets is fantastic. We are thrilled to be associated with Marshall's Yard and wear their logo on the kit - the Marshall's Yard development is a major boost both for the town and the football club."
Lindsay McLaren, PR Manager for Dransfield Properties, added: "We are delighted to be supporting Marshall's Football Club. The teams look great in their new kits and we wish them all the best for this season."
The Marshall's Yard development is a joint venture between Dransfield Properties and Prospect Estates.

For further information, contact:-
Public Relations Department, Dransfield Properties Ltd
Tel: 01226 360644
Email: pr@dransfield.co.uk