Stroud opticians opens new store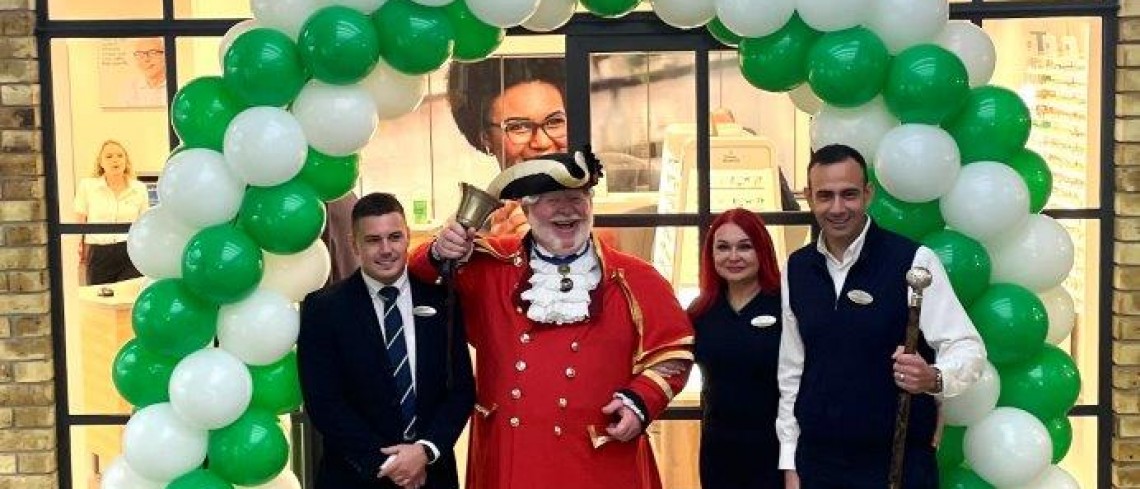 Stroud opticians opens new store
2 October 2023
The doors have officially been opened to a brand new opticians in Stroud, offering local people the very best optical and audiology care.
Specsavers, whose previous location on King Street had been its home for 30 years, has moved into a 3,300 sq ft unit in the Five Valleys Shopping Centre. The ribbon cutting for the brand new store was carried out by Town Crier, Alan Myatt, who was joined by members of the Specsavers Stroud team.
'Lots of hard work has gone on behind the scenes in the last few months and weeks to get the new store ready,' says Cobi Williams, store director at Specsavers Stroud. 'It was fantastic to mark our 30th birthday recently and celebrate being part of the community in Stroud for so long. As it turns out, it also marked a farewell to our home on King Street, but everyone is really excited about our new chapter in the Five Valleys.'
The 25-strong team is headed up by directors Cobi Williams, Rizwaan Choonara and Jo Bryan who together have more than 60 years' optical experience between them. The move has created five new roles, with more likely to become available.
'After all the planning, it's fantastic to be able to open our doors and welcome customers,' continues Cobi. 'A big thank you to Alan Myatt for coming along and helping us to celebrate and officially open the store. The whole team is excited about having a new home and continuing to provide the very best eye and ear care services to the local community.'
The new store boasts seven test rooms and a sound-proofed audiology room. Two state-of-the-art OCT (Optical Coherence Tomography) machines have been installed. Usually found in hospitals, they help opticians to see the back of the eye in more detail and can diagnose conditions earlier than traditional methods.
Centre Manager at Five Valleys, Jack Simpson, said: "The new Specsavers store looks amazing and we wish the team every success in their new home.
"Five Valleys can now add optical and audiology care to its growing offer of health care services already available at the Medical Practice next door."
The new store is open Monday – Saturday, 8.30am to 5pm and 9.30am to 4.30pm on Sunday. You can book an appointment by calling 01453 766601 or heading to www.specsavers.co.uk/stores/stroud.
For more information about Five Valleys visit www.fivevalleysstroud.co.uk.
ENDS
Issued by Target on behalf of Specsavers
For further information, contact:
Public Relations Department, Dransfield Properties Ltd
Tel: 01226 360644
Email: pr@dransfield.co.uk