SNEAK PREVIEW AT NEW HEALTH HUB TAKES PLACE THIS SATURDAY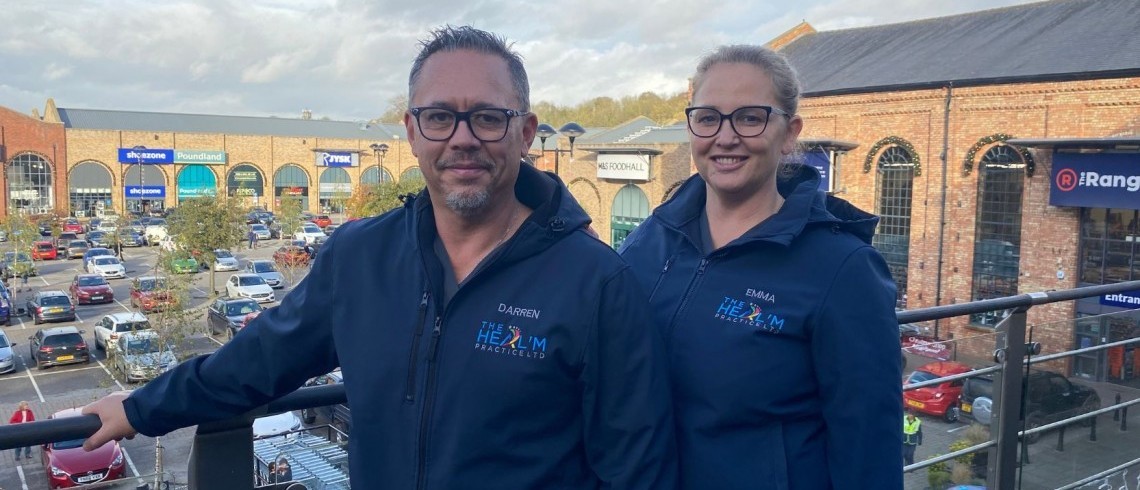 SNEAK PREVIEW AT NEW HEALTH HUB TAKES PLACE THIS SATURDAY
13 November 2023
A new health hub based at Marshall's Yard in Gainsborough is offering people a chance to see their brand-new facility specialising in footcare.
Based on the first floor of the centre's Engine House next door to accountants, Wright Vigar, The Heal'm Practice will be meeting the local community on Saturday from 10am to 2pm, ahead of their official opening on Monday [20 November].
A full of suite of treatments and services will be available from the new healthcare hub including podiatry, chiropody, nail surgery and sports massage.
With satellite clinics already running throughout Lincolnshire, the clinic offers both in-clinic and at-home appointments as well as now offering a training facility from their Gainsborough hub enabling students to access an ITOL (Institute of Training and Occupational Learning) accredited Foot Health Practitioner course.
Business owners Darren and Emma Lambert are proud of the new fully registered facility at Marshall's Yard and have already been working hard with the local job centre to expand their team creating jobs for the area.
Darren said: "The unit at Marshall's Yard is perfect for our new venture, we live locally and feel with affordable parking right outside this is the right spot for our facility both for patients and our trainees, who will be visiting us from all over the country, looking to become foot practitioners."
The Academy is the first in the east of the country to offer training at level 3 and 4 in the Diploma in Foot Health.
Emma said: "We offer a wide range of services including ear syringing, soft tissue laser therapy, custom orthotics, nail surgery and sports massage therapy."
The centre has also invested in the county's second Swift Machine which rapidly removes verruca's.
As well as offering home visits the clinic will also offer patients needing urgent care out of hours appointments.
Normal clinic hours will run Monday to Friday and emergency drop-in appointments will be offered every Saturday morning.
Jodie Pacey, Centre Manager at Marshall's Yard, said: "It's fantastic to welcome another business to the Yard offering a great health care service to the local community. The Engine House at Marshall's Yard offers striking, high-quality office space and we're proud for report that with Heal'm Practice now part of the line-up, office space in this building is now fully occupied."
Two office units remain available in Britannia House at Marshall's Yard, enquiries should be directed to Olly Jansen on 01226 360644 or olly.jansen@dransfield.co.uk.
To find out more about the practice visit www.thehealmpractice.co.uk or call 01427 392444 for an appointment or drop into the clinic on Saturday to take a look.
For more information about Marshall's Yard visit www.marshallsyard.co.uk
ENDS
For further information, contact:
Public Relations Department, Dransfield Properties Ltd
Tel: 01226 360644
Email: pr@dransfield.co.uk