Selby says 'I do' to a brand-new bridal boutique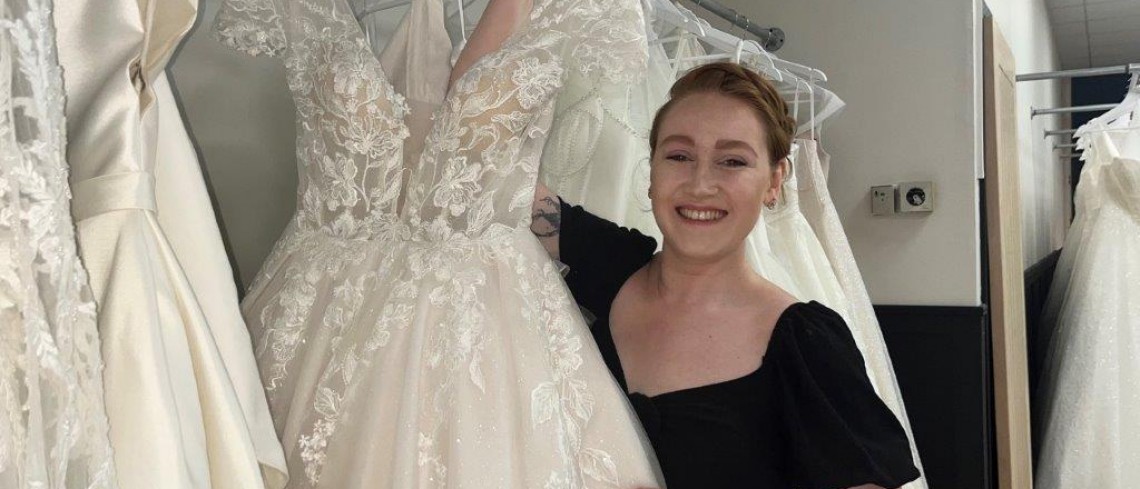 Selby says 'I do' to a brand-new bridal boutique
4 September 2023
Abbey Bridal is the latest addition to join the fantastic line-up of quality independent names at Market Cross in Selby.
The high-end boutique offers a range of luxury wedding gowns from classic designers such as Romantica of Devon and Allure Bridals. These beautiful dresses are perfect for brides searching for both affordable and premium gowns with prices ranging from £450 to £4,500.
Abbey Bridal not only caters for elegance and luxury but also inclusivity, stocking sizes from 8 to 36 ensuring all brides look and feel spectacular for their special day.
Owner, Jessica Sykes, is local to the area living in Castleford and has worked in the bridal industry for over five years. After breaking away to start a family, Jessica is now returning to the trade with her first bridal boutique.
At the young age of 28, Jessica was diagnosed with breast cancer. This unfortunate news gave her the motivation to start her own business and now in recovery, Jessica has opened her first store, Abbey Bridal.
Running the store alongside her is husband Luke, who has supported Jessica through this journey and is now continuing to back her dream.
Jessica said: "I am so excited to have opened my own bridal studio right here in Selby. I have always wanted to launch my boutique here as the town attracts a more upmarket customer and I really like the atmosphere here.
"I am really looking forward to this new venture and meeting lots of lovely brides helping to make their special day perfect."
Abbey Bridal accepts both appointments and walk-ins, with appointments taking priority. Customers can book an appointment via the stores website www.abbeybridal.co.uk, email at jessica@abbeybridal.co.uk or Instagram direct message @abbeybridal.
Olly Jansen, Estates Surveyor at Dransfield Properties, said: "We are really delighted that Jessica has decided to open her first boutique here at Market Cross.
"The bridal boutique will make a lovely addition to the centre and we wish her all the best of luck on her new adventure!"
The centre has just one retail unit available currently and any enquiries should be directed to Olly Jansen on 01226 360644 or at olly.jansen@dransfield.co.uk
For more information about what's going on at Market Cross visit www.marketcross-selby.co.uk.
ENDS
Picture shows Jessica Skyes owner of Abbey Bridal
For further information, contact:
Public Relations Department, Dransfield Properties Ltd
Tel: 01226 360644
Email: pr@dransfield.co.uk