Piece of art fixed in place to celebrate the Tour de Yorkshire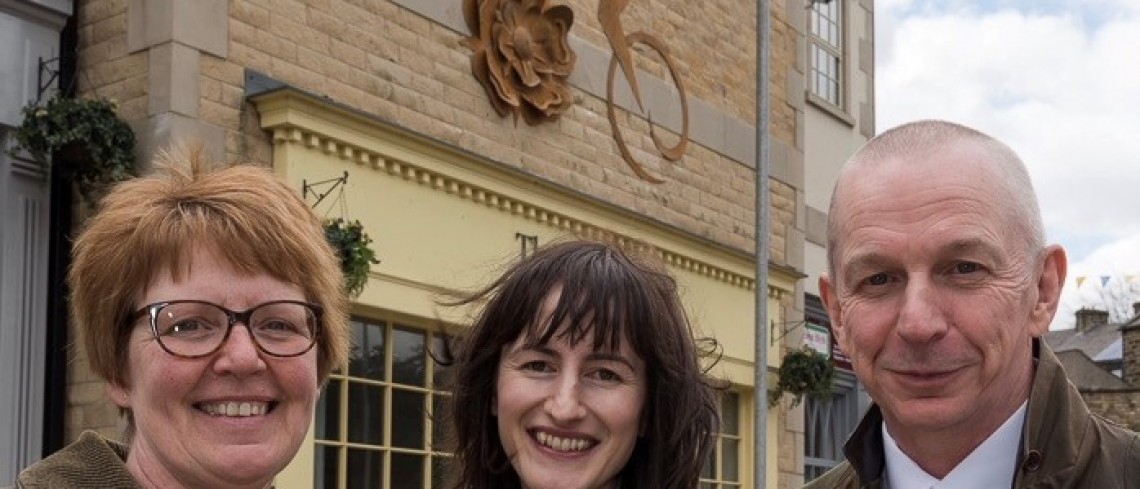 Piece of art fixed in place to celebrate the Tour de Yorkshire
13 April 2017
A stunning piece of art by South Yorkshire sculptor Susan Crawshaw has been unveiled in the centre of Penistone to mark the 2017 Tour de Yorkshire which finishes at Fox Valley on April 30th.
The piece has been created out of corten steel to give it a striking rusted appearance and has been fixed in place at the Penistone 1 building where it will greet professional riders and those taking part in the Tour de Yorkshire sportive when it passes through Penistone.
Susan, who is Subject Leader of Art at Gateway School, has worked with Penistone Town Council to find a location for the piece. They contacted Dransfield Properties about having the piece displayed on the company's award winning Penistone 1 building where it has now been installed in time for the Tour de Yorkshire.
The stunning design which shows a rider on a bike with the front wheel depicting a Yorkshire Rose has also been used in the welcome banners which have been created for the towns and villages the ride will pass through in South Yorkshire.
Susan was helped by her Father Monty Goldthorpe who provided his garage space and equipment to complete the piece and her brother Brian who helped with the welding.
Susan said: "I decided to design something for the race and I wanted to include the Yorkshire aspect which why I created the front wheel as a rose. I wanted to use corten steel as its maintenance free and it will change colour into a lovely orangey red shade over time.
"I'm delighted with how it looks on the building and that it will be there for everyone to see when they come into Penistone."
Cllr Paul Hand-Davis, Mayor of Penistone, said: "The piece looks fantastic and it really is credit to Susan that it is such a striking piece it has become the emblem of the race in our area."
Development Surveyor from Dransfield Properties, Alisdair Gillespie, said: "Everyone has really worked together to make sure this stunning piece of art could be installed in time for the Tour de Yorkshire.
"Susan has done a fantastic job and the piece looks great at Penistone 1 – we're delighted we've been able to play our part in getting the piece installed in time."
The Tour de Yorkshire will finish at Fox Valley on Sunday 30th June, Fox Valley is owned and managed by Dransfield Properties Ltd.
For more information about the Tour de Yorkshire visit www.letouryorkshire.com
Picture shows Susan with the sculpture and also with Cllr Jan Stanley and Cllr Graham Saunders from Penistone Town Council.
For further information, contact:-
Public Relations Department, Dransfield Properties Ltd
Tel: 01226 360644
Email: pr@dransfield.co.uk