Newcastle Hospital has World First Thanks to Sanderson Arcade!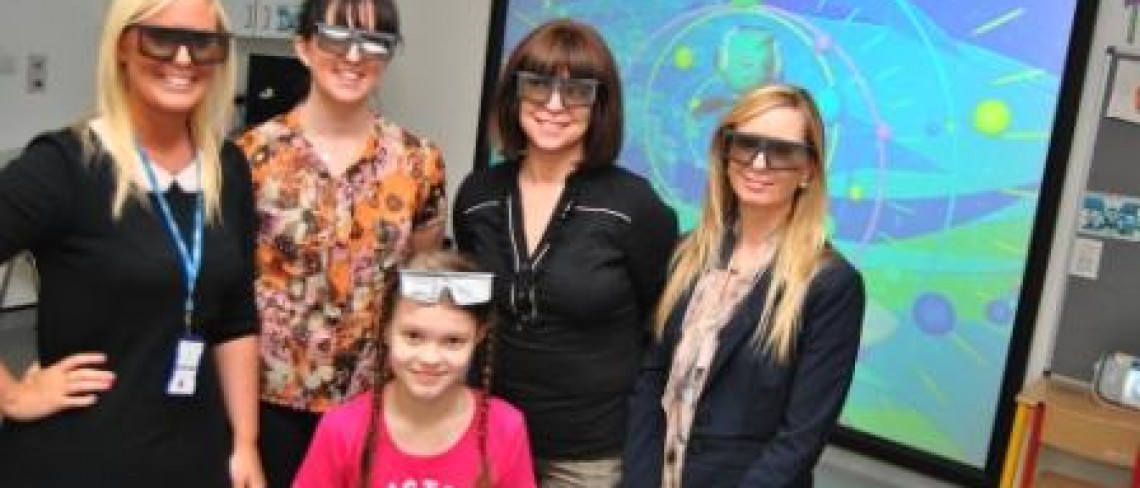 Newcastle Hospital has World First Thanks to Sanderson Arcade!
2 May 2012
Hundreds of children needing rehabilitation can now follow the actions of 3D cartoon characters to help them recover – thanks to a generous donation from a Northumberland shopping centre.
The 3D immersive rehabilitation technology – which is a world-first - has been installed in the Therapy Department at the Great North Children's Hospital in Newcastle, following tireless fundraising by staff and customers at Sanderson Arcade in Morpeth - and the centre owner Dransfield Properties – to raise £30,500 last year.
Children can interact with 3D digital characters Gymbob and Gymima and copy their actions to make physiotherapy and other rehabilitation exercises fun.
Amanda Holmes and Charlotte Gahegan from Dransfield Properties, and Medi Parry Centre Manager of Sanderson Arcade, visited the hospital to see the equipment being demonstrated by 12-year-old Skye Logan, an inpatient at the Great North Children's Hospital.
In February Skye had a bleed in her head meaning she lost ability in most of her body. In intensive care for three weeks she needed help to even breathe. Now, eight weeks after the bleed, she can use the 3D immersive equipment to draw circles with glitter and practice standing with Gymima to strengthen her muscles.
Skye's mum Debbie Logan said: "Skye has made incredible progress in only eight-weeks. She is a little star and has always been enthusiastic about working with the nurses, physios and occupational therapists. Equipment like this is fantastic and makes the sessions a lot more fun for children."
Victoria Mitchinson, team leader for paediatric physiotherapy at the Great North Children's Hospital, said: "The equipment is used to motivate and enhance rehabilitation by adding more fun and interaction to current therapy programmes. It really adds another dimension to our treatment programmes.
"The equipment will be used with children and young adults ranging from three to 18-years-old. The wide range of interactive exercises and programmes that it offers means that every child will benefit irrespective of their mobility, functional or cognitive level."
The groundbreaking equipment has been developed by Teesside-based firm Amazing Interactives Ltd which specialises in 3D equipment for pain distraction, physiotherapy, and interactive activities for children with special needs.
Tim Dear, creative director, said: "We try to make the interactive programmes as colourful and fun as possible so the children can immerse themselves in the activities. Developing this equipment is one of our proudest achievements as it is so fulfilling to hear from medical professionals like Victoria that it really does make a difference."
Amanda Holmes, head of communications at Dransfield Properties, said: "When we heard about The Children's Foundation and the work it does to help children in the North East we were determined to raise enough money to buy the equipment. To see it working like this is absolutely incredible – it's truly ground-breaking stuff."
Professor Stephen Singleton, chairman of The Children's Foundation, said: "I am so pleased to hear that Sanderson Arcade and Dransfield Properties have been able to see the equipment being used. We are so grateful for their fantastic fundraising effort – they can rest assured that the equipment will directly benefit hundreds of children in the north east who use the rehab unit every year."
For further information, contact:-
Public Relations Department, Dransfield Properties Ltd
Tel: 01226 360644
Email: pr@dransfield.co.uk