New road marks countdown to town centre development launch!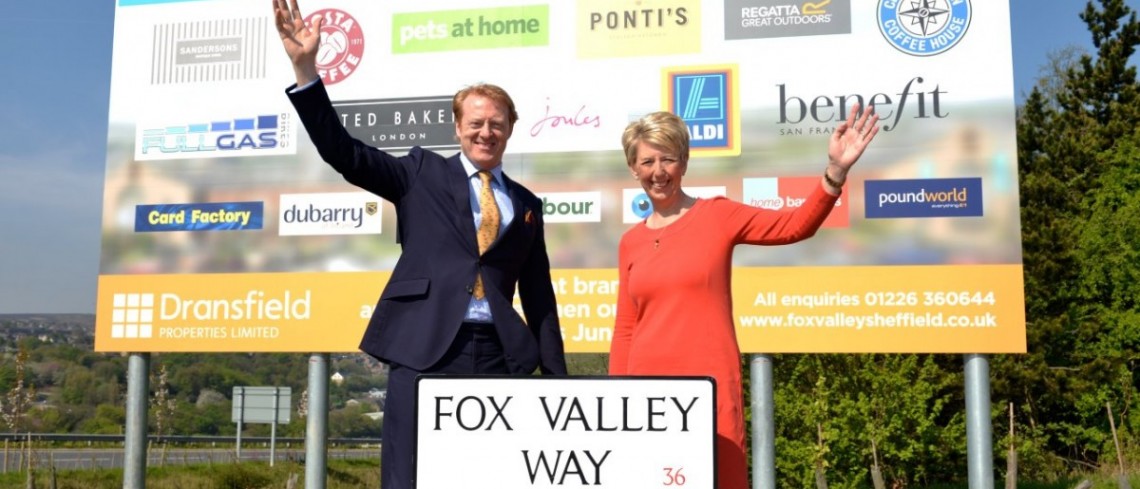 New road marks countdown to town centre development launch!
10 May 2016
The brand new road Fox Valley Way – linking north Sheffield's new £50 million town centre development with the wider catchment – has been officially opened to the public by Angela Smith MP.
The new road allows direct access from the A616 Stocksbridge bypass; the main Sheffield to Manchester route.
A link has been in place since the bypass was completed in 1988 but access was for steelworks traffic only leaving no direct route from the wider region into the town centre.
The road has been upgraded as part of the £50 million Fox Valley scheme with a new roundabout on the A616 and an upgraded road which will bring shoppers into the heart of the town when Fox Valley opens on June 16th.
Fox Valley Way links with the new Samuel Fox Avenue where Stonebridge Homes are delivering 118 new houses, as well as linking with the main entrance to the new development and Manchester Road in Stocksbridge.
Fox Valley has been delivered by the award winning development company Dransfield Properties. Managing Director, Mark Dransfield, said: "Creating a new link from the A616 is a vital part of the Fox Valley development, it puts this part of north Sheffield on a completely different level in terms of the catchment which now has fast and easy access.
"Fox Valley Way opens up access for shoppers and visitors to be able to come direct into the town centre which they haven't previously been able to do. It is also great news for the businesses in our new offices here at Fox Valley as the can access the M1 and the wider region in minutes."
Angela Smith MP for Penistone and Stocksbridge said: "Now the finishing touches to Fox Valley are being put together local people and even those further afield are getting more and more excited. The opening of the new link road from the A616 will now give everyone that tantalising peek at what is to come in a few weeks' time.
"Everyone I meet from the town is looking forward so much to being able to shop and eat at Fox Valley. This new link road will also make it easy for people from further afield to visit Stocksbridge as well as reversing the trend of local residents going out of the area for many shops and facilities."
Fox Valley is bringing a brand new line up of retail, restaurants and coffee shops around a 600 space free car park.
The development has been designed to a high specification with stunning architecture and an attractive landscaped peace gardens area.
Retailers joining the Fox Valley line up include Next, Seasalt, M&Co, Pets at Home, Regatta and Full Gas Bikes. NYC Bar and Grill and the London based Ponti's Italian Kitchen are also opening new restaurants at the centre in June and the boutique department store Sandersons will open in September.
Dransfield Properties has received an investment of £8,111,040 from the Yorkshire and Humber ERDF Programme 2007- 2013, which is managed by the Department for Communities and Local Government to bring forward the Fox Valley project.
Picture shows: Andrew Malley, retail property director at Dransfield Properties and Angela Smith MP at the newly opened Fox Valley Way.
To keep up to date with news and events at Fox Valley visit www.foxvalleysheffield.co.uk


For further information, contact:-
Public Relations Department, Dransfield Properties Ltd
Tel: 01226 360644
Email: pr@dransfield.co.uk