Greengrocer set for New Challenge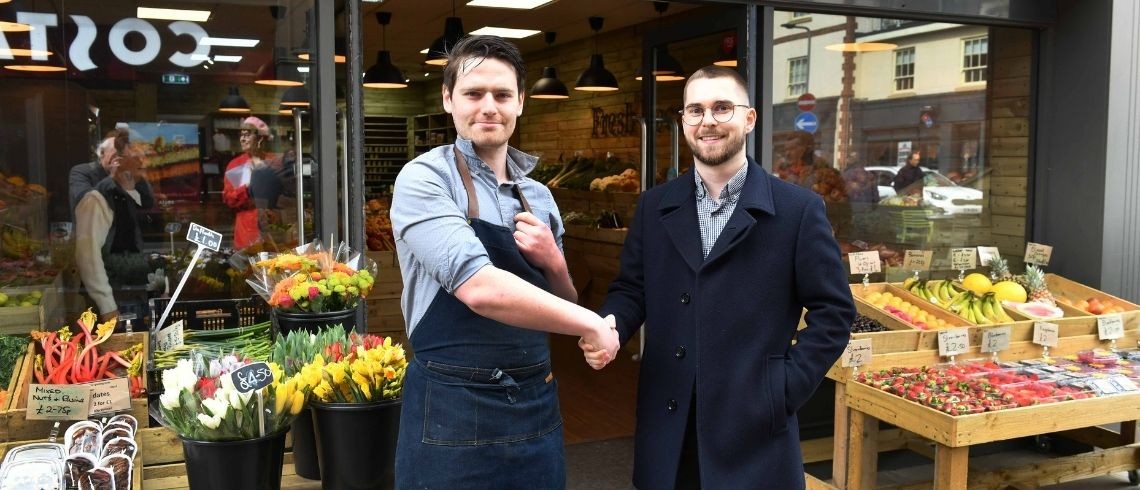 Greengrocer set for New Challenge
11 April 2022
The former manager of The Greengrocer in Selby has taken over the popular store, renaming the business Cooper's Grocer.
After working in the store located within Market Cross, Selby for two years, Conor Cooper has officially taken the reins and is looking forward to putting his own spin on the shop.
Conor said: "Cooper's Grocer will feature the same staff the Selby community all know and love, with our signature attentive customer service.
"We will continue to offer our amazing range of local fresh produce as well as some new products that we can't wait to reveal!"
The greengrocers currently offers a delicious range of fresh vegetables and fruit, as well as milk, store cupboard staples and freshly squeezed orange juice. All of which are supplied directly from independent Yorkshire suppliers.
Over the next few months, the store will welcome new branding and products including luxury preserves and jams from local farmers, as well as a wider selection of their popular range of garden plants
Conor added: "I've worked alongside the former owner Lee since I was 16 and have learnt a lot from him in the 10 years I've been in the industry. This change of hands feels like a natural progression, and I'd like to thank him for the opportunity.
"We can't wait to welcome customers old and new and hear their feedback on our new product lines and branding"
Owned by regeneration specialists, Dransfield Properties Limited, Market Cross Shopping Centre is located in the heart of Selby and boasts a wide range of independent and national brands.
Olly Jansen, Estates Surveyor at Dransfield Properties Limited, said: "The Greengrocer has been a staple of the Selby community for so many years and we'd like to formally congratulate Conor on his taking over of the business.
"It's fantastic to hear that even with new ownership the business will still prioritise its excellent customer service and local produce. We'd like to wish Cooper's Grocer all the best with the business."
Cooper's Grocer is a key part of the food shopping offer at the centre, complementing Selby Butchers and Refill-It, an eco-friendly store which supplies a wide range of food produce in the quantities you require.
Market Cross provides customers the opportunity to get everything they need for their weekly food shop in one convenient place.
Cooper's Grocers is open 8:30am – 4pm Monday to Saturday.
For more information contact Conor Cooper at ccgrocer@outlook.com.
For further information, contact:-
Public Relations Department, Dransfield Properties Ltd
Tel: 01226 360644
Email: pr@dransfield.co.uk