Five Valleys Breathes New Life into Cotswold's Market Town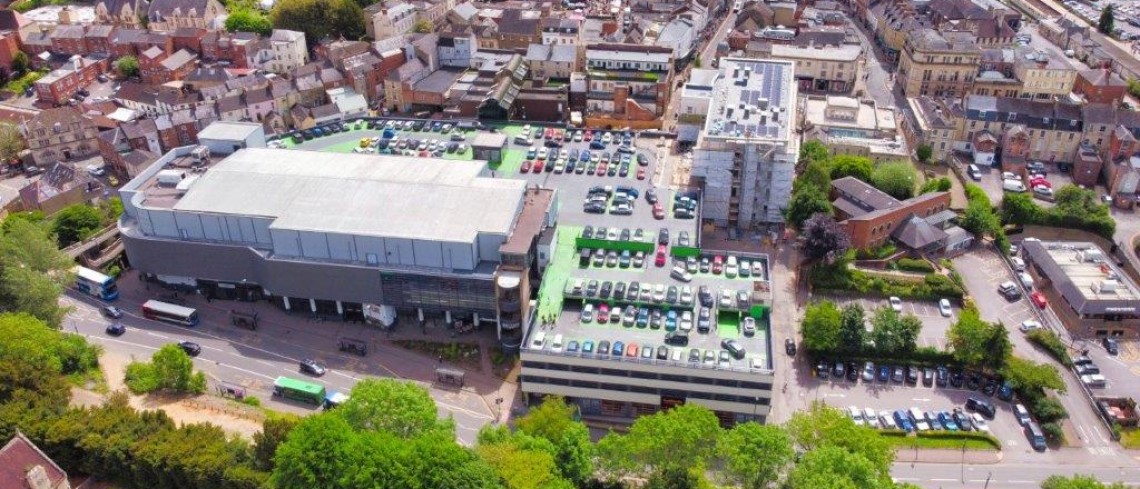 Five Valleys Breathes New Life into Cotswold's Market Town
30 May 2022
Stroud's shopping centre is transforming its mall into a dynamic and attractive place to shop and eat for both local shoppers and visitors travelling from further afield.
Since taking over the former Merrywalk's centre in 2018, Yorkshire based company Dransfield Properties Limited have worked closely with the community spending in excess of £25m on an area of town which has historically received little investment.
Since September 2021 efforts to fully refurbish the former Woolworth's building, once home to Poundland, have been underway and will soon house two medical centres relocating from Locking Hill and Beeches Green, a new library and new first floor health and office facilities.
The company has so far safe-guarded and created 293 jobs and has created 13 new residential apartments supporting further footfall to the businesses.
Encouraging many of the existing retailers to participate has seen Stroud Bowl just complete their full re-fit and as a result they are now attracting many new, as well as welcoming the return of old customers.
The facility is now run by Katy Johnson, daughter of the original founder, who is putting new energy into the food and drink offer and ensuring its appeal to a wider catchment of people looking for a great evening out.
The Master Cobbler, a well-established Five Valleys business, has also invested and made significant improvements to the store as has Victoria R, a family-run home and giftware shop, which opened a year ago next to the new Sandersons department store.
Dransfield Properties has also brought down its Sandersons department store to Stroud which is undergoing exciting changes to soon introduce an upmarket Italian restaurant.
The store celebrated its first birthday last month and by offering many designer brands such as Holland Cooper, Barbour International, FRNCH and the most exclusive fragrance range outside of London, the store is popular with customers both from Stroud and further afield.
New menswear shop Cordell's is delivering on the back of Sandersons offering a contemporary collection of designer suits, casual wear and accessories.
Red Heart, an independent business based in Stroud who design and hand make their own tweed fashion garments, complements the shopping offer ensuring there is something for all tastes at the centre.
Alongside the retailers, the company has brought forward an outstanding food offer for Stroud delivering fresh fish, meat, bakery and street food from around the world to be enjoyed within the centre or to be taken out.
The developers still have two years to go to complete the restoration work at the centre with later phases including the remodeling of the gallery to look like the buildings at London's Burlington Arcade and an attractive mews development.
Subject to grant funding, this will deliver almost 9,000 sq ft of new office space for Stroud and hopes to create 95 new jobs.
Managing Director for Dransfield Properties, Mark Dransfield, commented: "We are delighted to have been welcomed into the community and we are looking forward to opening the next phase of developments in the autumn in the form of the new medical centre and relocation of the new library service".
Ends
For more information or for any media enquiries, please contact Jessica Derham on 01453 590 290 or e-mail Jessica.Derham@fivevalleysstroud.co.uk.
Pic Caption – Five Valleys shopping centre
Notes to Editors:
• Over the last five years Five Valleys Shopping Centre Stroud has undergone a major transformation, creating a thriving retail and leisure destination alongside a Borough Market style indoor market made up of an eclectic mix of local artisan traders
• The Five Valleys Market is also now hosting Late Night Fridays with a fantastic pop-up cocktail bar and live music joining the line-up of street food traders to kick off every weekend
• To learn more about Five Valleys Stroud, visit: https://www.fivevalleysstroud.co.uk
For further information, contact:-
Public Relations Department, Dransfield Properties Ltd
Tel: 01226 360644
Email: pr@dransfield.co.uk