Award Winning Gin Coming to Sanderson Arcade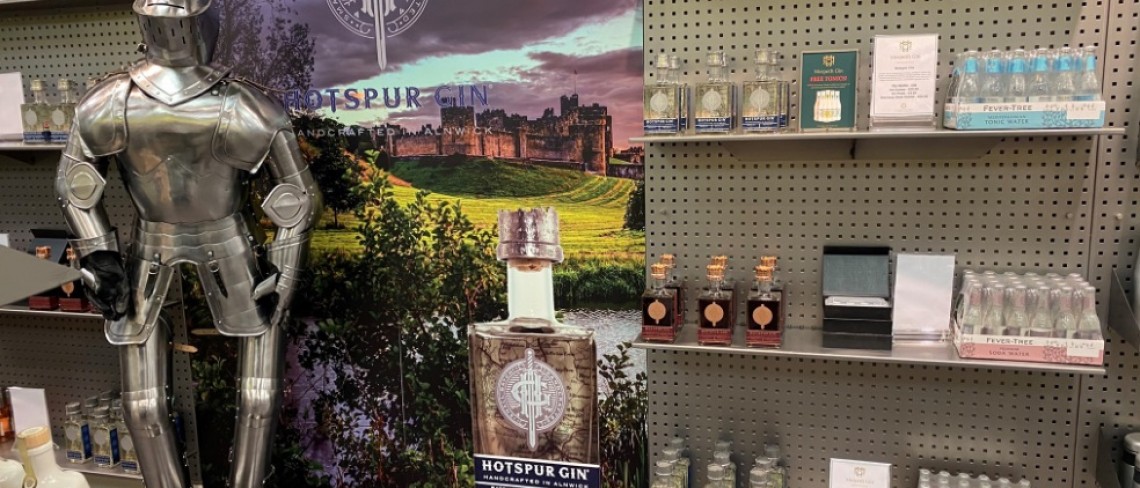 Award Winning Gin Coming to Sanderson Arcade
19 August 2021
Morpeth Gin is set to officially open a new store this Friday (August 20th) at Sanderson Arcade Morpeth, with a fabulous range of local handcrafted gin.
Owned by Andrew Petherick, who also owns the Hotspur Gin Emporium in Alnwick, the new Morpeth Gin store will also sell the International award-winning Hotspur Gin - which uses handcrafted Northumbrian botanicals to create their exquisite and distinctive flavour. These exciting products along with a whole range of gifting and the other Award winning products from the range they offer such as Hadrian's Wall Gin and Alnmouth Gin. All made in Northumberland.
Morpeth Gin is made in small batches of only 102 bottles, each and every drop receives the Gin Master's full and dedicated attention for the most perfect flavour. The first and second batches are in the shop for the opening.
Morpeth Gin is lovingly hand crafted in Morpeth, Northumberland. It has been developed to celebrate Morpeth, the home of the world famous Whinham's Industry Gooseberry. The premium quality gin also includes rosemary and rose petal, for the most delicate sign-off that will satisfy even the most discerning palate.
Andrew Petherick (Owner) commented: "The labels and cap have been designed to reflect the roots of Morpeth Gin. The labels have a map of the town printed on them and the cap has the town crest cast into it. They make fantastic gifts and keep sakes.'
The shop also offers an impressive range of crafts beers from across the North East from breweries such as Twice Brewed, Full Circle, Black Storm.
The Morpeth Gin shop is located in the former Paperchase Unit in Sanderson Arcade, next door to Crew Clothing and Vision Express. The store will be open Monday – Saturday, 10am – 5pm.
Andrew Petherick commented: "We're so excited to be expanding our business and opening our second store this week at Sanderson Arcade. We have had the distillery in Morpeth for a while now and have always wanted to have a retail location in Morpeth to help develop the brand locally. Its a great opportunity and the feedback so far has been amazing! "
"Morpeth is a beautiful town with great footfall and a vibrant line up of independent retailers so we are confident our Morpeth Gin branch will prove a hit with shoppers here!"
Centre Manager of Sanderson Arcade, Lottie Thompson said: "We are delighted to welcome another fantastic, local independent business to Sanderson Arcade and speaking to our shoppers they cannot wait for the arrival of Morpeth Gin!"
To find out more about the new Morpeth Gin and their award-winning Hotspur Gin collection please visit https://www.hotspurgin.com/collections/morpeth-gin
For further information, contact:-
Public Relations Department, Dransfield Properties Ltd
Tel: 01226 360644
Email: pr@dransfield.co.uk