New restaurant brings 60 jobs to Lime Square, Openshaw.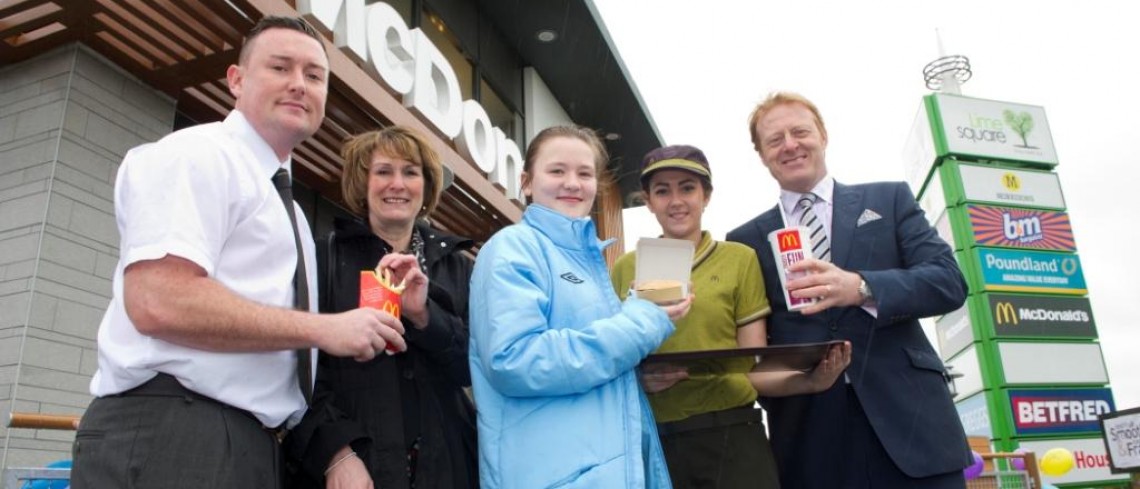 New restaurant brings 60 jobs to Lime Square, Openshaw.
May 2013
Following a significant investment, McDonald's has opened a new restaurant in Lime Square, Openshaw creating 60 new jobs in the local area. The restaurant opened on May 15th.
Those employed at the restaurant will have access to leading training and development programmes, as well as the opportunity to gain nationally recognised qualifications ranging from adult certificates in Maths and English to a Foundation degree in Managing Business Operations.
The two storey drive-through restaurant includes comfortable seating and free WiFi for customers looking for added value from their eating out experiences and is part of a local regeneration within the Lime Square area.
It is the first restaurant in the north selected to operate the new McDonald's Made for You format.
Local McDonald's franchisee, Gerald Thompson said "We are delighted to be opening our doors in Lime Square and being a key part of this new development.
We hope to see many loyal McDonald's fans coming to enjoy the restaurant, as well as some new potential customers attracted by our inviting look and feel. Our first customer was local girl Jessica McCarrick, who is actively involved in working with local charities within the area".
Gerald Thompson who himself started off as a part time staff member at McDonald's said;
"As a local businessman, who owns a further 6 McDonald's restaurants within the local area, I'm keen to ensure steady investment in the area and we're pleased to be able to provide a significant number of new jobs. Investing in the development of our staff is also important – we want to ensure they have a good learning ladder of opportunities ahead of them to benefit their career but also because it will ultimately help us deliver consistently high levels of customer service.
For further information, contact:-
Public Relations Department, Dransfield Properties Ltd
Tel: 01226 360644
Email: pr@dransfield.co.uk