South Yorkshire Company's Ab-Fab Night to Celebrate 20th Anniversary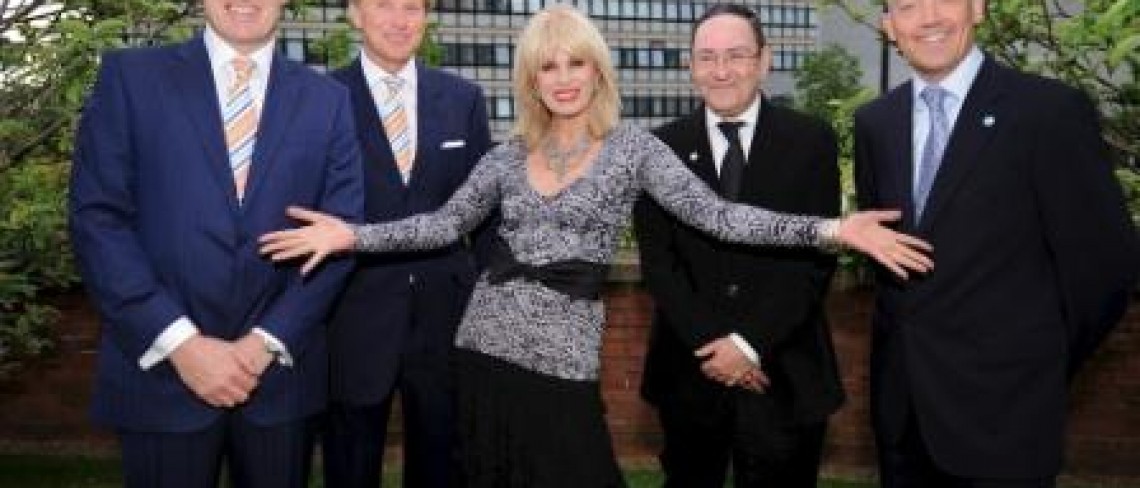 South Yorkshire Company's Ab-Fab Night to Celebrate 20th Anniversary
31 May 2012
Barnsley based retail property specialist Dransfield Properties Ltd has celebrated 20 years in the industry with an Ab-Fab event held at Sheffield's Millennium Gallery.
Joanna Lumley OBE and Sir Howard Bernstein OBE, the Chief Executive of Manchester City Council, were guest speakers at the event held on Wednesday evening. (May 30th)
Both paid tribute to the company's achievements in retail led regeneration over the last two decades at the anniversary dinner which was attended by more than 100 guests.
Ms Lumley was invited to speak at the dinner as she officially opened the company's award-winning Sanderson Arcade development in Morpeth in 2009.
Speaking at the event she said: "I was first introduced to Dransfield Properties three years ago when I opened the Sanderson Arcade which is an absolutely beautiful development.
"This is a company which approaches everything with a great deal of accomplishment as well as good humour, dedication and a determination to go forward and move things forward."
Sir Howard praised the company for understanding the difference between development and regeneration – Manchester City Council has worked with Dransfield Properties on a number of projects including the recently opened Lime Square development in Openshaw in the east of the city.
He said: "We have known Dransfield Properties for a very long time and that working relationship is as strong today as it was when it was forged all those years ago. People talk about regeneration as if one just waves a magic wand and development takes place, real regeneration is hard. It is about how we transform places and create places where people want to live and where people want to meet and work.
"Dransfield Properties is a company that gets that and is a good close partner in the way we have transformed neighbourhoods. As a result of working together these neighbourhoods have a long term future and it is appropriate that we should pay tribute to that."
Dransfield Properties was formed by Managing Director Mark Dransfield in the height of the recession in 1992.
During that first year, a McDonald's restaurant in Cleethorpes and a 13,200 sq ft Aldi store in Accrington secured the company's first developments and the springboard to further successful schemes.
Dransfield Properties has since gone on to become one of the country's leading town and district centre retail developers, delivering 1.95 million sq ft of retail space in high quality developments across the country and winning a number of high profile industry awards.
The company works with some of the country's leading retailers, including Morrisons, Tesco, ASDA and Marks and Spencer and has helped create more than 3,000 jobs over the last two decades through its town and district centre developments, working with local authority and retail partners.
Mark Dransfield, Managing Director of Dransfield Properties Ltd, said: "We were extremely honoured to have Sir Howard and Joanna both speaking at our 20th Anniversary Dinner and delighted to share the celebration with so many people who have been part of the company's growth over the last two decades.
"We started the company in a recession in 1992 and as we mark our 20th Anniversary we are again facing difficult times and new challenges for the retail industry. Over the last twenty years, we have seen a great deal of change in town and district centres and also in people's shopping habits.
"One of the keys to our success through all these changes has been continuing to focus on delivering high quality architecture on our developments and working with a professional team with a shared passion to do so."
During the 20th Anniversary year the company has launched a new Health and Wellbeing Programme for staff including nutritional advice and weekly "bootcamp" sessions with a personal trainer.
Dransfield Properties has also joined forces with Henry Boot - another South Yorkshire company celebrating a milestone anniversary this year - to refurbish the hydrotherapy pool at the Ryegate Therapy Block, part of the Children's Hospital in Sheffield.
Picture shows left to right Andrew Malley and Mark Dransfield from Dransfield Properties with Joanna Lumley, Sir Howard Bernstein and Charlie Parker, Chief Executive of Oldham Council.
Editors Notes
For further information about Dransfield Properties visit www.dransfield.co.uk
Dransfield Properties has developed and manages the following retail destinations:
· Alexandra Park -Tunstall, Stoke on Trent
· Lime Square - East Manchester
· Marshall's Yard - Gainsborough
· Sanderson Arcade - Morpeth, Northumberland.
The company also owns Market Cross in Selby and the Market Hall in Poulton le Fylde.
The company has been recognised by the industry winning a number of high profile awards including a BCSC Gold Award in 2007 for Marshall's Yard, Gainsborough, and The UK Commercial Property Awards 2010 for Sanderson Arcade.
Dransfield Properties is currently working on foodstore developments in Morpeth, Hull, Royton and Poulton le Fylde.
For interviews and photographs from the Anniversary event, or for further information about Dransfield Properties contact Amanda Holmes, Head of Communications on 01226 360644 or by email on amanda.holmes@dransfield.co.uk
For further information, contact:-
Public Relations Department, Dransfield Properties Ltd
Tel: 01226 360644
Email: pr@dransfield.co.uk