Marshall's Yard - new retailers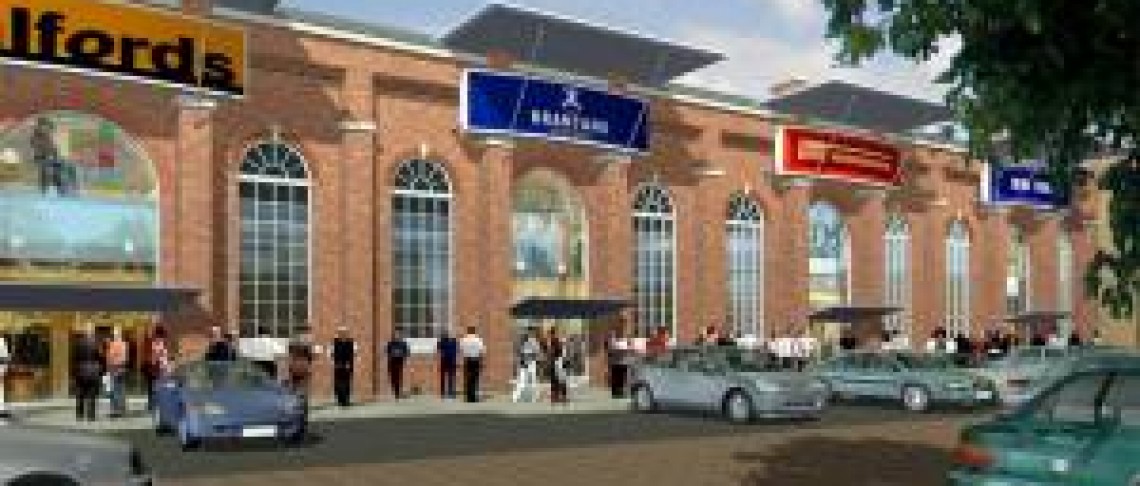 BRANTANO STEP INTO GAINSBOROUGH'S NEW RETAIL DEVELOPMENT!
12 January 2005
Brantano are the latest retailer to confirm they will be taking a unit at Marshall's Yard – the £37 million mixed retail and leisure scheme in the Lincolnshire market town of Gainsborough.
Marshall's Yard is being promoted by the development partnership of the Yorkshire based companies Dransfield Properties Ltd and Prospect Estates on an eight-acre landmark site at the edge of the town centre.
The well known footwear retailer is stepping into the market town format following it's success on another market town development – The Three Lakes Retail Park in Selby, North Yorkshire – also developed by Dransfield Properties.
They'll join JJB Sport who announced last year they had signed up to take 45,000 sq ft of space in the development with a ground floor health and fitness centre and a first floor retail store.
Brantano is due to open at Marshall's Yard in Spring 2006 - six other High Street names are also in solicitors hands with further announcements due early in the Spring
Brantano are one of Europe's largest footwear retailers with over 300 stores across Europe. The company is taking a 5,000 sq ft unit on a 15 year lease on the Marshall's Yard development.
Brantano's Estates Controller Sue Harrison said: "Research done by CACI showed that 90 pence in the pound on comparison goods is being spent out of Gainsborough at the moment, with an 80,000 catchment which is being underserved. We therefore see Marshall's Yard as a great opportunity to attract those shoppers back to their own town instead of travelling elsewhere."
Marshall's Yard will create around 1,250 new jobs in the town, transforming this disused former factory site into an attractive mixed-use scheme. A new planning application has been submitted to West Lindsey District Council, and will be considered on January 19th.
The scheme includes 93,560 sq ft of new retail space, 34, 650 of leisure space, 18,900 sq ft of new town centre offices, 60 City Living apartments including 7 penthouses, a new piazza and Peace Gardens area, 3 Restaurants and 22,650 sq ft of serviced office suites.
The redevelopment site is located next to the town's Tesco store and will form a contiguous link between the foodstore and the town centre. Leeds based agents Rees Denton are selectively marketing the retail units in the prestigious development to high street retailers.
Mark Dransfield, Managing Director of Dransfield Properties Ltd, said: "We are delighted that Brantano are taking a unit at Marshall's Yard, we are confident they will trade very well in Gainsborough.
"Brantano are among the many national retailers now looking at the market town format on offer at Marshall's Yard which is a real growth area at the moment. There is no doubt that Marshall's Yard will transform Gainsborough's standing in the retailing hierarchy and stop the thousands of shoppers who are leaving the area at the moment."
For further information about Dransfield Properties Ltd or Prospect Estates visit the company's websites at www.dransfield.co.uk and www.prospect-estates.co.uk
Contact details:
Amanda Holmes
Public Relations, Dransfield Properties Ltd
Tel : 01226 360644 or 07971 854733

Robert Mayo
Prospect Estates
Tel : 01943 850111 or 07739 590646
EDITORS NOTES
1. Dransfield Properties Ltd are based in Barnsley, South Yorkshire. The company is one of the leading specialist retailer developers in the country, the company also specialises in urban regeneration and has been involved in many high profile developments across Yorkshire and Lancashire.
2. Dransfield Properties has won the RICS Urban Regeneration Award for two years running in 2002 and 2003 for its schemes in Yorkshire.
3. Prospect Estates Ltd is a specialist industrial investment and development company, which operates throughout the UK.
4. The name Marshall's Yard was chosen by a panel of judges in a competition held across all Gainsborough's primary schools to find a name for the new retail development.
5. CACI are the country's leading market analysts for further information log onto www.CACI.co.uk
For further information, contact:-
Public Relations Department, Dransfield Properties Ltd
Tel: 01226 360644
Email: pr@dransfield.co.uk