Marshall's Yard - KFC Deal!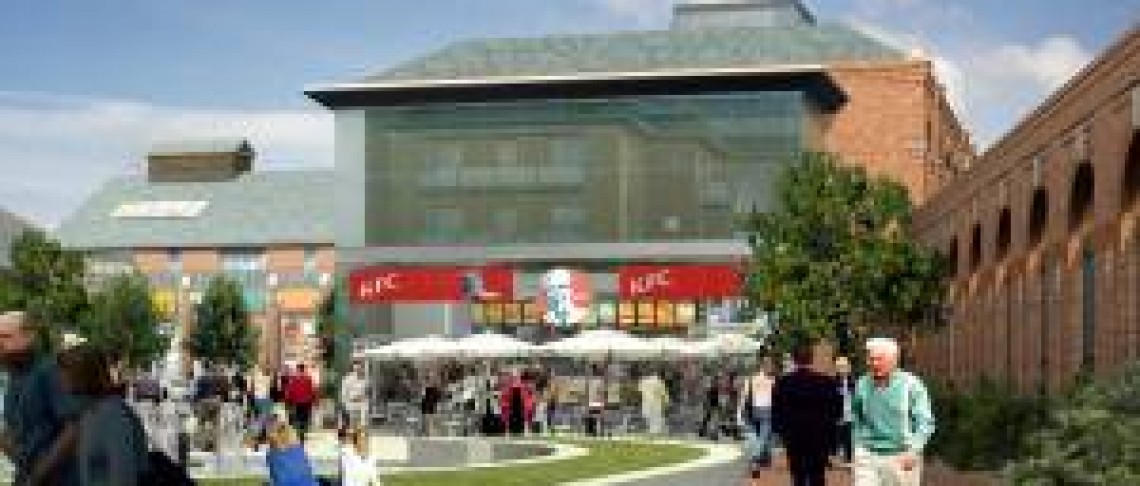 FIRST RESTAURANT CHAIN FOR MARSHALLS YARD!
6 April 2005
KFC is the first restaurant chain to take a unit at the prestigious Marshalls Yard development in Gainsborough.
The UK's market leader in quick service chicken restaurants will take one of the most prominent outlets on the ambitious eight acre market town scheme – overlooking the planned peace gardens area.
KFC joins other household names on the £37 million development including JJB Sports, Brantano and Allied Carpets. Announcements are expected about a number of other national retailers within the next few weeks.
Marshall's Yard is being promoted by the development partnership of the Yorkshire based companies Dransfield Properties Ltd and Prospect Estates on an eight-acre landmark site at the edge of the town centre.
It will create around 1,250 new jobs in the town, transforming a disused former factory site into an attractive mixed-use scheme. The scheme includes 93,560 sq ft of new retail space, 34, 650 of leisure space, 18,900 sq ft of new town centre offices, 60 City Living apartments including 7 penthouses, a new piazza and Peace Gardens area, 3 Restaurants and 22,650 sq ft of serviced office suites.
KFC is working with Dransfield Properties Ltd to design a modern glazed unit at one end of the Britannia building, which is being restored as part of the project.
The restaurant will be operated by Marsdens Caterers of Sheffield Ltd, Director, Matthew Marsden, said: "This is an attractive site which fulfils a long-held requirement for a restaurant in this area. It will enable us to provide a great amenity for local residents within a good mix of businesses."
Mark Dransfield, Managing Director of Dransfield Properties Ltd, said: "KFC is a great addition to Marshalls Yard and we are confident they will trade very well there, we were particularly keen to have a restaurant chain take this unit so families can take full advantage of the great views over the fountains and peace gardens area.
"Attracting a major restaurant chain like KFC shows the confidence among the retailers for our development and the confidence in Gainsborough. Once completed Marshalls Yard will attract hundreds of shoppers back to the area – helping to re-establish Gainsborough as a thriving market town."
Work is due to start on Marshalls Yard later this year.
For further information about Dransfield Properties Ltd or Prospect Estates visit the company's websites at www.dransfield.co.uk and www.prospect-estates.co.uk

Contact details:
Amanda Holmes
Public Relations, Dransfield Properties Ltd
Tel : 01226 360644 or 07971 854733

Robert Mayo
Prospect Estates
Tel : 01943 850111 or 07739 590646
Jane Eyles
KFC press office
Tel: 0207 291 6398
EDITORS NOTES

1. Dransfield Properties Ltd are based in Barnsley, South Yorkshire. The company is one of the leading specialist retailer developers in the country, the company also specialises in urban regeneration and has been involved in many high profile developments across Yorkshire and Lancashire.
2. Dransfield Properties has won the RICS Urban Regeneration Award for two years running in 2002 and 2003 for its schemes in Yorkshire.
3. Prospect Estates Ltd is a specialist industrial investment and development company, which operates throughout the UK.
4. The name Marshall's Yard was chosen by a panel of judges in a competition held across all Gainsborough's primary schools to find a name for the new retail development.

KFC :
KFC (GB) Ltd is a division of Yum! Brands Inc. (formerly Tricon Global Restaurants Inc.). Yum! Brands Inc (NYSE: YUM), based in Louisville, Kentucky, is the world's largest restaurant company in terms of system units with over 30,000 restaurants in over 100 countries and territories. The company's brands - KFC, Pizza Hut and Taco Bell - are the global leaders of the chicken, pizza and Mexican-style restaurant categories respectively. Total worldwide system sales for the brands were over $22 billion in 2001. Yum! also owns Long John Silver's and A & W All American Food Restaurants following their acquisition in March 2002.
KFC is the market leader in the UK's quick service chicken restaurant market. KFC (GB) Ltd currently has 673 restaurant outlets nationally and is expanding at the rate equivalent to one new store opening every week.
KFC serves a unique range of meals, including the Colonel's Original Recipe Chicken as well as salads and vegetable sides.

For further information, contact:-
Public Relations Department, Dransfield Properties Ltd
Tel: 01226 360644
Email: pr@dransfield.co.uk