Gainsborough - Marshall's Yard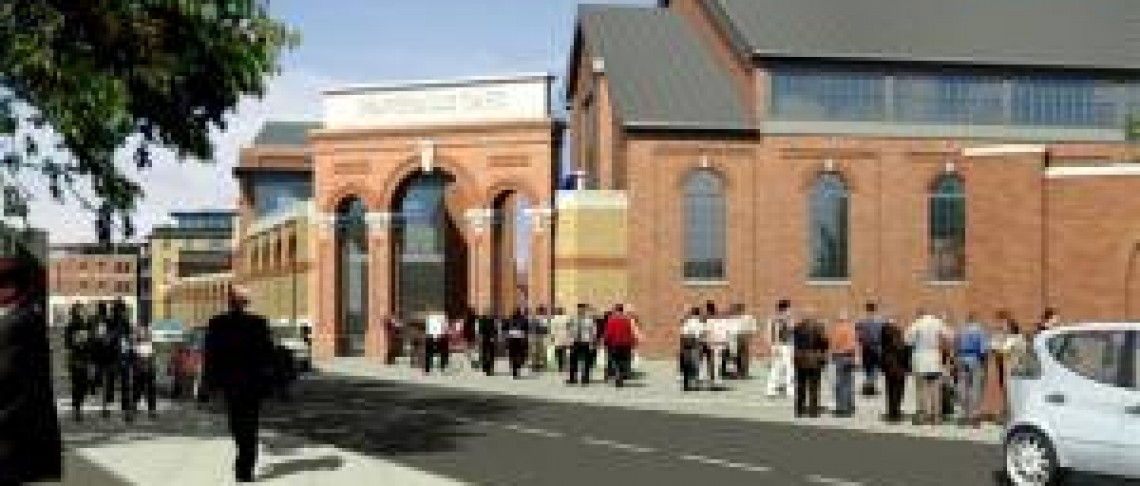 PLANS UNVEILED FOR £37 MILLION DEVELOPMENT IN GAINSBOROUGH!
16 November 2004
New plans have been submitted for Marshall's Yard – a £37 million mixed retail and leisure scheme in the Lincolnshire market town of Gainsborough.
The prestigious scheme is being brought forward by the development partnership of the Yorkshire based companies Dransfield Properties Ltd and Prospect Estates on an eight-acre landmark site at the edge of the town centre.
JJB Sport have signed up to take a 22,500 sq ft unit in the new Marshall's Yard development for a ground floor sports and fitness centre and a first floor retail store - six other High Street names are also in solicitors hands and announcements are due to be made shortly.
The development proposals come at a time when Gainsborough is experiencing unprecedented inward investment – 1,168 new homes are currently under construction for affluent families and professionals. The town is just 20 minutes from the new Robin Hood Airport at Finningley which opens Easter next year creating thousands of new jobs in the region.
Marshall's Yard will create around 1,250 jobs in the town, transforming this disused former factory site into an attractive mixed-use scheme. A new planning application has been submitted to West Lindsey District Council, and will be considered at the January 15th Planning Committee. It includes: -
• 93,560 sq ft of new retail space
• 34, 650 of leisure space
• 18,900 sq ft of new town centre offices
• 60 City Living apartments including 7 penthouses
• A new Peace Gardens area
• Library & Heritage Museum
• 3 Restaurants
• 22,650 sq ft of serviced office suites
The new City Living apartments are being built in response to a new demand for City Living in Gainsborough.
The development also includes a new state of the art 13,500 sq ft Heritage Centre and library. The Heritage Centre will reflect the importance of this former factory site where agricultural machinery and steam engines were once built by the Marshall company and shipped around the world.
The redevelopment site is located next to the towns new Tesco store and will form a contiguous link to the town centre.
Leading market analysts Caci says: "Market Towns offer a great new opportunity to many retailers, who, until recently have concentrated their investment within large cities across the country. Retailers who have developed Market Town formats such as Homebase, Halfords & Pets at home have capitalised on an untapped market and it is noticeable other retailers are quickly recognising towns such as Gainsborough offer great potential for new sales, with little or no competition.
Caci have been retained to advise on the mix of retailers who will maximise the trade potential from the town's 80,000 catchment.
The survey of shoppers by Caci reveals that at the moment 92 pence in the pound on comparison goods expenditure is being spent outside Gainsborough in other retail centres.
By contrast convenience trade in the town attracts a wide consumer catchment with turnover of £60 million / annum serving a catchment of some 80,000 people.
The new development will dramatically move Gainsborough up the retailing hierarchy 128 places, retaining affluent shoppers in the town. As the catchment broadens more of the "wealthy executives," "affluent greys" and "flourishing families" living further away from the town centre will be retained by the extended range of facilities shortly to be on offer."
Caci concludes: "Marshall's Yard will create a vibrant, sustainable and attractive shopping offer in Gainsborough and Caci predict that retailers will be rewarded with a loyal base of regular shoppers."
Leeds based agents Rees Denton are already selectively marketing the retail units in the prestigious development to prospective retailers.
Nick Rees says "It is clear retailers believe there is a huge untapped market in this area, the interest to take space in this scheme is strong".
The site was previously granted planning consent in December 2003 and has now been extended to cater for retailer & leisure demand.
Demolition work is well underway and work on site is scheduled to start in Spring 2005 - bringing forward one of the counties largest single investment for years.
Mark Dransfield, Managing Director of Dransfield Properties Ltd, said: "Caci have undertaken a retail audit of the area and there is no doubt that there is a huge opportunity for retailers to take advantage of the catchment and in turn regenerate Gainsborough's centre. The fact that so much money is going out of the local ecomony to other retail centres illustrates that opportunity.
"We are committed to delivering an extremely high quality development. The attractive environment featuring a new peace garden and high quality architecture will attract families into the town and offer a unique visitor experience within the region.
Robert Mayo, Director of Business Development at Prospect Estates, said: "We are confident that this development will regenerate this part of Gainsborough and underpin the existing shopping area – attracting many of the shoppers back to the town who at present are spending their money elsewhere.
"We have worked very closely with all the relevant agencies in the town to ensure this is a sympathetic redevelopment of what is an extremely important site in the town centre and we feel we now have the right balance of leisure and retail.
For further information about Dransfield Properties Ltd or Prospect Estates visit the company's websites at www.dransfield.co.uk and www.prospect-estates.co.uk
Contact details:
Amanda Holmes
Public Relations, Dransfield Properties Ltd
Tel : 01226 360644 or 07971 854733

Robert Mayo
Prospect Estates
Tel : 01943 850111 or 07739 590646

EDITORS NOTES

1. Dransfield Properties Ltd are based in Barnsley, South Yorkshire. The company is one of the leading specialist retailer developers in the country, the company also specialises in urban regeneration and has been involved in many high profile developments across Yorkshire and Lancashire.
2. Dransfield Properties has won the RICS Urban Regeneration Award for the last two years for its schemes in the region.
3. Prospect Estates Ltd is a specialist industrial investment and development company, which operates throughout the UK.
4. The name Marshall's Yard was chosen by a panel of judges in a competition held across all Gainsborough's primary schools to find a name for the new retail development.
5. Work is scheduled to start on Marshall's Yard in Spring 2005 with completion expected by Easter 2006.
6. For further information log on to www.reesdenton.com and www.CACI.co.uk
7.
For further information, contact:-
Public Relations Department, Dransfield Properties Ltd
Tel: 01226 360644
Email: pr@dransfield.co.uk