Boutique department store to open in Morpeth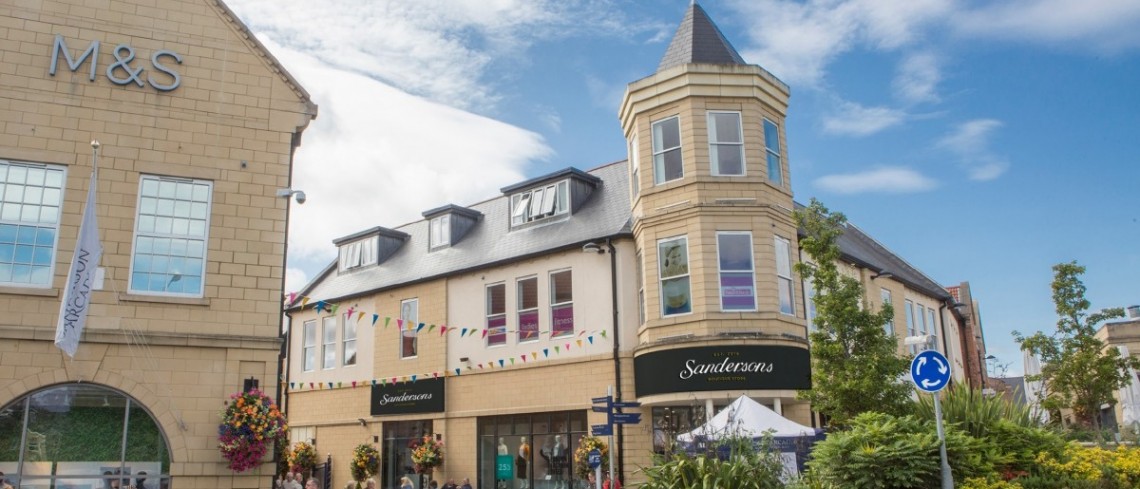 Boutique department store to open in Morpeth
17 August 2020
The award-winning boutique department store Sandersons is expanding – with a second store due to open in the autumn at Morpeth's Sanderson Arcade, creating 24 new jobs.
Sandersons is owned by the Arcade developers Dransfield Properties Ltd and the company is currently transforming the former New Look unit at the centre into a stunning new store which will stock a fantastic range of high quality and luxury brands.
The original Sandersons store opened in 2016 at Fox Valley in north Sheffield which is also part of the Dransfield portfolio.
The store was founded by Yorkshire businesswoman Deborah Holmes, who sadly passed away in January 2019. Deborah chose the store's name in tribute to the link with Sanderson Arcade.
Deborah's husband, Mark Dransfield now heads up the business and works with the Sandersons team to continue to build on her vision and create a completely unique retail experience.
The new Morpeth store will cover 8,500 sq. ft. over two floors and will stock womenswear brands including Holland Cooper, Barbour, Max Mara, Levis and Tommy Hilfiger. The menswear department will feature Barbour, Barbour International, Jacob Cohen, Gran Sasso, Tommy Hilfiger, Levis and Armani.
In Sheffield Sandersons has forged a reputation for stocking luxury fragrances with a perfumery range attracting shoppers from right across the region. The range including Initio, Atkinsons, House of Oud, Parfum de Marley, Dior and Chanel, will be stocked at the new Morpeth store.
The store will also house a range of organic products from Irish company Voya, the luxury skincare range is formulated from the finest natural ingredients including seaweed.
In 2019 Sandersons won the Best New Retailer Award at the Drapers Independent Awards, the store was praised for championing unique and unusual brands as well as the store's attractive layout and its approach to customer service.
Managing Director of Dransfield Properties and Sandersons, Mark Dransfield, said: "We have been keen for some time to bring forward a second store and this opportunity to bring Sandersons to Morpeth has arisen with the closure of New Look at the Arcade.
"We are confident that Sandersons will fit well in the town, offering a new menswear range as well as a range of other brands which are not currently available. We are liaising closely with Rutherfords to ensure our range compliments and doesn't duplicate what is already available in the town."
Sandersons already has a successful e-commerce site and the company also plans to further expand with a third store in 2021 at Five Valleys in Stroud, which is also owned by Dransfield Properties.
The Morpeth store is planned for an October 2020 opening with recruitment starting this month and staff training at the Sheffield store due to take place later in the autumn.
For further details about the roles available or to apply please contact lisa.fox@sandersonsdeptstore.co.uk or visit the jobs section of the Sanderson Arcade website www.sandersonarcade.co.uk
To find out more about some of the great brands available at Sandersons Boutique Department Store go to www.sandersonsdeptstore.co.uk
For further information, contact:-
Public Relations Department, Dransfield Properties Ltd
Tel: 01226 360644
Email: pr@dransfield.co.uk