Gainsborough celebrates in Bloom success for town's fantastic floral displays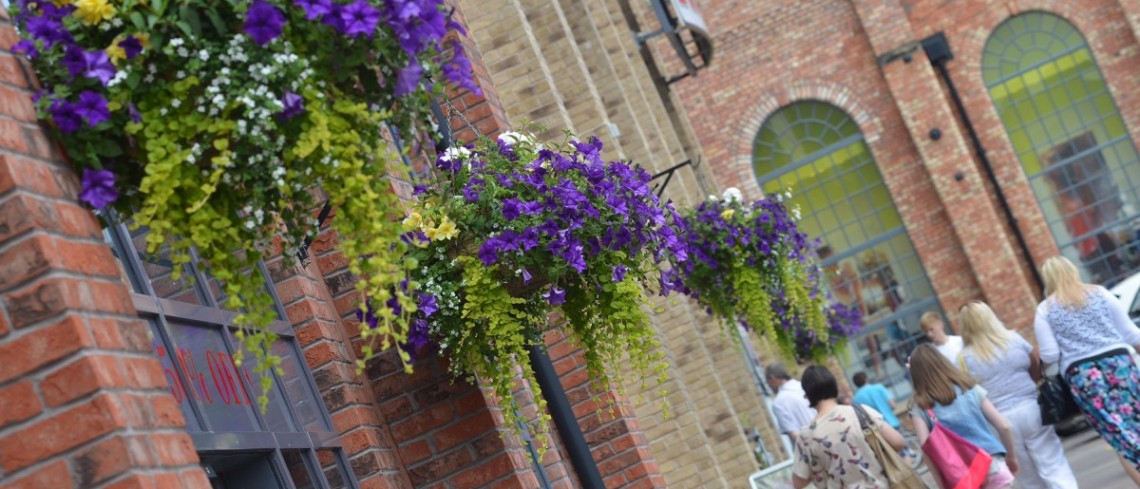 Gainsborough celebrates in Bloom success for town's fantastic floral displays
Sep 2016
Gainsborough in Bloom is celebrating success again this week after the town won three top awards at the East Midlands in Bloom award ceremony, attended by the Secretary of Gainsborough in Bloom, Vaughan Hughes, held in Mansfield on 14th September 2016.
The Judge awarded the Silver Gilt to Gainsborough in the Large Town category which is a step up from last year's achievement of Silver, and the best result to date.
Marshall's Yard received a Gold award for the second year running for the retail and commercial premises category. In addition a Special Judges award was also presented to the Gainsborough in Bloom committee to mark their efforts in increasing business support by 300% this year.
For the whole town entry the judges highlighted the period planting at the Old Hall as well as the colourful planters positioned at key locations around the town. Marshall's Yard was also commended on its consistent colour theme, linking to the town centre displays, and the quality of maintenance. The judges singled the centre out as a "very good example of appropriate planting and maintenance for a retail site and car park".
Chair of Gainsborough in Bloom, Alison Hall, who is also centre manager at Marshalls Yard said "The efforts that go into the scheme increases year on year and this is seen through our outstanding 2016 results. The scheme relies solely on volunteers giving up their time to come and ensure areas of the town look their best. As a committee we would like to thank all of the volunteers that helped towards such a fantastic result for Gainsborough and also the businesses that supported the scheme financially".
The treasurer of Gainsborough in Bloom, Anna Grieve, who works for West Lindsey District Council, said "All the volunteers enjoy trying to bring some colour into the town for the benefit of those who live, work and visit Gainsborough and the committee and volunteers will strive to continue to improve the displays in the future".
The judges also gave a special mention to the teams of people who support 'in Bloom' with both their time and/or funding. Students from Gainsborough's Community Learning in Partnership helped plant up the planters and attended weekly to help tidy some areas. Browns department store adopted the Whittons Gardens site and worked hard to clear, improve and maintain this area, Hope Church, Sills & Betteridge, Gainsborough Lions, Gainsborough Trinity FC, McDonalds, Boots, Burton & Dyson, Everyone Active and Papa's all maintained the planters around the town. The Trent Port also provided some displays to brighten up the entrance to Gainsborough as well. Financial support was also received from Ping, Gainsborough Golf Club, Horsleys of Gainsborough, McDonalds, Oldrids, Gainsborough Lions and Stallard Kane.
But we are always in need of more support, so if you can spare some time or want to donate to the 17/18 in Bloom displays – please contact Alison hall – 01427 810706 or visit our website www.gainsboroughinbloom.co.uk or Facebook page.
For further information, contact:-
Public Relations Department, Dransfield Properties Ltd
Tel: 01226 360644
Email: pr@dransfield.co.uk