Crowds turn out for Gainsborough's countdown to Christmas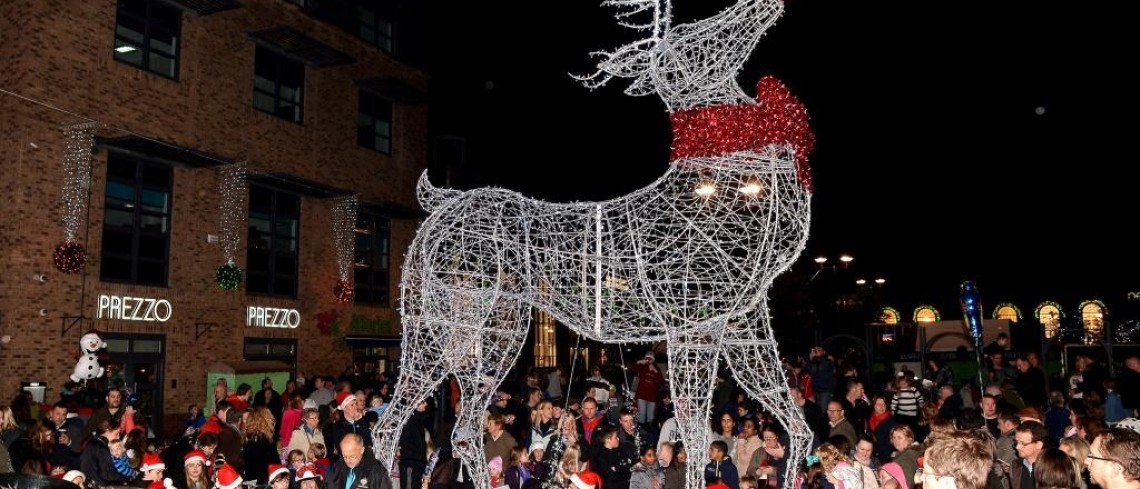 Crowds turn out for Gainsborough's countdown to Christmas
Nov 2014
Gainsborough welcomed in the festive season at the weekend with a massive event across two venues to mark the big Christmas Lights Switch On.
A full day of entertainment was organised on Saturday from two stages – one in the Market Place and the other at Marshall's Yard, all building up to the Christmas lights being switched on.
Lincs FM's Ross Garrigan did a fantastic job of building up to the big switch on – first in the town centre and then an hour later at 6pm at Marshall's Yard.
The two venues were linked by a lantern parade by more than 100 primary school children.
The town centre lights were switched on by Gainsborough's Citizen of the Year Shan Jaehrig. At Marshall's Yard competition winner Tilly Webb, aged five, launched this year's festive display after writing a poem about why she wanted to be Santa's helper.
The ever popular Titan the Robot made an appearance and headline acts were The Torn at Marshall's Yard and Silvertree in the town centre.
Traditional festive music was provided by the Tickhill Male Voice Choir and The Grimethorpe Colliery Youth Brass Band as well as the Salvation Army Band.
There were also fantastic live performances from Lizzie Goddard and Dom Major and a host of other local choirs, groups and dance troupes, as well as fairground rides and traditional markets.
The team at Marshall's Yard has worked for the last six months with the Town Partnership as well as the town and district council, to stage Saturday's event.
It's estimated that at least 10,000 people visited both the town's market place and the shopping centre to enjoy the free event throughout the day.
Assistant Centre Manager at Marshall's Yard Alison Hall said: "It's always fantastic to see the town lit up for Christmas, this is undoubtedly our biggest event of this year and the successes of Saturday's Big Switch On exceeded even our expectations.
"We wanted to stage a joint event and it's fantastic what can be achieved when everyone works together. It was a great community event and we had some fantastic and talented local performers from right across the region giving up their time help make the day a great success.
"We'd like to thank everyone who has been involved."
Pictures show the town centre lights and the Marshall's Yard lights and five year old Tilly Webb switching on at the Yard.
For more information about offers and events in the run up to Christmas visit the Marshall's Yard website on www.marshallsyard.co.uk
For further information, contact:-
Public Relations Department, Dransfield Properties Ltd
Tel: 01226 360644
Email: pr@dransfield.co.uk