Work starts on Royton District Centre Regeneration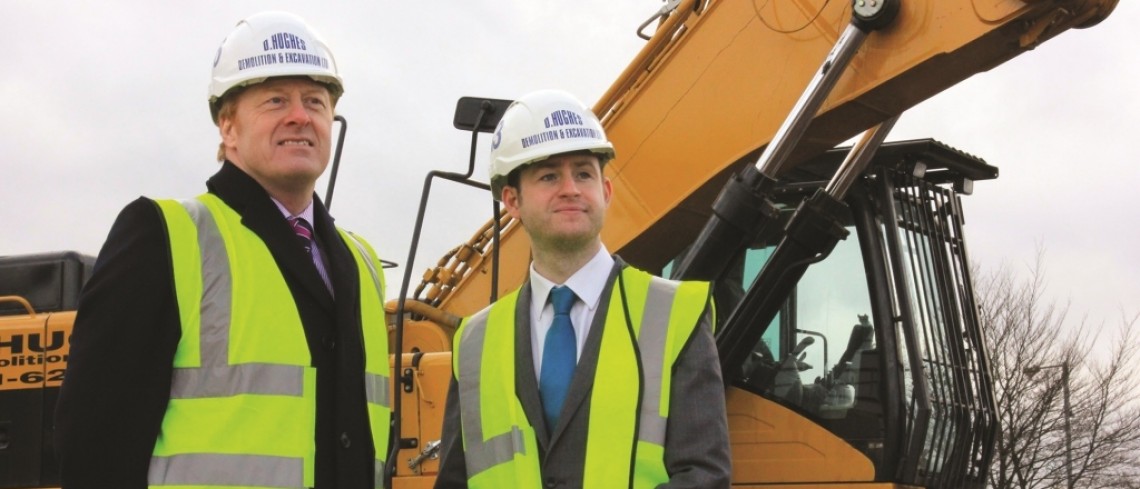 Work starts on Royton District Centre Regeneration
Jan 2014
Regeneration work is underway on the transformation of Royton district centre in a phased project being delivered by Dransfield Properties.
Demolition work has started this month to deliver an ambitious £22.5 million scheme to breathe new life into the area – which includes the redevelopment of Royton Assembly Hall.
Oldham Council has been working with Dransfield Properties to deliver this comprehensive project which will eventually make way for: a fully-integrated major food store; the refurbishment of the Town Hall and Library; new health centre, retention and enhancement of the popular market, improved car parking and improvement works to the precinct and pedestrian environment.
Demolition has started on the assembly hall – part of the new retail core site and the first phase of the whole project.
This first phase will bring a new health centre, pharmacy and additional retail units and will pave the way for the second phase which is scheduled to start in 2015.
The second phase of work will deliver a new 50,000 sq ft food store, petrol station and 320 space car park in the heart of Royton, providing the anchor the town needs.
Plans to transform Royton district centre were unanimously approved by Oldham Council's planning committee in May 2013.

Dransfield Properties, based in Barnsley, South Yorkshire, has been working on the scheme for the last two years. The company entered into a commercial agreement with Oldham Council in February 2012.
Councillor Jim McMahon, Oldham Council Leader, said: "To see physical work begin on this major project is exciting and we will soon see parts of Royton which look very tired on their way to becoming an integral part of a modern and fresh neighbourhood hub residents can be proud of.
"Regeneration is long overdue in Royton and the future of the Royton Assembly Hall building has been a long-standing issue for residents. However, this project is another example of the Council's commitment to improve our borough and transform eyesores into eye-catching developments.
"We have worked co-operatively with Dransfield for around two years now on this ambitious scheme and consulted residents and businesses throughout this whole process.
"This was to ensure that all affected were able to have their say and that the scheme meets the genuine needs of the area and aspirations of the local people.
"This huge transformation of Royton's retail core will also bring much-needed employment and financial opportunities."
Retail Property Director at Dransfield Properties Andrew Malley said: "This is a complex project and we are delighted to be at this stage at the start of the year with the site being cleared for the first phase of the work which is due to commence later in 2014.
"Our plans for Royton have been met with a great deal of interest and enthusiasm in the town and it's great news to be making this significant step forward to delivering the project."
Alongside the investment into a new retail area, and the town's £10million new health and wellbeing centre, Oldham Council is seeking to deliver an exciting vision for Royton's Civic Core. This involves replacing the existing sports centre and the refurbishment Royton Town Hall.
Picture shows Andrew Malley from Dransfield Properties and Cllr Jim McMahon, Oldham Council leader on the site of the former Assembly Hall.
NOTES TO EDITORS
Dransfield became the new owners of the former Royton Assembly Hall after purchasing it from administrators in 2011.
Dransfield Properties has a strong track record of working with local authorities and stakeholders to deliver retail led regeneration schemes in town and district centres, as well as engaging the wider community in all its projects.
For more information contact Andy Rudkin, Oldham Council's Marketing and Communications Team, on 0161 770 5034 or email: andrew.rudkin@oldham.gov.uk
For further information, contact:-
Public Relations Department, Dransfield Properties Ltd
Tel: 01226 360644
Email: pr@dransfield.co.uk