Soil cutting marks the latest phase of work at Openshaw's Lime Square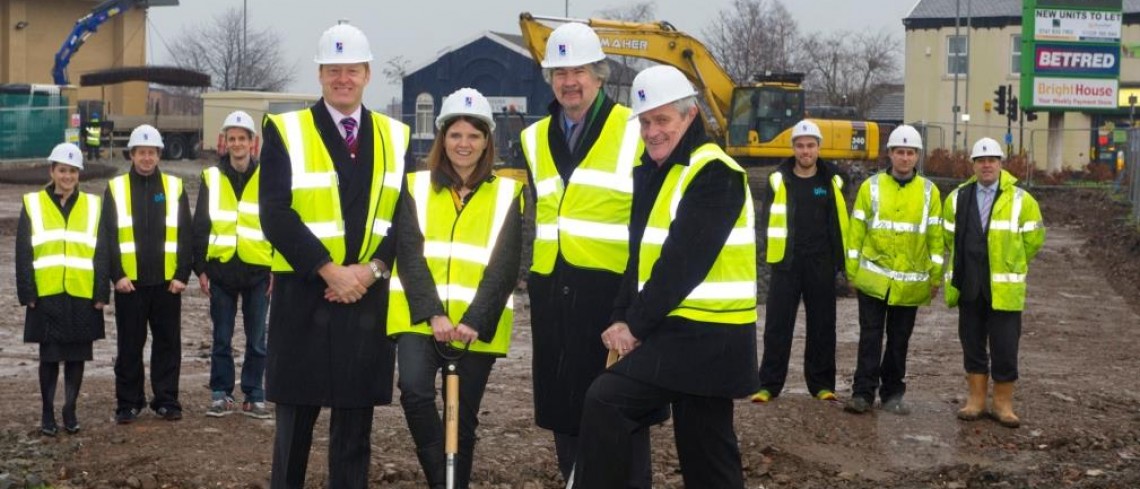 Soil cutting marks the latest phase of work at Openshaw's Lime Square
Dec 2013
The start of work on the latest phase of the Lime Square development in Openshaw, east Manchester has been marked this week with an official soil cutting ceremony.
This next phase of work at the east Manchester shopping centre will bring new jobs and further retail units to the growing district centre development.
Ward councillors Neil Swannick, John Longsden and Rosa Battle welcomed the new jobs and investment in the area and joined the development team as well as representatives of the new businesses opening at the centre to mark the ground breaking on phase five of the project.
The main contractors PDR have now cleared the site ready to start work on a brand new 15,000 sq ft gym as well as further new retail units at the popular shopping centre just off Ashton Old Road, which is anchored by an 80,000 sq ft Morrison's store.
The Gym Group will be bringing its unique approach to health and fitness to the centre when the company's new two storey unit is completed and ready to open next summer.
The new gym will be based in a key unit fronting Ashton Old Road and will be joined by other new stores including the mobile phone company Phones4U. Seven further units are also planned.
This latest phase at Lime Square extends a retail line up which already includes B&M stores, Poundland, Greggs and McDonalds as well as a 670 space car park.
An extra 42 car parking spaces will also be created close to the gym which will be open 24 hours a day.
Lime Square has been delivered by retail developers Dransfield Properties Ltd working in partnership with New East Manchester and Manchester City Council as part of the strategic regeneration of this part of the city.
Retail property director at Dransfield Properties, Andrew Malley, said: "A great deal has been achieved at Lime Square this year, we had the opening of the new Mcdonald's restaurant in May and we've also seen the phase four works completed including a new doctors practice which opened in the summer.
"It's great therefore to be finishing the year on another positive note by starting this last phase of works and we look forward to seeing it's completion in the summer next year."
For more information about Lime Square visit www.lime-sq.co.uk and to find out more about The Gym Group click onto www.thegymgroup.com
Pictured left to right are Andrew Malley from Dransfield Properties with Cllrs Battle, Swannick and Longsden.
For further information, contact:-
Public Relations Department, Dransfield Properties Ltd
Tel: 01226 360644
Email: pr@dransfield.co.uk