New Year completion for Gateway Project in Penistone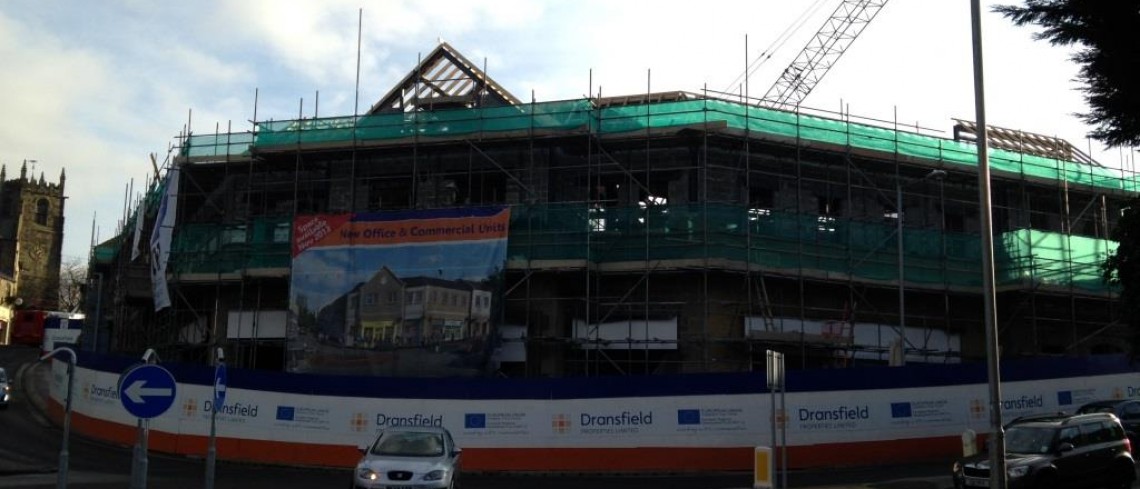 New Year completion for Gateway Project in Penistone
Dec 2013

The new Gateway development in Penistone, South Yorkshire, is really taking shape this month – ready for completion in the New Year.
Work is due to start this week on felting the pitched roof on the impressive building and the following week the windows and roof glazing will be installed before the Christmas break.
The plastering on the ground floor units will be completed by the end of this week and the traditional style shop fronts, designed to fit in with the street scene, will start to be installed on December 16th.
The main construction work will be finished early in the New Year.
This brand new commercial development on St Mary's Street is supported by ERDF grant funding and is being delivered by Barnsley based Dransfield Properties Ltd.
The Gateway is the final phase of the £15 million Penistone Town Centre Regeneration Scheme which also includes the neighbouring TESCO store, town centre car park and the markets area which were completed in 2010.
Several local businesses including Simon Blyth Estate Agents have already committed to taking space in the Gateway once it's completed the remaining space is currently being marketed.
Head of Communications at Dransfield Properties, Amanda Holmes, said: "Over the last couple of weeks we've seen things really moving along on site at The Gateway and we're looking forward to seeing the project completed early next year.
"We are currently marketing the units we have available and targeting companies offering business and professional services as well as digital and media firms, who are interested in in being based in the heart of this lovely and thriving market town. "
Anyone interested in office or commercial unit lettings should contact Dave Hale at Dransfield Properties on 01226 360644.
For further information, contact:-
Public Relations Department, Dransfield Properties Ltd
Tel: 01226 360644
Email: pr@dransfield.co.uk