Roof in place at Penistone's Gateway project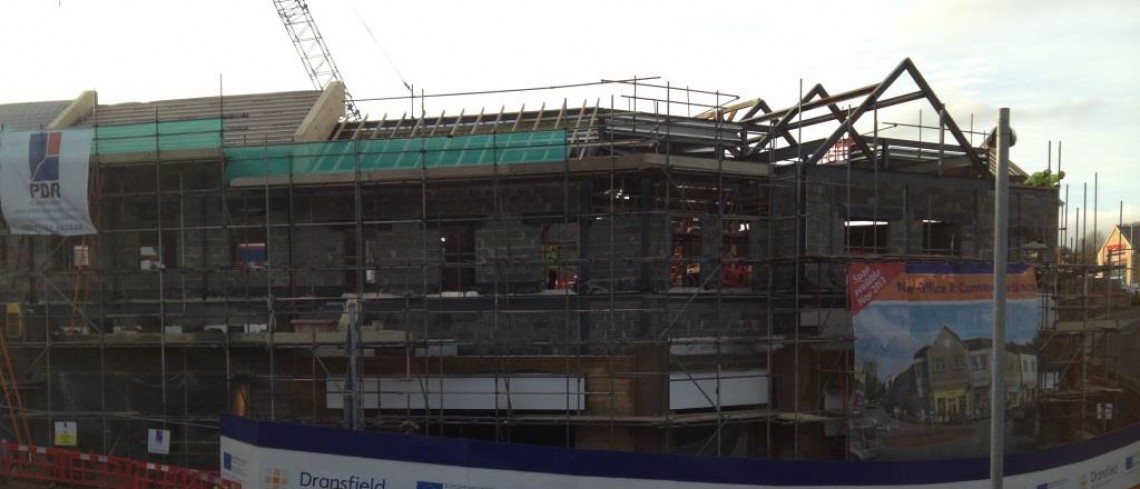 Roof in place at Penistone's Gateway project
Nov 2013

The roof at the impressive Gateway development in Penistone South Yorkshire is in place with work now underway on the tiling.
Contractors PDR Construction have also installed the impressive cruck barn feature on the development in the South Yorkshire market town which complements the architecture of the neighbouring award winning market building.
The mechanical and electrical first fix on site is completed and work has also started on the plastering in the first floor units, where the attractive traditional frontages are being installed over the next few days.
The contractors are still working on the blockwork and it's hoped the main construction work will be finished early in the New Year. This brand new commercial development on St Mary's Street is supported by ERDF grant funding and is being delivered by Barnsley based Dransfield Properties Ltd.
The Gateway is the final phase of the £15 million Penistone Town Centre Regeneration Scheme which also includes the neighboring TESCO store, town centre car park and the markets area which were completed by Dransfield Properties in 2010.
Several local businesses including Simon Blyth Estate Agents are already committed to taking space in the Gateway once it's completed the remaining space is currently being marketed.
Head of communications at Dransfield Properties, Amanda Holmes, said: "We are currently targeting companies in appropriate businesses for the Gateway Project and are looking forward to the completion of the project in the New Year."

Anyone interested in office or commercial unit lettings should contact Dave Hale at Dransfield Properties on 01226 360644.

For further information, contact:-
Public Relations Department, Dransfield Properties Ltd
Tel: 01226 360644
Email: pr@dransfield.co.uk