Steel frame goes up at Penistone's Gateway site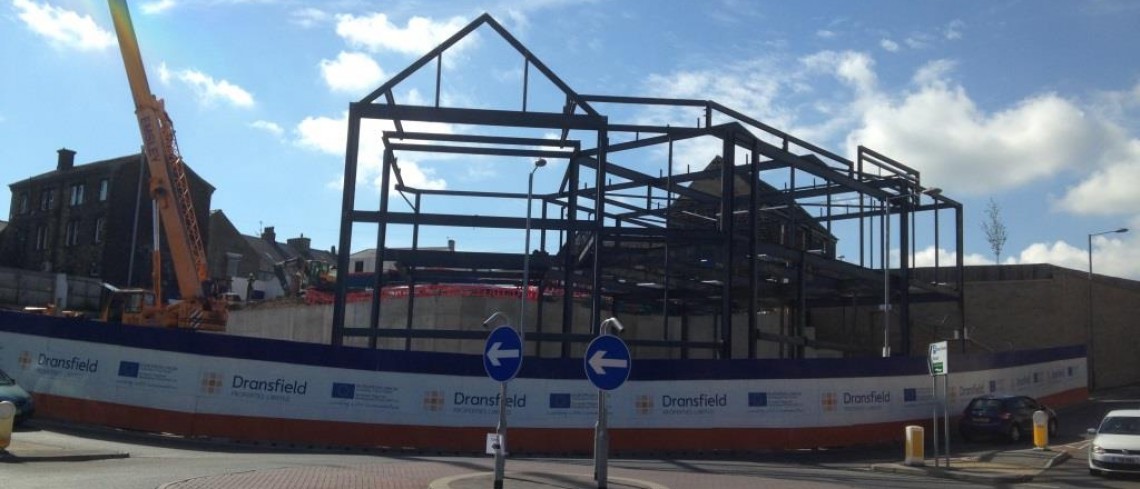 Steel frame goes up at Penistone's Gateway site
Aug 2013

The steel frame is taking shape at Penistone's new Gateway development which is due to be completed by autumn this year.
Around half of the building's steelwork has now been erected on the site of the brand new commercial development on St Mary's Street, which is supported by ERDF grant funding and being delivered by Dransfield Properties Ltd.
The rest of the steelwork should be completed by the end of next week and contractors PDR will then start on the block work on the impressive Gateway development.
The Gateway is the final phase of the £15 million Penistone Town Centre Regeneration Scheme which also includes the neighbouring TESCO store, town centre car park and brand new markets area – all completed in 2010.
Anyone interested in office or commercial unit lettings should contact Dave Hale at Dransfield Properties on 01226 360644.
Head of Communications for Dransfield Properties, Amanda Holmes, said: "It's great to see the building take shape on site now and all being well the rest of the steel frame should be completed in the next week and a half ready for the block work to start.
"We've had a great deal of interest in the development and we are looking forward to this final piece of the town centre regeneration scheme in Penistone being completed in the autumn."
The company has attracted £1.2 million of investment from the European Union to bring forward this final phase of the project with grant funding through the European Regional Development Fund as part of the support for the region's economic development through the Yorkshire and Humber ERDF Programme 2007-13.
For further information, contact:-
Public Relations Department, Dransfield Properties Ltd
Tel: 01226 360644
Email: pr@dransfield.co.uk