New pool plans for Stocksbridge submitted to City Council planners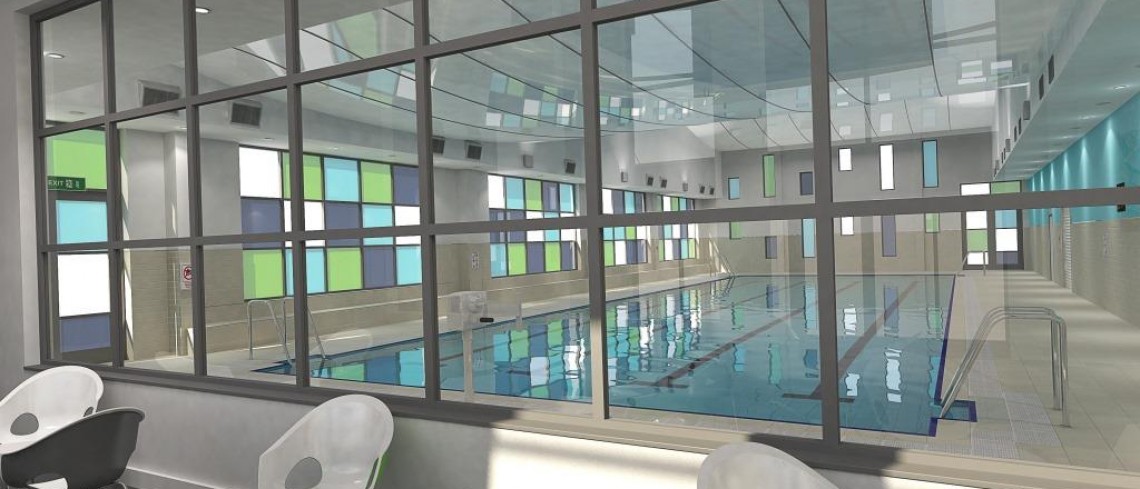 New pool plans for Stocksbridge submitted to City Council planners
Jul 2013

Plans have been submitted to Sheffield City Council to deliver a brand new community swimming pool as part of the £46 million Fox Valley development in Stocksbridge.

Stocksbridge Regeneration Company, a subsidiary of Dransfield Properties Ltd, has submitted an application to bring forward a new pool and gym on a former industrial site in the valley as part of the ambitious mixed use development in the town where work is due to start in the autumn.

The new four lane pool will be housed in a 12,500 sq ft unit at Fox Valley.

It has been designed to be fully DDA compliant and will have a state of the art changing area and viewing gallery.
The development team has worked to the recommendations outlined in a report by Sport England, released earlier this year which identified that a four lane pool was the correct sized facility for the town.

The pool has been designed to have a hydraulic floor so it can be lowered for lane swimming but raised for toddler groups and lessons. An 11,000 sq ft gym is also planned for the first floor and discussions are taking place with potential operators.

The new pool and gym will be in a prime position on the Fox Valley development with good links to the rest of the town, adjoining the 635 space car park and accessible by public transport.
The company is working with members of the group 4SLC and is in discussion with Sheffield City Council regarding the new community facility.
4SLC are re-opening the "dry side" of the leisure centre on Moorland Drive later in the year and are working on a longer term business plan to ensure the centre's future in the town.

Amanda Holmes, Head of Communications for Dransfield Properties, said: "We have been working with members of 4SLC and have held initial discussions with Sheffield City Council in recent weeks towards delivering a community swimming pool as part of the Fox Valley development in Stocksbridge.

"There is obviously a strong desire to have a community pool in the town and we are confident that this is a good location for a sustainable solution.

"We have now submitted our planning application and are hopeful that we will have a positive outcome in the next few weeks."

Anchored by a 63,000 sq ft Tesco, Fox Valley is being built on the site of the former Outokumpu steel factory in Stocksbridge, next to the TATA steel plant. Brand new office space is also planned bringing a new commercial heart to the town and a further phase will also deliver family housing.

Dransfield Properties is working with the European Union to deliver the Fox Valley project with funding being sought through the European Regional Development Fund as part of the support for the region's economic development through the Yorkshire and Humber ERDF Programme 2007-13.
For more information about Dransfield Properties visit www.dransfield.co.uk
For further information, contact:-
Public Relations Department, Dransfield Properties Ltd
Tel: 01226 360644
Email: pr@dransfield.co.uk