Work gets underway on McDonald's Restaurant at Openshaw's Lime Square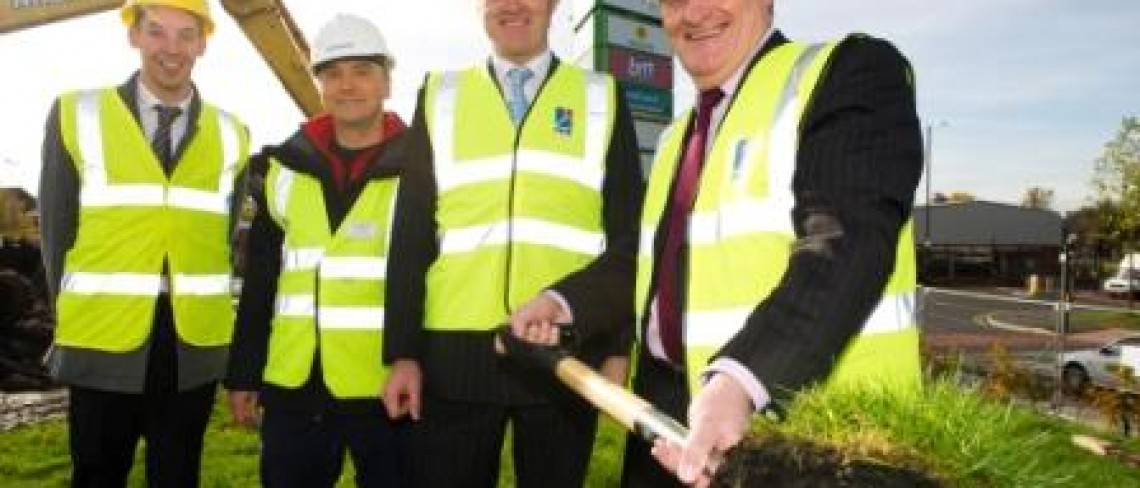 Work gets underway on McDonald's Restaurant at Openshaw's Lime Square
Oct 2012
A special groundbreaking ceremony has been held to mark the start of work on the latest phase at Lime Square in Openshaw, east Manchester.
Developers Dransfield Properties joined local ward councillor Cllr John Longsden to cut the first soil on the brand new McDonalds restaurant, which is being built to an eco-friendly design.
Dransfield Properties has worked in partnership with Manchester City Council and New East Manchester to bring forward the new Lime Square development.
The first phase at Lime Square opened two years ago bringing an 80,000sq ft Morrison's store as part of the strategic regeneration of the area – since then a further eight retail units opening earlier this year and around 500 new jobs have been created so far.
The two storey McDonald's restaurant and drive-thru which is set to be completed late spring 2013, forms part of the next phase of construction at the centre which will include a further three retail units adding to the existing line up of other big brand names such as B and M Stores, Poundland and Greggs.
The eco friendly 5,239sq ft restaurant is part of a new concept for McDonalds and will create at least 60 full and part-time jobs.
Councillor John Longsden of Manchester City Council said: "It is fantastic to see the next phase of works get underway.
"This will certainly help to provide the much needed employment and training opportunities to the local areas whilst also offering more reasons to visit Openshaw. Watching the centre come together so positively is incredible. This is definitely the kick start that this part of Manchester needed and indeed deserved."
Mike Williams, Head of Acquisitions for McDonald's UK said: "We are proud that next year we will open a new McDonald's restaurant in Openshaw that will create at least 65 full and part-time jobs within East Manchester. The new restaurant will incorporate a new eco-friendly design that is amongst the first in the UK and which forms part of our plans to build a new generation of modern and progressive McDonald's restaurants."
Retail Property Director Andrew Malley said: "We are delighted to be welcoming McDonalds to the line up here at Lime Square. The centre has helped to make this a really vibrant area and we are excited about building on that successwith this next phase of work".
Photograph shows, left to right; James Shepherd (Dransfield Properties) Nick Wright (Dalby Developments) Andrew Malley ( Dransfield Properties) and Councillor John Longsden (Manchester City Council)
-END-
For further information about Dransfield Properties please visit www.dransfield.co.uk or contact the Public Relations Department on:
01226 360 644 or 07747 621 902
For further information, contact:-
Public Relations Department, Dransfield Properties Ltd
Tel: 01226 360644
Email: pr@dransfield.co.uk