BrightHouse Opens New Store in Openshaw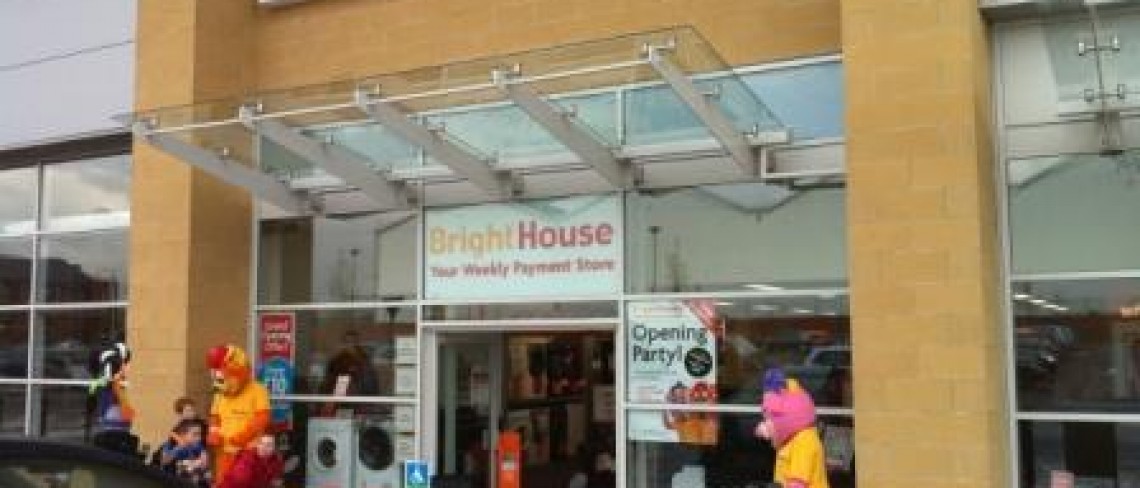 BrightHouse Opens New Store in Openshaw
Apr 2012
BrightHouse, the nation's leading rent-to-own chain, specialising in the sale of home electronics, domestic appliances and household furniture, is continuing its expansion programme. This weekend they're opening a new store at Unit 5 Lime Square, Openshaw.
The 2,000 sq. ft. store, which will employ 8 staff, will have its Grand Opening on Saturday 14th April. To mark the occasion, BrightHouse will be hosting three days of family fun in the run up to tomorrow's official opening to welcome the first customers to the new store.
Billy & Lilly, the BrightHouse bears, will be on hand to entertain along with a DJ, and children will be able to have their face painted and enjoy creations from balloon modellers. There will also be fantastic opening offers on some of the leading brands.
Jackie Smith, Store Manager said: "We're very excited about joining the community in Openshaw. BrightHouse offers state-of-the art flat screen TVs from Samsung and Phillips, cutting edge laptops from Acer, the latest washing machines from Hotpoint, and contemporary sofa designs, to name but a few of the amazing products available on an affordable weekly payment basis.
With BrightHouse, it's personal. We like to keep on first name terms with customers so they feel comfortable with our service. Pop in and say hello and we'll be sure to remember your name next time you come in. That's what makes us different."
Lime Square is anchored by an 80,000 sq ft Morrisons store and is managed by the retail property specialists Dransfield Properties Ltd. The second phase of the development opened in February this year bringing a host of new retailers to the district centre. Other retailers at Lime Square include B&M, Poundland, Greggs and the charity Extra Care. Store 21 is also opening at the centre as well as Card Factory.
BrightHouse can be found at:
Unit 5 Lime Square, Openshaw, M11 1DA
Notes to Editors:
BrightHouse PR:
Brunswick
Kelly Fogden
High Res images of the store are available on request
About BrightHouse
BrightHouse is a national retail chain, specialising in the sale of home electronic and domestic appliances, household furniture and related products, on a 'rent-to-own' affordable weekly payment basis. BrightHouse provide customers access to a choice of products, operating without the normal requirements of large deposits or of an established credit history. With more than 2500 staff UK-wide, BrightHouse is a substantial employer in the local communities where its 250+ stores are located.
In 2011, BrightHouse was ranked 96th in the Sunday Times Buyout Track 100. In 2010 BrightHouse also was ranked 156th in The Sunday Times HSBC Top Track 250 leading mid–market private companies.
In 2010, BrightHouse picked up the prize for Buyer/Merchandiser of the Year and Supply Chain Professional of the Year, at the Skillsmart Retail Rising Stars Awards.
BrightHouse is proud to support NSPCC (ChildLine in Scotland), the UK's leading children charity specialising in child protection and the prevention of cruelty to children. BrightHouse also actively support the Retail Trust and the sponsorship of 15 British athletes through the charity, SportsAid.
To find out more about BrightHouse visit their websites – www.brighthouse.co.uk or www.brighthousegroup.co.uk


Caversham Finance Limited trading as BrightHouse. Registered in England 785922.
For further information, contact:-
Public Relations Department, Dransfield Properties Ltd
Tel: 01226 360644
Email: pr@dransfield.co.uk