Poundland Latest Store to Open at Openshaw's Lime Square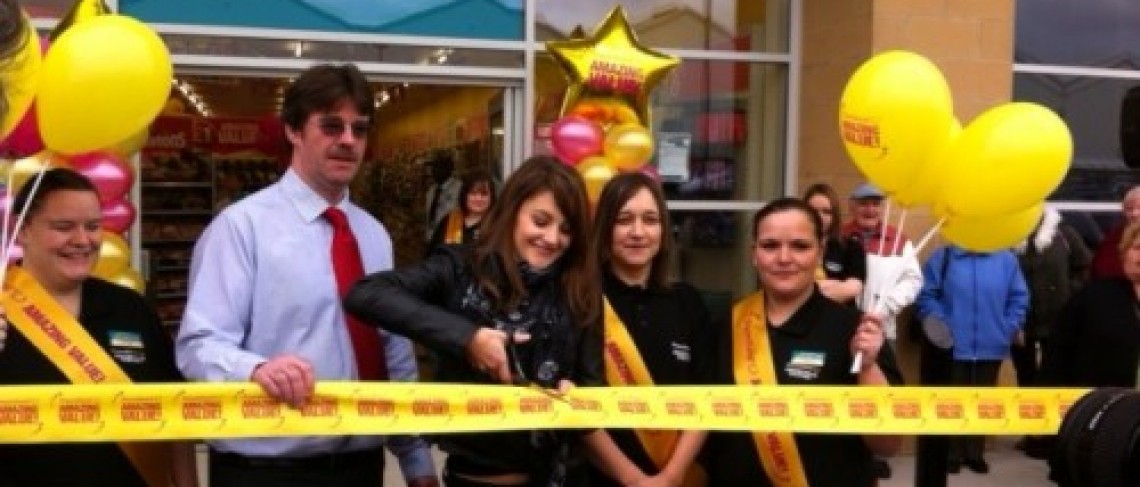 Poundland Latest Store to Open at Openshaw's Lime Square
Feb 2012
Local shoppers will be quids in as Poundland, Europe's biggest single price discount retailer, announces that its new store will open on Thursday 23 February in Lime Square, Openshaw.
The new store will create 29 new jobs and is the latest retailer to open at Lime Square, developed by Yorkshire based Dransfield Properties Ltd.
To kick off the celebrations, the new opening will be a family fun day on Saturday 25 February when Coronation Street's Paula Lane aka 'Kylie Platt' - will get the party started signing autographs and having her picture taken with local fans.
From 11am 'Kylie' will be giving out £1 vouchers, which shoppers can exchange for anything from a pack of Kodak batteries to greeting cards for every occasion.
The family fun day will offer shoppers plenty of ways to win Poundland goodies. Shoppers can take part in the 'Poundland Lucky Numbers' where £100 worth of Poundland vouchers will be given away throughout the day. The fun continues all day with Poundland's in-store DJ and entertainer who will be giving away balloons and sweets and getting the crowds excited!
Poundland has over 380 stores nationwide selling an array of products at just £1. The range includes top brand essentials including Mr Muscle, Cadbury, Weight Watchers, Colgate and Heinz.
Poundland also offers seasonal products including a range for Easter and there are plenty of offers including 3 for £1 on pick and mix crisps, chocolates and drinks, and 'Buy One Get One Free' deals, so shoppers can get even more for a pound.
Poundland's Trading Director, David Coxon, says: "We are delighted to bring our unique proposition to Openshaw.
"Poundland offers exceptional value on top branded products to over 4 million customers every week .The £1 price hasn't changed since we opened our first store 21 years ago. Our current customers love us and we are sure the Openshaw shoppers will too!"
Poundland joins Greggs and B&M who have already opened at Lime Square earlier this month. Bright House, Bet Fred, Extra Care and Store 21 are also joining the line up. The development is anchored by an 80,000 sq ft Morrisons store.
-Ends-
About Poundland UK
Poundland is Europe's biggest single price discount retailer and winner of the 2011 Discount Retailer of the Year Award. It has well over 380 stores in the UK and sells an extensive range of high quality top brand and own brand products all for the single price point of £1 each, providing customers with amazing value every day.
Serving over 4 million customers every week, Poundland is an irresistible shopping experience where shoppers are guaranteed to find over 3,000 quality products and over 1000 Top Brands, across 17 shopping categories including food and drink, health and beauty, household, gardening, DIY, Pet, Stationery, books, DVD's and Toys.

With a growth strategy of at least 50 new stores every year, Poundland is again on track to create approximately 2,000 new jobs.

In June 2010, Poundland was acquired by Warburg Pincus, a leading global private equity firm. Warburg Pincus acquired a majority stake with the management at Poundland retaining a minority shareholding and continuing to lead the business.
For more information about Poundland, please visit
www.poundland.co.uk
www.poundlandblog.co.uk
www.Facebook.com/Poundland
www.twitter.com/poundlandparrot
For further information, contact:-
Public Relations Department, Dransfield Properties Ltd
Tel: 01226 360644
Email: pr@dransfield.co.uk