Topping Out at Second Phase of east Manchesterís Lime Square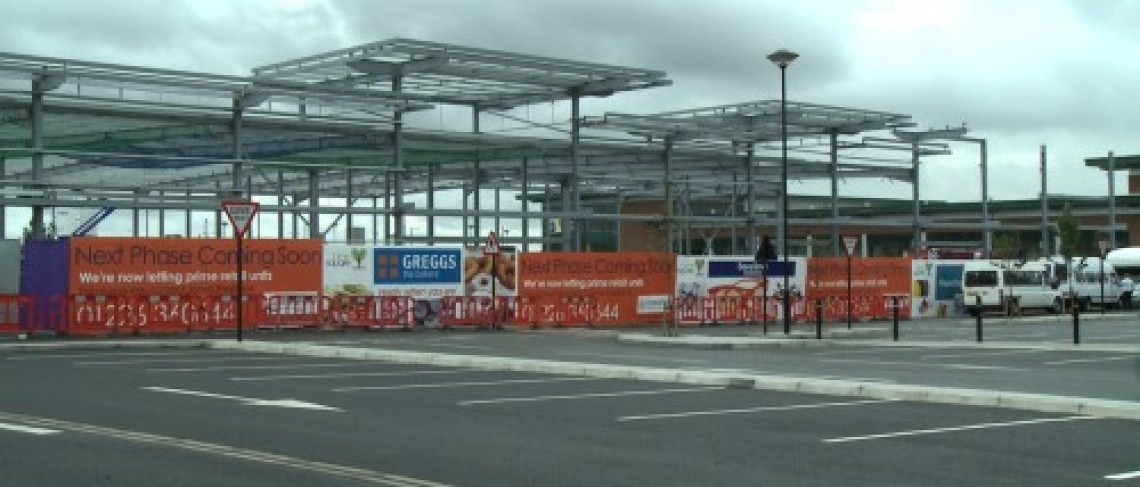 Topping Out at Second Phase of east Manchesterís Lime Square
Sep 2011
A special topping out ceremony is being held this Friday to celebrate progress on the site of the second phase of east Manchesterís new Lime Square development.
The first phase of the £40 million investment which is transforming an 11.9 acres site in Openshaw, was completed last November with the opening of a new 80,000 sq ft Morrisons store.
Work started on the second phase earlier this year and local stakeholders, councillors and the development team from Dransfield Properties Ltd will mark the erection of the steelwork on the site with a topping out ceremony being held on Friday September 9th at 11am.
Funded by Barclays this next phase of works will bring more new retail space to the area as part of the strategic regeneration of this part of east Manchester - the team at Dransfield Properties has worked in partnership with New East Manchester and Manchester City Council to bring a new district centre to the area.
Eight new units are currently under construction by in time for a Christmas opening with further retail and leisure space to be delivered next year. Greggs, Store 21, B and M Bargains and Poundland have already signed up to take space in the new development.
Retail Property Director at Dransfield Properties Andrew Malley, said: ďThis is an important milestone in the delivery of this next phase of the Lime Square development. The opening of the new Morrisons store has made this a really vibrant area and we are very excited about building on that success with this next phase of work.
ďFrom the earliest stage this has been a partnership approach in indentifying what the area needs and how to move forward and deliver that.Ē
Lime Square is part of one of the countryís biggest regeneration programmes - New East Manchester and Manchester City Council helped to deliver the scheme through Compulsory Purchase Orders; the original site comprised 40 different land interests.
Eddie Smith, chief executive of New East Manchester said: "The next phase of development at Lime Square is fantastic news for East Manchester helping to transform the area, creating new jobs for local residents and, by adding more shops to the existing Morrison's store, this investment will provide more reasons to visit Openshaw."
By Christmas 37,000 sq ft of new space will have been completed at Lime Square with a further 39,500 sq ft to come.
The new Morrisons store created 320 new jobs in the area; once all the work on the second phase has been completed a further 430 jobs will have been created.
Lime Square also is home to the iconic sculpture Dead Blow which is part of the main pedestrian walkway to the centre and depicts a steam hammer in tribute to east Manchesterís industrial heritage.
For further information about Dransfield Properties visit www.dransfield.co.uk
For further information, contact:-
Public Relations Department, Dransfield Properties Ltd
Tel: 01226 360644
Email: pr@dransfield.co.uk