£46 million scheme for Stocksbridge takes a step forward after council back latest plans!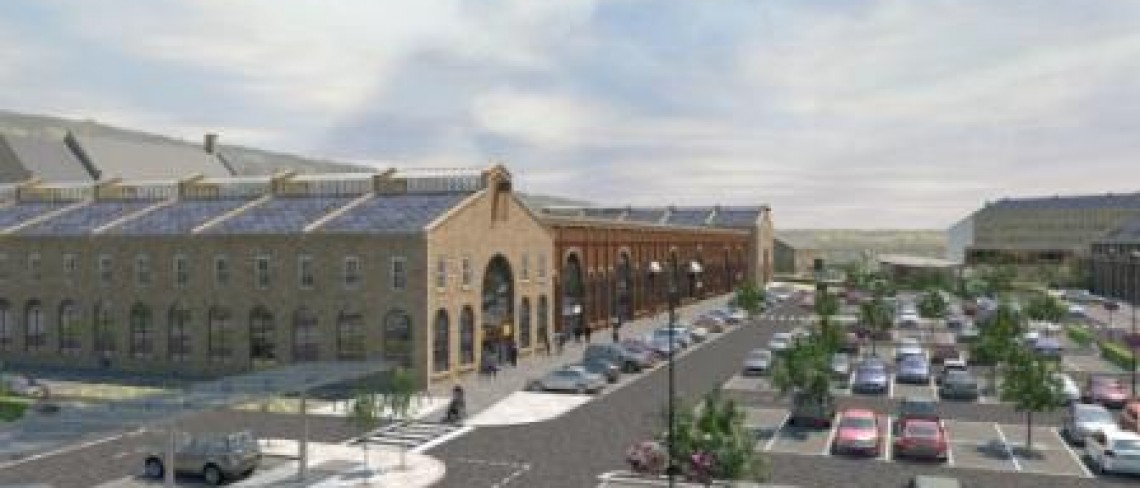 £46 million scheme for Stocksbridge takes a step forward after council back latest plans!
Apr 2011
Sheffield City Council has backed plans for a distinctive, landmark building and new despatch facility for Tata Steel to form part of a major regeneration scheme in Stocksbridge.
The authority's West and North Area Planning Board unanimously approved the detailed application submitted by Stocksbridge Regeneration Ltd for a new testing facility for the town's steelworks. The plans also include new car parking and the relocation of one of Tata Steel's despatch facilities to the company's main site.
The plans are part of the £46 million mixed use retail and office development in Stocksbridge, North Sheffield, which is being brought forward on a former industrial site opposite the Tata Steel steelworks.
The application also includes new pedestrian walkways linking the town's Manchester Road to the new development.
A further application for 140 houses is also due to be considered by the planning board next month.
The main scheme was approved by the local authority in 2009 and work is scheduled to start on the development site next year bringing a 63,000 sq ft food store as well as further retail space.
Restaurants and commercial space suitable for local businesses are also planned, along with a customer car park and an attractive landscaped fountain area.
The developers have welcomed the council's approval as an important milestone in the delivery of a development which will transform a redundant industrial site and create up to 900 new jobs.
The 15 acre site is made up of land now cleared by Outokumpo as well as the Tata Steel despatch facility which is being relocated. The design team has worked with the Sheffield Urban Design Review Panel to reflect the architectural and industrial history of the site.
Retail Property Director for Dransfield Properties, Andrew Malley said: "This is an important step forward in the delivery of our plans for Stocksbridge and we are delighted that this next stage of work has been approved by Sheffield City Council. Relocating the steel despatch facility releases an important part of the site and the plans for the new Test House have created a great opportunity to design a really impressive landmark building."
Mark Broxholme, General Manager of Stocksbridge-based Tata Steel Speciality, said: "As the town's largest employer with 800 employees - the majority of whom live locally - we want to be part of the regeneration of Stocksbridge.
"There is still some work to do with the relevant authorities to ensure these plans fit into our ambitions for the steelworks. But we will continue to work with the developers and the authorities to secure the best deal for Stocksbridge and to continue to develop a sustainable steelworks in the town."
Dransfield Properties specialises in delivering urban regeneration developments, the company was awarded the prestigious BCSC Gold Award for the successful transformation of a former factory site at Marshall's Yard in Gainsborough. For further information visit the website at www.dransfield.co.uk
About Tata Steel in Europe
The European operations of Tata Steel (formerly known as Corus) comprise Europe's second largest steel producer. With main steelmaking operations in the UK and the Netherlands, they supply steel and related services to the construction, automotive, packaging, material handling and other demanding markets worldwide.
Tata Steel is one of the world's top ten steel producers. The combined group has an aggregate crude steel capacity of more than 28 million tonnes and approximately 80,000 employees across four continents.
Editors Notes
For further information about Dransfield Properties contact Amanda Holmes on 01226 360644
For further information about Tata Steel please call Rob Simpson, on Tel. +44 (0)1724 405769 or Mob. +44 (0)7990 786531.
Alternatively, call Rachel Cox on Tel. +44 (0)1724 405547 or Mob. +44 (0)7825 755466.
For further information, contact:-
Public Relations Department, Dransfield Properties Ltd
Tel: 01226 360644
Email: pr@dransfield.co.uk