Steam Hammer Takes Pride of Place at Lime Square !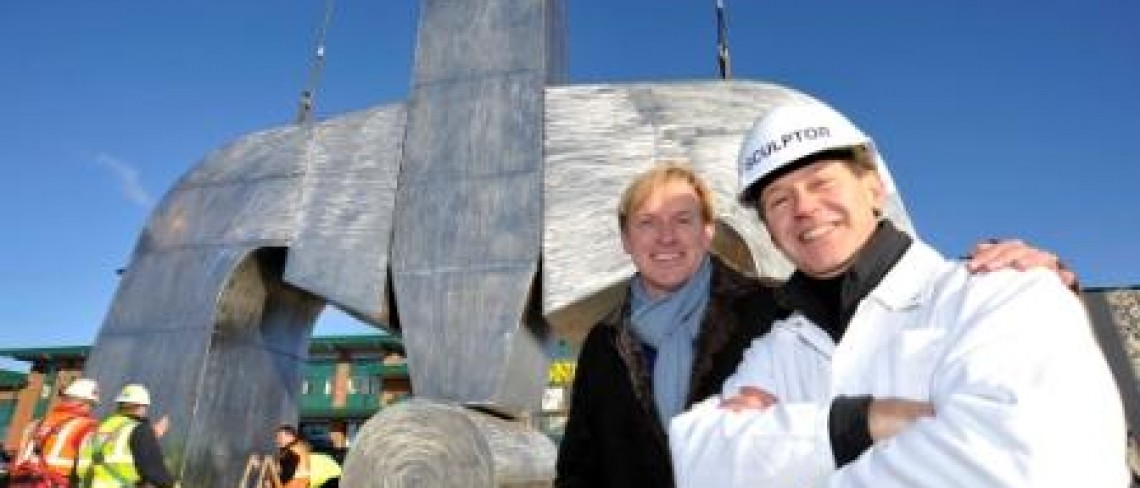 Steam Hammer Takes Pride of Place at Lime Square !
Nov 2010
A fantastic piece of art which is the centrepiece to east Manchester's new £40 million Lime Square development has been craned into place over the weekend.
Called Dead Blow the sculpture reflects the industrial history of the area depicting a massive steamhammer. It stands 29 feet high and 35 feet wide and was completed at the nearby Thos Storey factory by the award winning sculptor Robert Erskine.
And early yesterday morning (Sunday November 7th) the impressive structure was craned into position at Lime Square on Ashton Old Road.
The road had to be closed for several hours while the massive 15 tonne stainless steel sculpture was driven from the factory nearby to the development site where it was carefully lowered into position. A special dedication ceremony and plaque unveiling will be held at 10.30am on Monday November 15th when the new Morrisons store opens at Lime Square.
Youngsters from the nearby St Clements C of E Primary School have taken a keen interest in the artwork and placed time capsules inside the structure, they'll also be attending the dedication ceremony on Monday.
Developers Dransfield Properties have worked with the Chesterfield based Architects WCEC to make the sculpture part of the pedestrian walkway into the new development.
Managing Director Mark Dransfield, said: "It is quite remarkable that we only took possession of the site 12 months ago and in that time the area has been transformed and delivered 350 new jobs at the new Morrisons store."
"Delivering this scheme has been a true partnership with Manchester City Council and New East Manchester. It is fantastic to see the work of art in place and we are now looking forward to starting work on the next phase early in the New Year."
Sculptor Robert Erskine said: "It is always a very exciting moment when you see the finished work in place.
"This has been a wonderful project to work on and I've been particularly pleased to be able to work with a company so close to the site in making the steam hammer.
"The area is so rich in industrial history – it was where the greatest impetus for England's industrial revolution began, and engineering excellence was founded."
The new 80,000 sq ft Morrisons store is due to open on Monday November 15th. The second phase of the Lime Square development will deliver a further 76,550 sq ft of new retail space as well as a new health and fitness centre and modern office space.
PHOTO OPPORTUNITY
Please contact Amanda Holmes on 01226 360644 to check timings and confirm attendance:
Monday November 15th 2010
Location: Lime Square, Ashton Old Road, close to the junction with Fairfield Road. Postcode M11 1DA.
Time: 10.30am
Date: Monday 15th November
Event: Plaque unveiling for the Steamhammer sculpture at Lime Square
Background Information
Lime Square: Plans for the new scheme in Openshaw on an 11.9 acre were unveiled in a public consultation in 2005. The scheme is being delivered in phases with the overall project expected to deliver up to 750 new jobs in the area.
The first phase is the new 80,000 Morrisons store which is due to open on November 15th . Work has been completed on schedule by contractors PDR. The next phase of work will start early next year.
This second phase will deliver new modern office space as well as 76,550 sq ft of additional retail space and a new health and fitness centre. The scheme has been brought forward by Barnsley based Dransfield Properties Ltd working in partnership with Manchester City Council and New East Manchester.
For further information, contact:-
Public Relations Department, Dransfield Properties Ltd
Tel: 01226 360644
Email: pr@dransfield.co.uk