School pupils get sneak preview of Openshaw's new sculpture!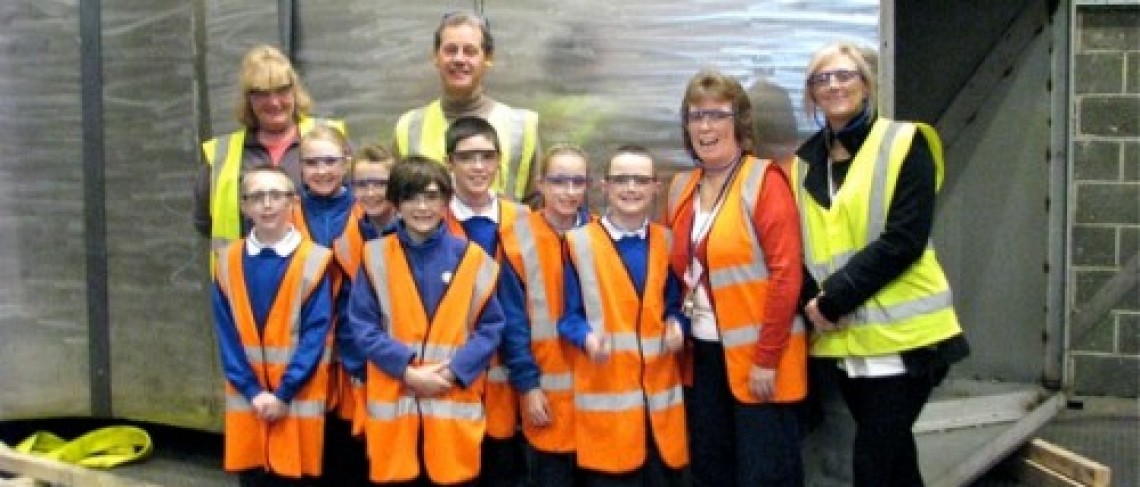 School pupils get sneak preview of Openshaw's new sculpture!
Oct 2010
Youngsters from an east Manchester Primary School have been treated to a sneak preview of the impressive sculpture which will be the centre piece of the new Lime Square retail development currently taking shape close to their school.
The Steam Hammer, by the award winning sculptor Robert Erskine is being made at the east Manchester steel fabricators Thos Storeys – just a short walk from the development site on Ashton Old Road.
In just a few weeks the huge piece of art made from Cromweld Stainless Steel will make its slow journey from the factory to its resting place at the front of Openshaw's new Lime Square development.
The Steam Hammer stands 29 ft high and is 35 feet wide and weighs in at around 15 tonnes - it will be moved on to site later this month before the new Morrison's store opens in November.
The Year Six pupils from St Clements have been to see the piece of art in production and are also working on time capsules which will be placed inside the sculpture.
The school helped developers Dransfield Properties find the name Lime Square earlier this year when a competition was held to name the new scheme.
Sculptor Robert, said: "This area is so rich in industrial history – it was where the greatest impetus for England's industrial revolution began, and engineering excellence was founded.
"I am particularly pleased that I have been able to produce the sculpture here in east Manchester at a local factory and it has been great to have the pupils from St Clements showing such an interest in the project."
Jo Lynch, HR and Safety Manager at Thos Storey, said: "We have never worked on anything quite like this before here at Thos Storey. It is a great project to be involved with and there is a real buzz at the company about Robert's work.
"We are delighted to be a part of the regeneration project and everyone is looking forward to seeing the sculpture in place."
Headteacher Janet Fitzgerald said: "Our children have really enjoyed being involved with the development of the Lime Square development near our school.
"They have visited the foundry where the sculpture is being made, learning about the process involved. As well as learning about our local industrial heritage, they are learning from Robert about the stimulus and inspiration behind his design. This is a new experience for us and we have googled him to find out what other sculptures he has made!"
The second phase of the Lime Square development will deliver a further 76,550 sq ft of additional new retail space as well as a new health and fitness centre and modern office space.
For further information www.dransfield.co.uk
For further information, contact:-
Public Relations Department, Dransfield Properties Ltd
Tel: 01226 360644
Email: pr@dransfield.co.uk