New Tesco Store Opens in Penistone – Creating 170 New Jobs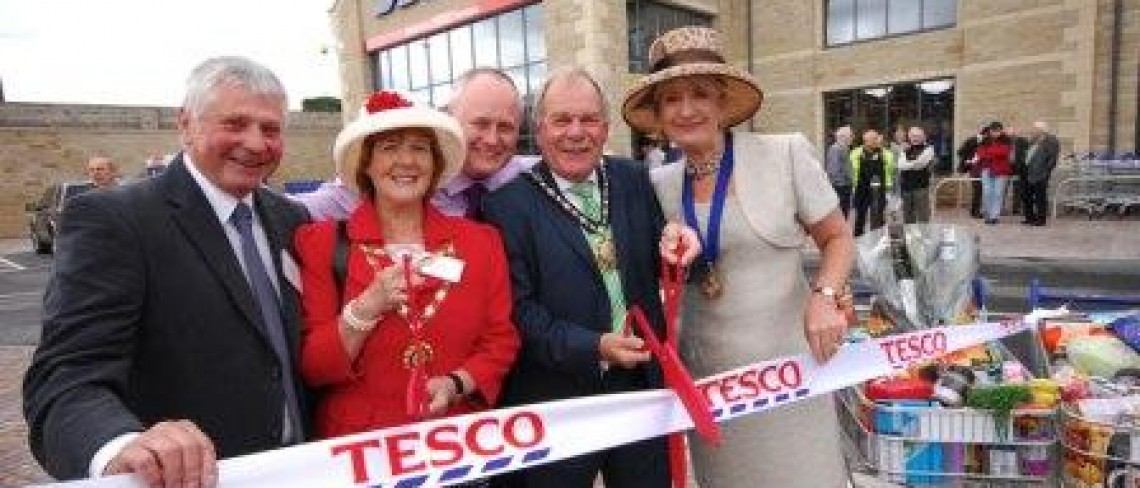 New Tesco Store Opens in Penistone – Creating 170 New Jobs
Aug 2010
Crowds of shoppers turned out to the opening of the new Tesco store in Penistone, South Yorkshire, as representatives from the town and borough councils officially launched the new development.
Cllr Carol Bradbury, the mayor of Penistone and Cllr John Parkinson, the deputy Mayor of Barnsley, cut the ribbon to mark the opening of the long awaited development which opened on August Bank Holiday.
And Cllr Parkinson paid tribute to the public/private partnership which had resulted in the £15 million town centre regeneration scheme in Penistone.
He added: "This is a great step forward, the store is sympathetically designed and looks great, this development shows what can be achieved with an effective partnership approach. It is lovely to see Penistone's new store open for business and I hope the customers are pleased with it."
170 new jobs have been created with the opening of the new store which is on Schole Avenue in Penistone. Store Manager Mick Somerset said the company had been overwhelmed by the number of applications.
He added: "It is great that in this time of economic uncertainty we are able to help get people back into work. The quality of applicants was fantastic and I am really pleased with my new team."
As well as the new Tesco store the town centre scheme has also seen the relocation of the fire and ambulance stations into new £1.4 million premises, road improvements have also been implemented and a fantastic new market area created which is due to be completed in October.
There has been a long held aspiration for a development on this scale in Penistone; the plans for the scheme were approved by Barnsley Council in 2007.
To mark the opening of the new store Tesco presented cheques for £1,000 to each of the Mayor's charity funds.
Cllr Bradbury said: "I am delighted that we were invited to officially open the new Tesco store and be part of the celebrations and for providing such a generous donation to our Charity of the year. The money will be divided between Rainbows, Brownies, Guides, Cubs and Scouts to celebrate 100 years of Scouting this year."
Managing Director of Dransfield Properties, Mark Dransfield, said: "It is rewarding for everyone who has been involved in delivering this scheme over very many years to see the store open and trading. We are also looking forward to the completion of the new markets area which will be a real asset to the town."
For further information about Dransfield Properties visit the website at www.dransfield.co.uk.
For further information, contact:-
Public Relations Department, Dransfield Properties Ltd
Tel: 01226 360644
Email: pr@dransfield.co.uk