PLANNERS GIVE GO AHEAD TO MARSHALLS YARD DEVELOPMENT!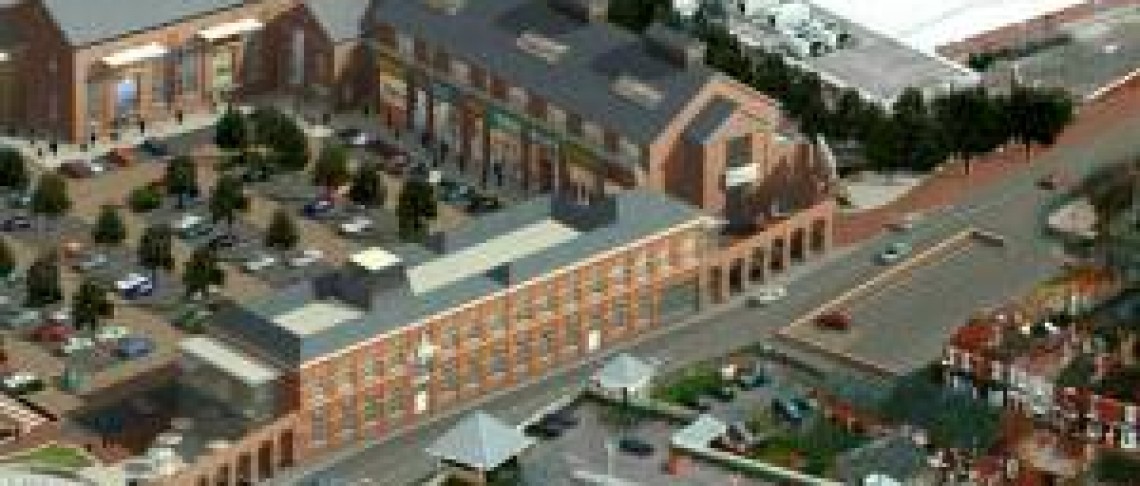 PLANNERS GIVE GO AHEAD TO MARSHALLS YARD DEVELOPMENT!
Jan 2005
Exciting new plans which will transform part of Gainsborough town centre bringing a new £37 million investment to the area have been approved by council planners.
West Lindsey District Council have unanimously given the go ahead for the Marshall's Yard development which is being brought forward by the Yorkshire developers - Dransfield Properties Ltd and Prospect Estates on an eight acre site adjoining the town centre.
The mixed use scheme will include retail, leisure, city living apartments and high tech offices – it represents the biggest private investment the market town for nearly a century.
The ambitious development will create up to 1,250 jobs in Gainsborough, transforming the former Britannia Works site into an attractive addition to the town centre.
Now the plans have been approved the next step is to start demolition work on the Horse and Groom public house and the nearby properties on the corner of Spring Gardens which have been derelict for many years.
The local demolition contractor GBM, from Louth, has been appointed and work will commence in the next few weeks.
Mark Dransfield, Managing Director of Dransfield Properties Ltd, said: "We are delighted to have the support of West Lindsey District Council for Marshalls Yard and we will be working closely in partnership with the local authority to ensure we can deliver the best possible development for Gainsborough.
"This site has needed redevelopment for a number of years and we are very excited to be starting something which is going to have such an important impact in the town. Our main focus has always being to deliver an extremely high quality mixed use development with a high standards of architecture which will bring something unique to the town.
"This is a cutting edge development and will be the first development of this magnitude and quality in a market town and we are convinced that with West Lindsey's assistance Marshall's Yard will put Gainsborough back on the map".
Marshalls Yard will house :
• 93,560 sq ft of new retail space
• 34, 650 of leisure space
• 18,900 sq ft of new town centre offices
• 60 City Living apartments including 7 penthouses
• A new Peace Gardens area
• 3 Restaurants
• 22,650 sq ft of serviced office suites
The development will form a contiguous link with the neighbouring Tesco food store and the town centre and will raise Gainsborough's retailing profile - retaining shoppers in the area.
JJB Sport have signed up to take a 45,000 sq ft unit in the development for a ground floor health and fitness centre with swimming pool and a first floor retail store, footwear retailer Brantano also announced last week their intention to take a 5,000 sq ft unit – announcements about other retailers will be made shortly.

For further information about Dransfield Properties Ltd or Prospect Estates visit the company's websites at www.dransfield.co.uk and www.prospect-estates.co.uk
Contact details:
Amanda Holmes
Public Relations, Dransfield Properties Ltd
Tel : 01226 360644 or 07971 854733

Robert Mayo
Prospect Estates
Tel : 01943 850111 or 07739 590646
EDITORS NOTES

1. Dransfield Properties Ltd are based in Barnsley, South Yorkshire. The company is one of the leading specialist retailer developers in the country, the company also specialises in urban regeneration and has been involved in many high profile developments across Yorkshire and Lancashire.
2. Prospect Estates Ltd is a specialist industrial investment and development company, which operates throughout the UK.
3. The name Marshalls Yard was chosen by a panel of judges in a competition held across all Gainsborough's primary schools to find a name for the new retail development.
For further information, contact:-
Public Relations Department, Dransfield Properties Ltd
Tel: 01226 360644
Email: pr@dransfield.co.uk