Official Opening at Penistone's Brand New Fire Station!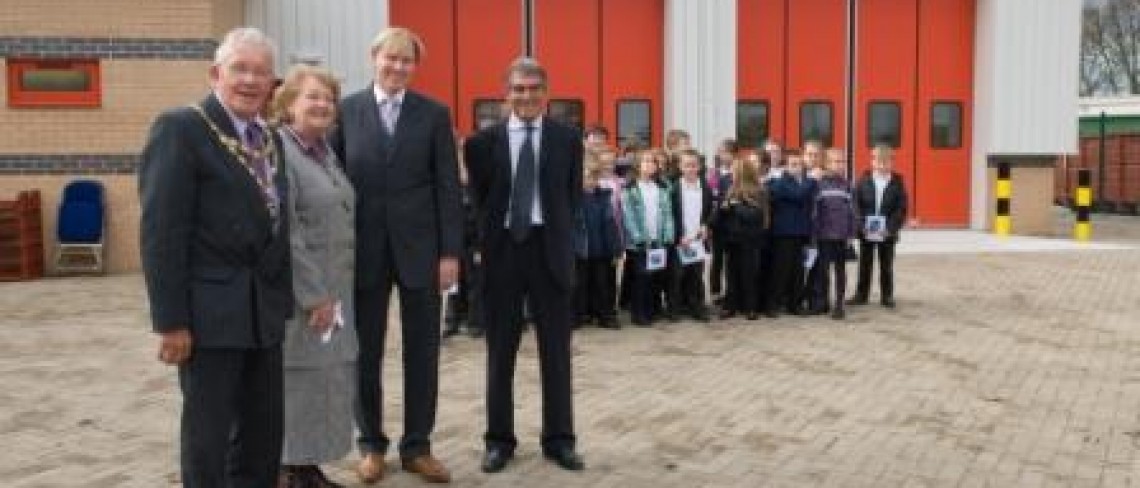 Official Opening at Penistone's Brand New Fire Station!
Oct 2009
Penistone's brand new fire station - part of the £15 million town centre regeneration scheme - has been officially opened in the town.
The fire station is part of a £1.4 million complex at Springvale in Penistone which also houses an ambulance station and a council depot. The facilities have been relocated from the town centre making way for the new development being brought forward by Dransfield Properties.
Barnsley West and Penistone MP Michael Clapham officially unveiled the new station watched by local dignitaties and pupils from Class 4 at Springvale Primary School.
This phase of the development has been completed on schedule by Clark Construction on the former council depot land in Penistone and now all staff have relocated to their new purpose built Springvale premises.
The fire and ambulance stations were previously based in the town centre, off Stottercliffe Road on part of the site which is currently undergoing a major redevelopment in the town.
A brand new bowling green was also opened last month as part of the comprehensive scheme and work is due to start on the new Tesco store, car park and improvements to the markets area.
Chief Fire Officer Mark Smitherman said: "This development is good news for Penistone and South Yorkshire Fire and Rescue. It re-affirms our commitment to the town and local area, and will provide our staff with a new state-of-the-art base from which they can help to make Penistone and its surrounding villages safer."
Mark Dransfield Managing Director of Barnsley based Dransfield Properties said: ďThe complex looks great and puts these important community facilities together and in a much better location in the town - in premises built to the very latest specifications."
For further information contact Amanda Holmes at Dransfield Properties on 01226 260644 and amanda.holmes@dransfield.co.uk or South Yorkshire Fire and Rescue press office at 0114 2727202
Pictured left to right: Mayor of Penistone Cllr Roger Hinchliff, Brenda Hinchliff, Mark Dransfield and Mick Clapham MP watched by Class 4 at springvale School, Penistone.
Oct 2009
For further information, contact:-
Public Relations Department, Dransfield Properties Ltd
Tel: 01226 360644
Email: pr@dransfield.co.uk